Denny Hamlin Has Put Chase Elliott and Joey Logano Into the Martinsville Wall Since 2017, so Complaining About Alex Bowman Is Lame
Article Highlights:
Denny Hamlin is upset with Alex Bowman for spinning him at Martinsville
Hamlin still qualified for the Championship 4 on Nov. 7 in Phoenix
Hamlin has a history of spinning out competitors in the NASCAR Cup Series playoffs
If being a hypocrite requires a lot of paperwork, then someone ought to buy Denny Hamlin a box of No. 2 pencils. Don't worry about erasers, though. Hamlin rubs out rivals on NASCAR racetracks, and there's video evidence to confirm it.
Best of all, some of the video is from Martinsville, the site of the past weekend's battle between Hamlin and Alex Bowman. As much as Hamlin wants to complain about Bowman spinning him, he has rubbed Chase Elliott and Joey Logano out of contention in playoff races from recent years.
The Alex Bowman episode adds to Denny Hamlin's busy year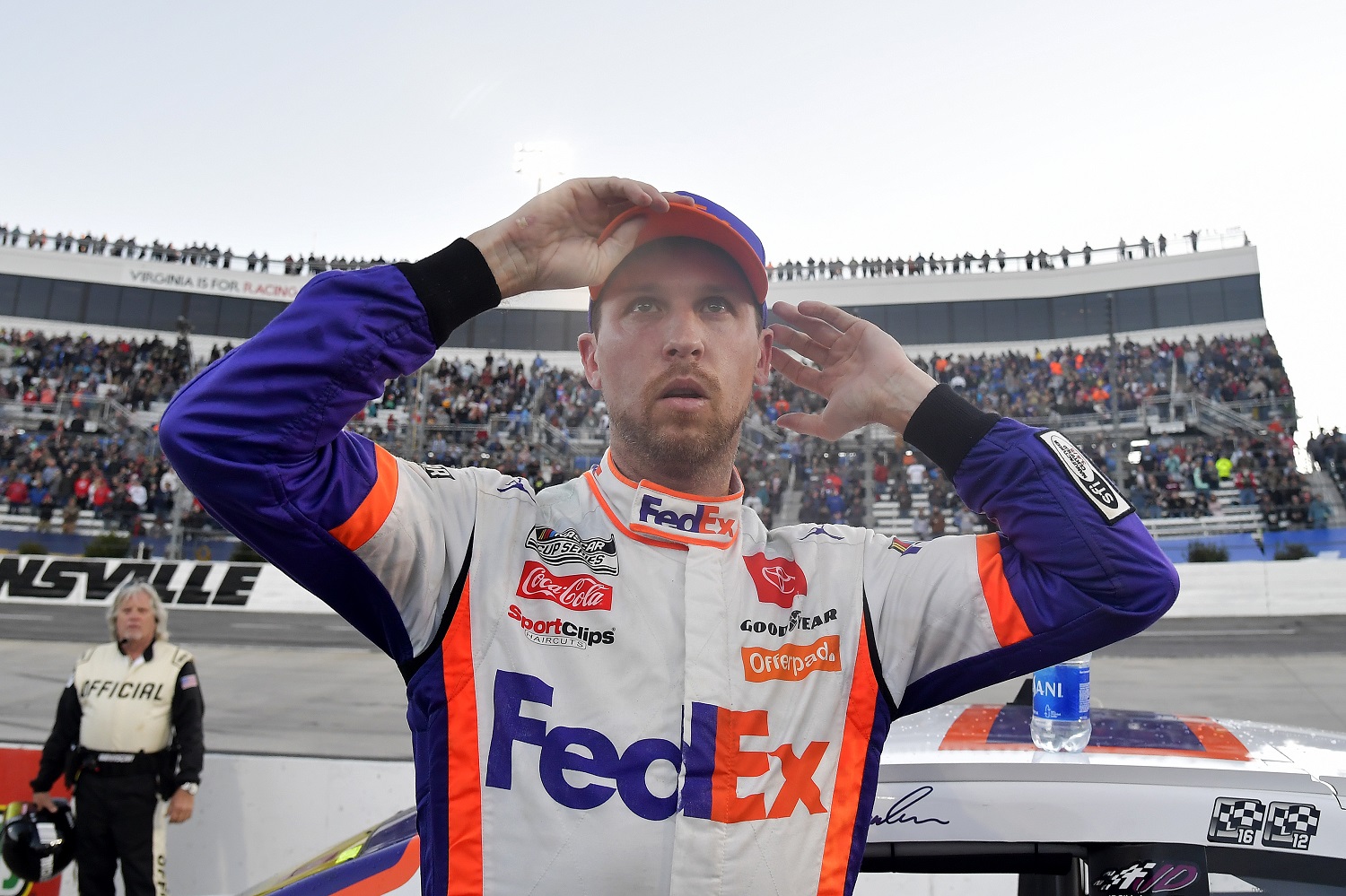 When Denny Hamlin gets around to writing his autobiography, the chapter about his 2021 season will be lengthy, beginning with his helping pilot Bubba Wallace's team through Michael Jordan's debut as the majority owner of 23XI Racing. That could have been a big distraction, but Hamlin was attentive to his job driving for Joe Gibbs Racing.
Hamlin didn't match his seven victories from a season earlier, but he still excelled. He placed in the top five in eight of the first nine races to build a lead in the standings, then saved some of his best results for the playoffs. Hamlin won the opener at Darlington and then at Las Vegas in the opener of the second round. Until he placed 24th at Martinsville on Sunday, Hamlin finished 11th or better in all the playoff races.
Along the way in 2021, Hamlin found himself on the wrong end of one of the worst decisions of the season as Chase Briscoe dumped him with Hamlin looking at a potential victory with a lap and a half left on the Indy road course. As big as that brouhaha was, the Martinsville incident dwarfed it. That's because Alex Bowman, already out of the playoffs, spun Hamlin late in the race.
That triggered an epic rant by Hamlin, but he's hardly one to talk.
Denny Hamlin put Chase Elliott and Joey Logano into the wall at Martinsville
Lest anyone feel too sorry for Denny Hamlin over his misfortunes this season at the hands of Chase Briscoe and now Alex Bowman, this might be a good time to review some of Hamlin's recent work at, of all places, Martinsville.
In 2017, Chase Elliott was leading the playoff race at the Virginia track with under three laps to go when Hamlin rode the No. 24 Chevy's bumper too aggressively and spun him into the wall. To his credit, Hamlin accepted the blame, but the incident dropped Elliott to 27th place.
In 2019 at Martinsville, it was Joey Logano's turn, and it resulted in a pointed conversation afterward. Hamlin had upset Logano by forcing him into the wall as they drove side-by-side. Rubbing the wall led to Logano having a tire go down, taking him out of contention.
Just when it appeared that the two had agreed to disagree, Logano pushed Hamlin hard in the right shoulder, and the fight was on. Hamlin landed on the ground before crew members and NASCAR officials separated the pair.
Logano accepted blame for escalating matters with the shove, but what happened on the track was 100% on Hamlin.
He tangled with Chase Briscoe once again
If Alex Bowman is paying attention, he's aware that he can probably expect Denny Hamlin to settle old business somewhere down the road (or the oval, as the case may be).
Two weeks ago at Texas Motor Speedway, Hamlin raced in close quarters with Chase Briscoe when Briscoe's No. 14 Ford bounced off the wall. There was no contact, but Hamlin also didn't leave room for Briscoe to negotiate the turn. "That's what he gets for being a f****** idiot," Hamlin said on his radio.
That triggered the requisite social media sparring between the two.
Now, Hamlin almost certainly heads to the Championship 4 race with Bowman on his mind. Obviously, winning the NASCAR Cup Series is the only objective, but Bowman is likely on the to-do list for some time early in 2022.
Like Sportscasting on Facebook. Follow us on Twitter @sportscasting19.