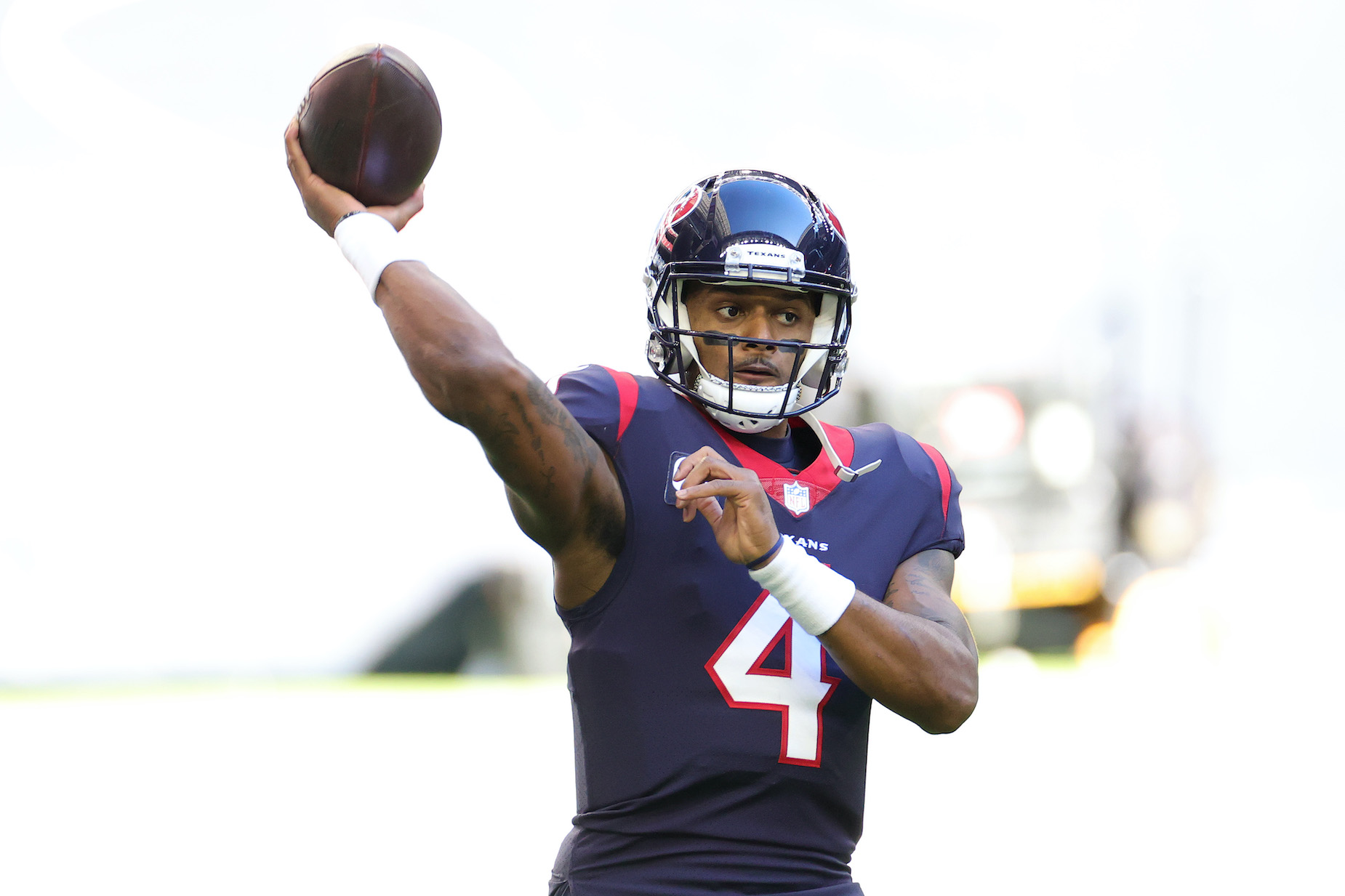 What Is Deshaun Watson's Salary and How Will it Be Affected by Recent Sexual Assault Allegations?
Houston Texans quarterback Deshaun Watson commands a sizable salary, but that could all change by this fall.
When the 2021 NFL offseason began, Deshaun Watson dominated the headlines. Initially, it was due to football-related reasons; the quarterback requested a trade, but the Houston Texans weren't interested in playing ball. Since then, however, the story has changed. Now, Watson is facing multiple accusations of sexual assault.
While it's not clear what will happen just yet, those accusations set the stage for the NFL to step in; if nothing else, it's possible that the Houston Texans quarterback will land on the commissioner's exempt list. With that potential scenario in mind, what is Deshaun Watson's salary, and how will it be affected by the recent allegations?
Deshaun Watson commands a sizable NFL salary
In the modern NFL, the best teams have a legitimate star quarterback under center. During his time with the Texans, Deshaun Watson has proven that he's more than worthy of being considered an elite signal-caller.
Watson joined the Texans in the 2017 draft and appeared in seven games that year before tearing his ACL. While that injury could have derailed the quarterback's career, he came back better than ever.
Since then, Watson has turned in three impressive campaigns. Although the Texans as a whole struggled during the 2020 season, their quarterback more than pulled his weight; he threw for 4,823 yards and 33 touchdowns and scrambled for three additional scores.
As those numbers would suggest, Deshaun Watson's salary sits firmly in the top-tier for NFL quarterbacks. Ahead of the 2020 campaign, he inked a four-year, $177.5 million contract. He took home almost $30 million in total cash last season (a $1.1 million base salary, plus plenty of bonuses) and, if he hits the field in 2021, will earn $10.5 million in salary.
He'll then command a $35 million salary in 2022, and things will decrease from there, but his total cash flow will still remain about the same thanks to bonuses. For example, Watson could make as much as $37 million in 2023 despite only earning $20 million in raw salary.
The quarterback is now facing multiple allegations of sexual assault
In recent weeks, though, there hasn't been much talk about Deshaun Watson's 2021 NFL season. Instead, the narrative has shifted to multiple accusations of sexual assault and misconduct.
"Since March 16, a total of 16 women have accused Watson of assault in civil lawsuits filed in Harris County, Texas, where he is a resident," Ben Shpigel wrote in the New York Times. "According to the complaints, the incidents have taken place from March 2020 to this month. Although most are said to have occurred in Texas, two were said to have happened in Georgia, Watson's home state, this month, and in California, where he was visiting in July 2020."
ESPN offers a summary of each lawsuit's specific accusation; they "accuse him of a range of actions during massage appointments over the past year, from refusing to cover his genitals to forced oral sex."
In a recent statement, Watson's attorney, Rusty Hardin, denied any wrongdoing on the quarterback's part.
"I believe that any allegation that Deshaun forced a woman to commit a sexual act is completely false," Hardin said, according to KHOU 11. He also said that Tony Buzbee, the plaintiffs' attorney, "has orchestrated a circus-like atmosphere by using social media to publicize" the lawsuits "in a manner calculated to inflame the public and malign Deshaun's otherwise sterling reputation."
What happens to Deshaun Watson's salary in light of these accusations?
At this point, it's not clear how the allegations against Deshaun Watson will play out. We can, however, work through some hypotheticals about the quarterback's salary.
Should everything completely blow over by the time the regular season begins, Watson will be entitled to $10.54 million in salary, according to Spotrac's data; unless he holds out or otherwise refuses to report, he'll earn that money over the course of the campaign. At this point, though, this option seems pretty unlikely.
Watson could also find himself on the commissioner's exempt list. That designation would mean the quarterback can't play for the Texans and doesn't count against the active roster, but would still grant him his entire salary. Should the quarterback be formally suspended, though, he'll miss out on game checks for those weeks; each week on the sidelines will cost him 1/17 of the season's raw salary.
That designation, however, could prompt the Texans to cut their star quarterback; if they think there's a chance he'll be in legitimate trouble, they won't want to pay him a $10 million salary to sit at home. While they'd still have to pay out the remainder of his guaranteed money, there'd be no more 'salary' to pay out.
At this point, the entire Deshaun Watson situation is shrouded in uncertainty. No matter how things play out, though, there are major implications for everyone involved.
Stats courtesy of Pro-Football-Reference