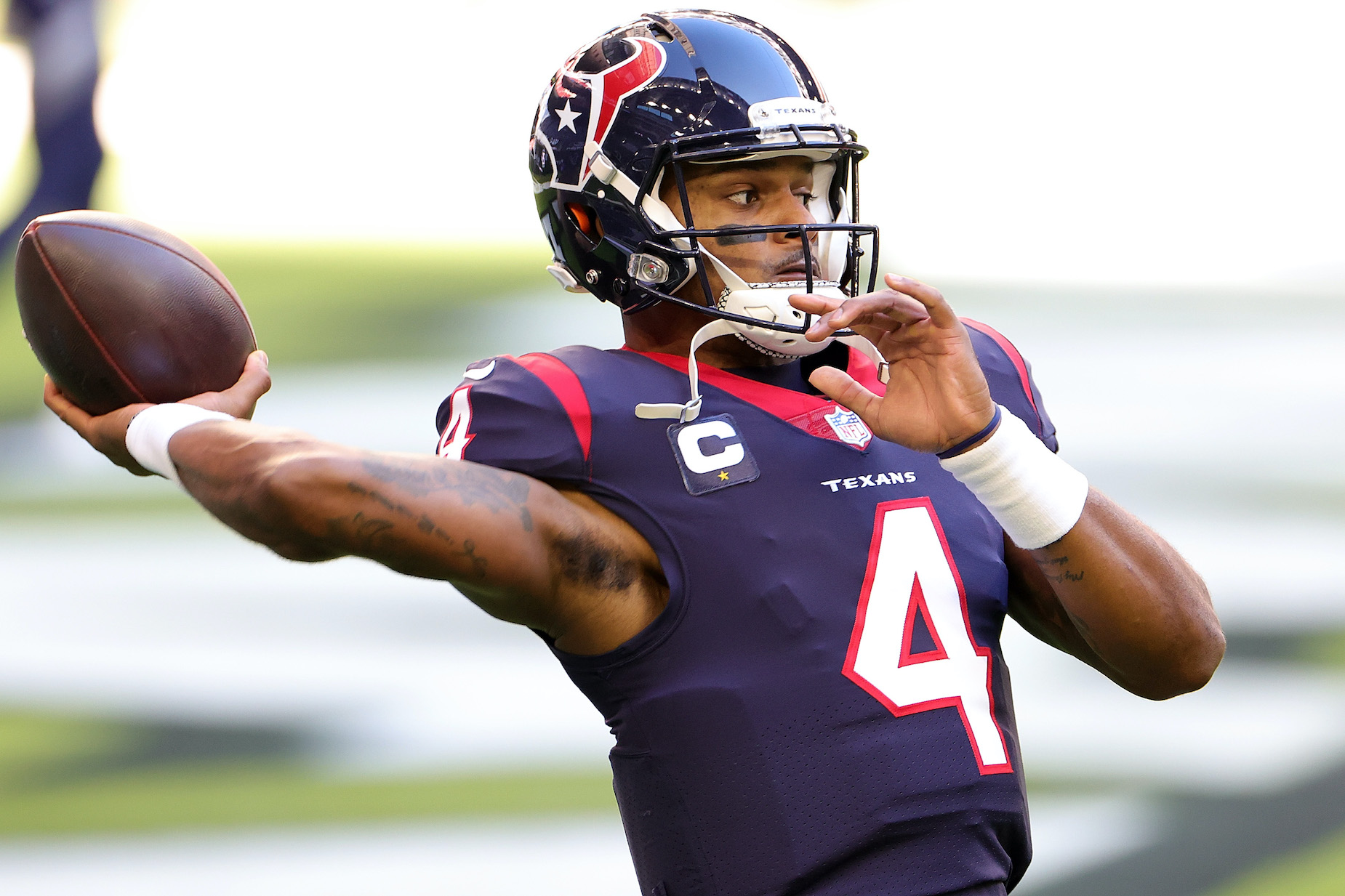 Houston Texans Quarterback Deshaun Watson Reportedly 'Wants to Play' for 2 Specific Teams in 2021, According to an NFL Insider
If Deshaun Watson gets his wish and leaves Houston, he's apparently interested in playing for in two specific cities.
While the NFL quarterback carousel is spinning at full speed, Deshaun Watson still hasn't punched his ticket to ride. While the Houston Texans signal-caller has made it clear that he wants to leave the Lone Star State, there's one problem: his team isn't willing to trade him. That reality, however, hasn't stopped rumors from swirling about his potential trade destinations.
Earlier in the offseason, Deshaun Watson was linked to three specific teams. According to Mike Lombardi, however, the quarterback now has his sights set on two specific cities, neither of which was on that initial list.
Deshaun Watson and the Houston Texans are stuck in a stalemate
In September 2020, the Houston Texans made what seemed to be a no-brainer of a move and signed Deshaun Watson to a four-year contract extension. Less than a year later, though, things seem to be headed for an ugly divorce.
At this point, the issues in Houston are fairly well documented. Before the 2020 campaign even began, Bill O'Brien infamously traded DeAndre Hopkins for some magic beans. The Texans then limped to a 4-12 record, with the head coach losing his job after Week 4.
When it came time to find a new head coach and general manager during the 2021 offseason, Watson's input was apparently ignored. That seemed to be the last straw, and the quarterback requested a trade.
The Texans, however, aren't willing to play ball. General manager Nick Caserio said the team has no interest in trading Watson and, earlier in the offseason, reports suggested that Houston was literally refusing to answer the phone to field trade offers.
The quarterback has previously been linked to specific three teams
While the Houston Texans don't have to trade Deshaun Watson, the quarterback does have some leverage in the situation. Not only can he refuse to report for the 2021 season—which he's apparently prepared to do—but he can also essentially dictate his trade destination.
As part of his contract extension, Watson scored a no-trade clause. Without delving into the finer details of NFL contracts, that means he can reject any trade that doesn't suit his fancy; in essence, he can tell the Texans that he'll only accept a deal that sends him to a specific handful of teams.
Earlier in the offseason, an ESPN Upstate report suggested that Watson would be willing to join the New York Jets, the Carolina Panthers, or the Miami Dolphins. A more recent update, however, expects that he has some different destinations in mind.
Deshaun Watson reportedly prefers to join the Denver Broncos or San Francisco 49ers
In theory, just about every NFL team would be happy to add Deshaun Watson to their roster. According to Mike Lombardi, however, it seems like two specific teams now have a better shot than the others.
"[Watson] controls where he wants to go," the NFL Insider said on The Rich Eisen Show. "The rumor is he doesn't want to play in New York. The rumor is he doesn't want to play in Miami. He wants to play in Denver and San Francisco."
While it is worth noting that Lombardi specifically said that he was sharing a "rumor," the links to Denver and San Francisco could make sense. During the offseason, there have been whispers that the Broncos aren't sold on Drew Lock; similarly, Jimmy Garoppolo is coming off an injury-plagued season and has been linked to a trade away from the Bay Area.
Will Deshaun Watson end up joining one of those two teams this offseason? At this point, it's simply not clear how his trade saga will play one. It's safe to assume, however, that there will be plenty of twists and turns along the way.