Deshaun Watson May Have Just Put the Houston Texans on Blast With a Cryptic Tweet
Under ordinary circumstances, most professional athletes keep things pretty generic on Twitter. Usually, you'll see some fun pictures and generic messages reacting to wins and losses; on occasion, there will be a locker room video or a more detailed glimpse into their private life. Houston Texans quarterback Deshaun Watson, however, may be doing things a bit differently.
While the NFL offseason has only just begun, Deshaun Watson and the Houston Texans are already engaged in a tense standoff. The quarterback wants to be traded, but the team isn't ready to trade their star play, especially when he just signed a new contract. In that context, one of Watson's recent tweets has been interpreted as a shot at his current employer.
Deshaun Watson wants to be traded ASAP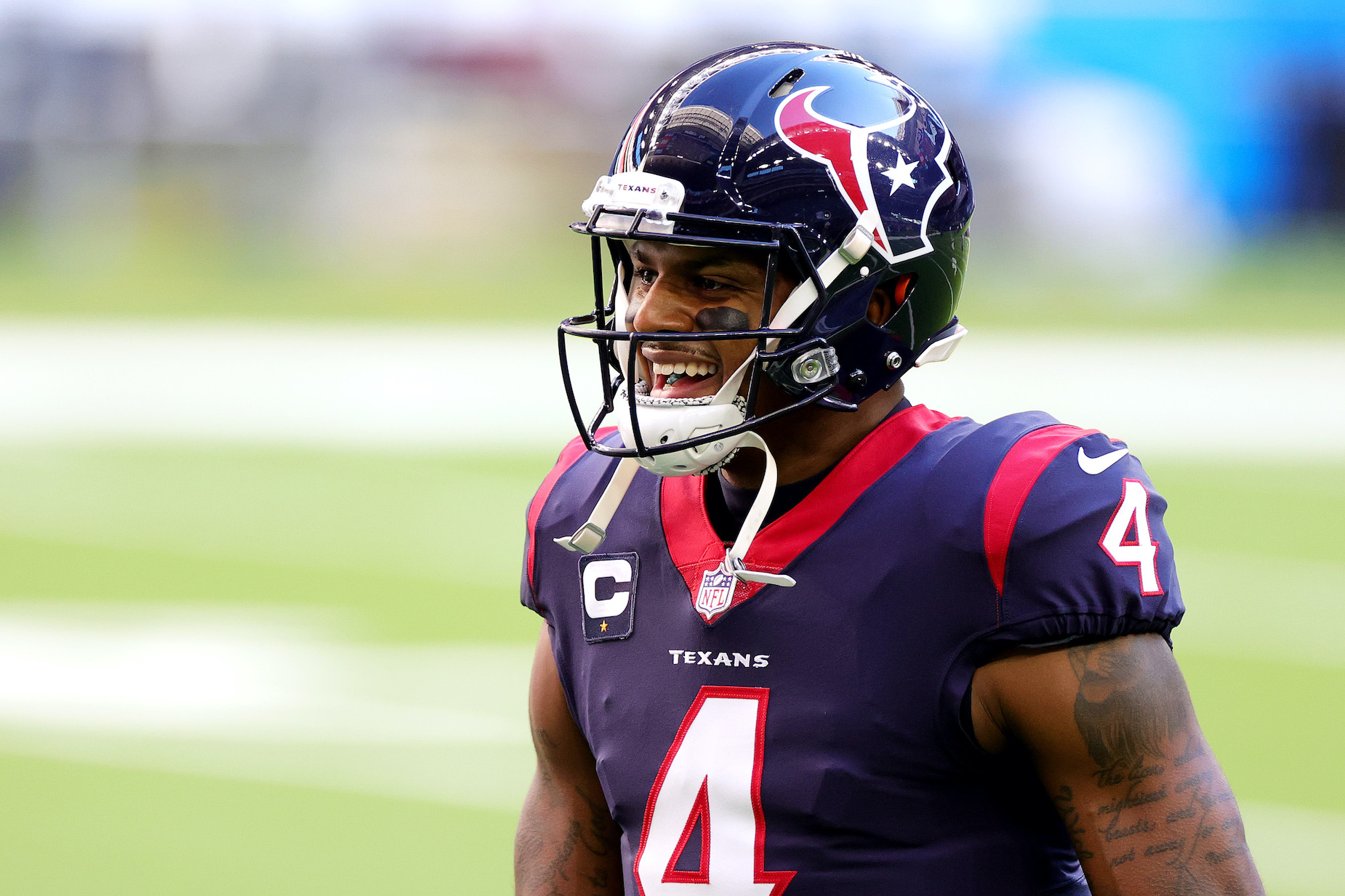 In September 2020, Deshaun Watson signed a new contract with the Houston Texans. Less than a year after putting pen to paper, though, he's now ready to leave town.
Speaking purely in terms of on-field issues, it's clear to see what changed Watson's mind. In 2019, the Texans won the AFC South title and made it to the Divisional Round of the playoffs, where they blew a lead to the Kansas City Chiefs. In 2020, though, things were much different.
During the offseason, Bill O'Brien traded DeAndre Hopkins to the Arizona Cardinals; while that deal was, in theory, supposed to make the Texans better, trading your top receiver isn't exactly a recipe for success. Houston limped to a 4-12 record, despite Watson posting career-best numbers.
In the offseason, things haven't gotten better. When the Texans hired a new general manager and head coach, they apparently sought—then overlooked—their star player's advice. That seems to have been the last straw, prompting Watson to formally request a trade.
The Houston Texans aren't prepared to trade their starting quarterback
At this point, Deshaun Watson has made it pretty clear that he doesn't want to play for the Houston Texans anymore. The team, however, is under no obligation to trade him, and, as of now, they aren't even entertaining the thought.
After general manager Nick Caserio joined the team, he made it incredibly clear where the Texans stood. "Organizationally, just want to reiterate our commitment to Deshaun Watson. He's had a great impact on this organization, a great impact on a lot of people, a great impact on this team," Caserio explained. "We look forward to the opportunity to spend more time with him here this spring, once we get started. We have zero interest in trading the player."
In isolation, you could believe that those comments were just part of the dance; if the Texans said they were ready to move Watson, they might not get everyone's best offer. In reality, though, Houston seems to have dug their heels in.
According to a Tom Pelissero tweet, the Texans literally won't answer the phone, forcing teams interested in Watson to leave voicemails. While there's a long way to go before the 2021 season begins, it doesn't seem like a quick resolution to this standoff is on the cards.
Deshaun Watson may have called out the Houston Texans in a recent subtweet
At this point of the offseason, both Deshaun Watson and the Houston Texans are still dug in; with months to go before the regular season, neither party wants to be the one to blink first. On social media, however, the quarterback may have taken a shot at his current employers.
On Thursday, February 25, Watson tweeted, "Loyalty is everything. Don't you EVER forget it." While the quarterback could have been talking about anything—he later tweeted photos of himself doing work with his charitable foundation, so he could have—many assumed his words were a reference to his current trade request.
If we assume that Watson was talking about football, it's pretty easy to connect the dots. When the quarterback signed a new contract, he was showing 'loyalty' to the Texans; since they didn't return the favor to him, he's entitled to go elsewhere.
As some Twitter responses pointed out, though, loyalty doesn't always come with conditions. To some football fans, Watson is the one showing disloyalty by signing a contract and requesting a trade after things didn't work out as he wanted.
Again, it's not clear what Deshaun Watson was talking about; for all anyone knows, his tweet had nothing to do with the Houston Texans. During an offseason standoff, though, any potentially ambiguous statement can—and usually will—be taken as a shot across the bow.