Dirk Nowitzki's Rookie Season Could Have Been Much Easier If He Hadn't Been 'Too Self-Conscious' to Ask for Help
While football may reign supreme in Texas, the Dallas Mavericks have boasted some big-time NBA talent over the years. It's tough, for example, to get any bigger than Dirk Nowitzki. The big German arrived from Germany in the late 1990s and grew into arguably the greatest European player the Association has ever seen.
And, believe it or not, he might have been even better if he hadn't held himself back.
Yes, you read that correctly. Dirk Nowitzki, a living legend and guaranteed hall of fame, could have shone even more brightly during the early days of his NBA career. The issue? He was too self-conscious to ask for guidance.
Let's travel back to the 1990s and check it out.
Dirk Nowitzki admired Detlef Schrempf but didn't want to bother his fellow German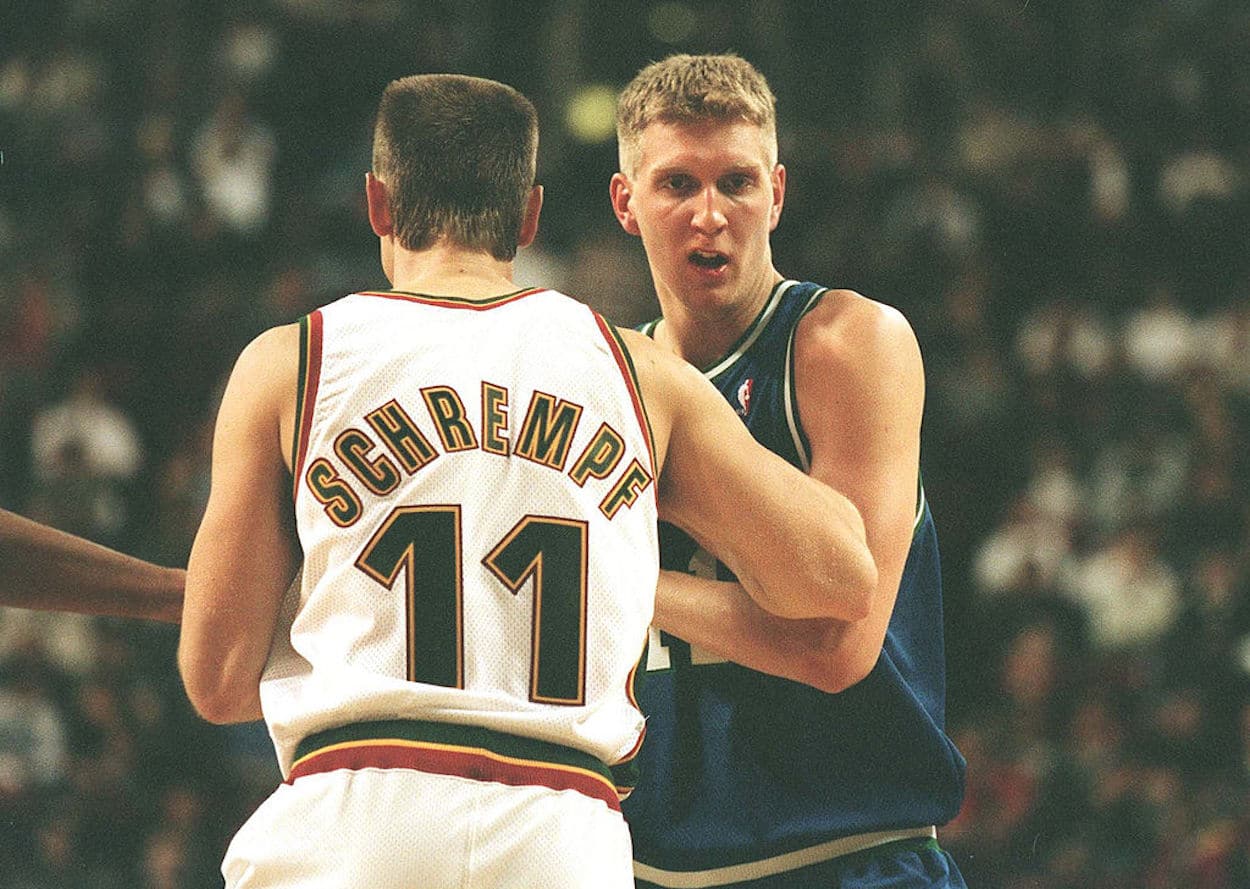 While it might sound unbelievable in hindsight, Dirk Nowitzki jumped directly from the German second division to the NBA. As if the difference in opposition wasn't obvious enough, the forward quickly found himself facing off against some of his heroes.
"Yeah, the first game was in Seattle against Detlef Schrempf, who I was a huge fan of," Dirk told Alex Schluter in a 2019 Sporting News interview. "He gave me his number right away, if I needed something. But the biggest "wow" moment was the fourth game, when we played Houston. With Scottie Pippen and Charles Barkley, they had two of my biggest idols on their team. Hakeem Olajuwon was there as well."
Based on the fact that Schrempf gave Nowitzki his number, you'd probably expect the rookie to have bombarded his hero with questions. In reality, though, the opposite happened.
"I was impressed by how nice Detlef was to me," the Mavs legend continued. "I was too self-conscious to actually reach out to him, which is why we barely spoke. But that wasn't me being too confident to say I didn't need his help — I just didn't want to bother him with my petty rookie problems. Looking back at it, I should have reached out more."
And there you have it, straight from the man himself.
While Nowitzki's opportunities for improvement were pretty limited, his rookie year was a challenge
So, if we take Dirk Nowitzki at his work, things would have gone a bit more smoothly if he had leaned on Detlef Schrempf. While that may be true, it's not like the Mavs man suffered through any unreasonable struggles.
The biggest blemish — and we're using that term loosely — on Dirk's resume is his rookie year. The forward appeared in 47 games during that shortened campaign and started 24 of them, but didn't make the most of his time on the court. He only averaged 8.2 points, 3.4 rebounds, and 1.0 assists per contest.
While you might think that was the obvious place to ask for help, there was probably only so much anyone could do. As mentioned earlier, Nowitzki had jumped straight past several levels of competition and was now squaring off the best of the best. For the most part, he simply had to take his lumps and improve through experience.
"One year earlier, I played for Wurzburg in the second German division — now I was there with the best players in the world," he explained. "I wasn't sure I belonged there, if I would make it. The first year was brutal in that regard."
And while there's nothing that Schrempf could have really done there — advice will only take you so far when you're on the court — he probably could have given Dirk a bit of support. Nowitzki's use of the phrase "rookie problems" suggests that he was probably going through some standard growing pains, like adjusting to life in a new city (or, in this case, country) and grappling with no longer being the big fish in a small pond. A veteran, especially with a shared professional experience, probably could have helped smooth things over.
When we look at the big picture, though, everything clearly worked out. Dirk survived that challenging rookie year and only improved from there. Who knows, maybe that NBA crash course helped make him the star he eventually became.