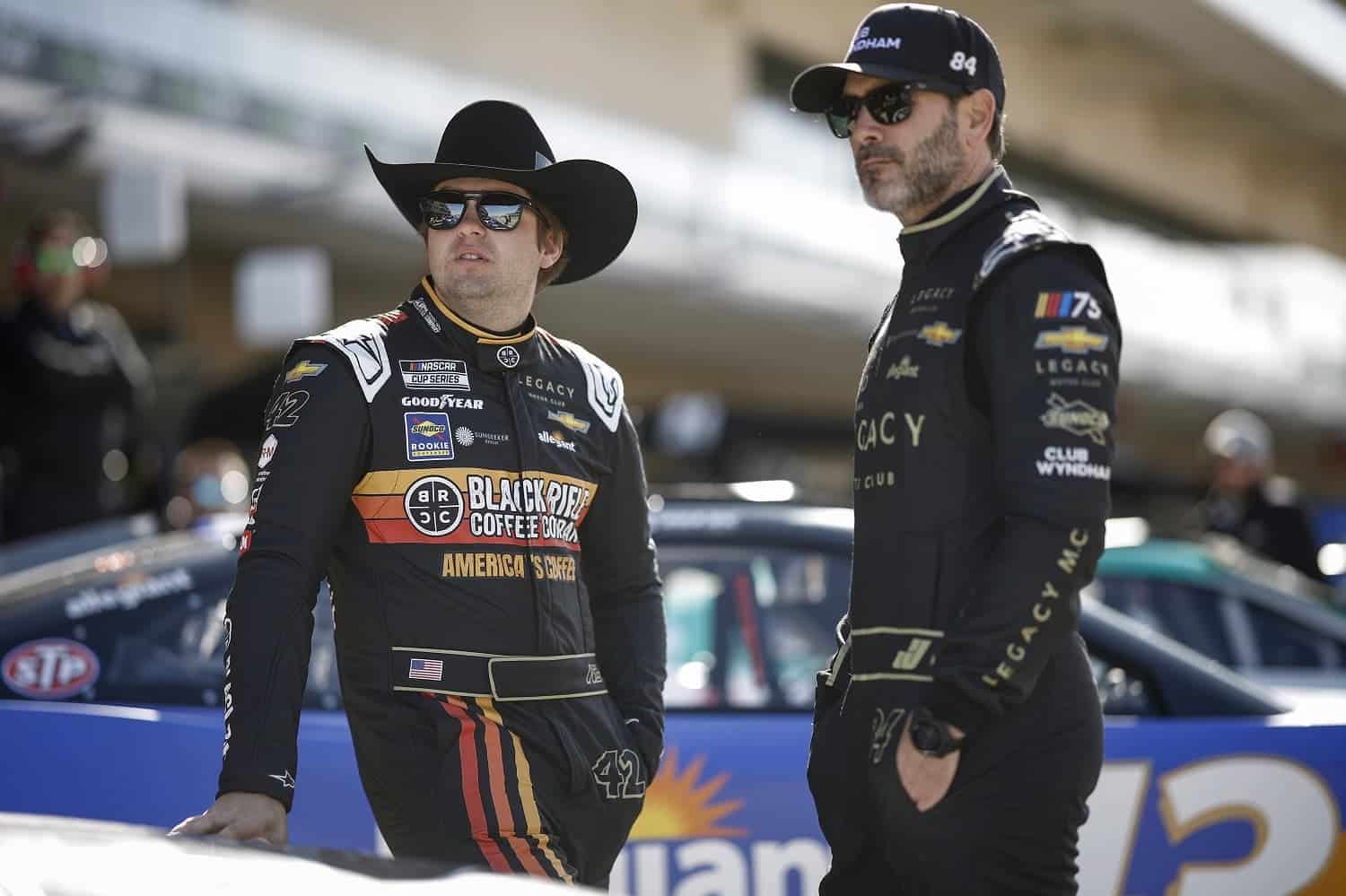 Does Jimmie Johnson Realize the Cup Series Junkyard Is Littered With Failed Toyota Teams?
Legacy Motor Club will switch its partnership to Toyota in 2024, but small teams have not fared well with that manufacturer.
The NASCAR season undoubtedly isn't playing out how Jimmie Johnson and Maury Gallagher envisioned. Realistically, however, the announcement this week that Legacy Motor Club is switching to Toyota in 2024 isn't directly related to 2023 results with Chevy.
There was already offseason talk of Toyota expanding its presence in the Cup Series. Justin Marks at Trackhouse Racing came out publicly to say he wasn't interested, but the manufacturer was making the rounds.
LMC executives obviously decided this was the time to move forward. The question is how closely they examined the past. Joe Gibbs Racing has scored its share of successes, but there's a concerning trail of failed Toyota teams in Cup racing.
Year 2 of the Next Gen Car has been hard for some Ford and Chevy drivers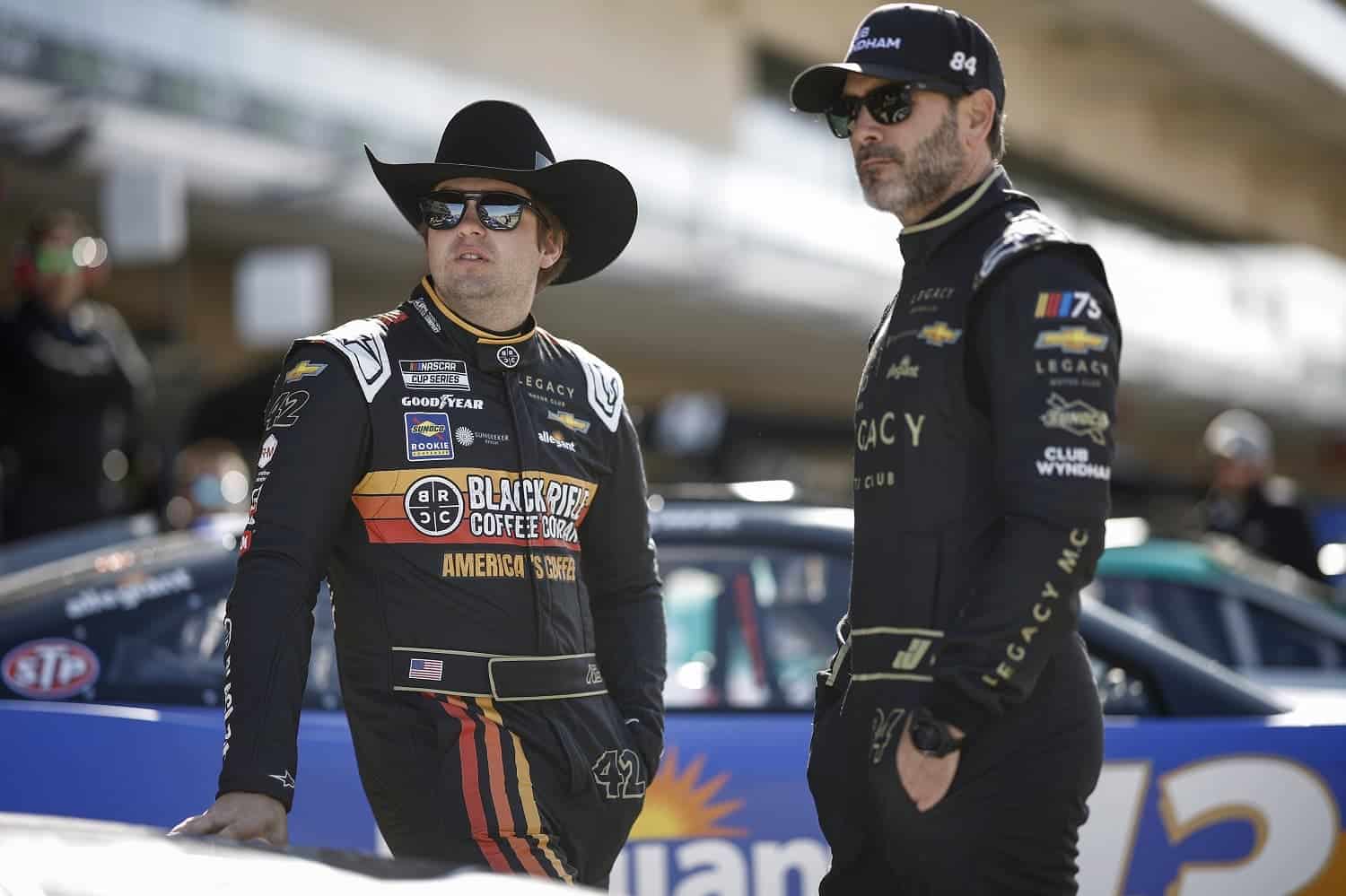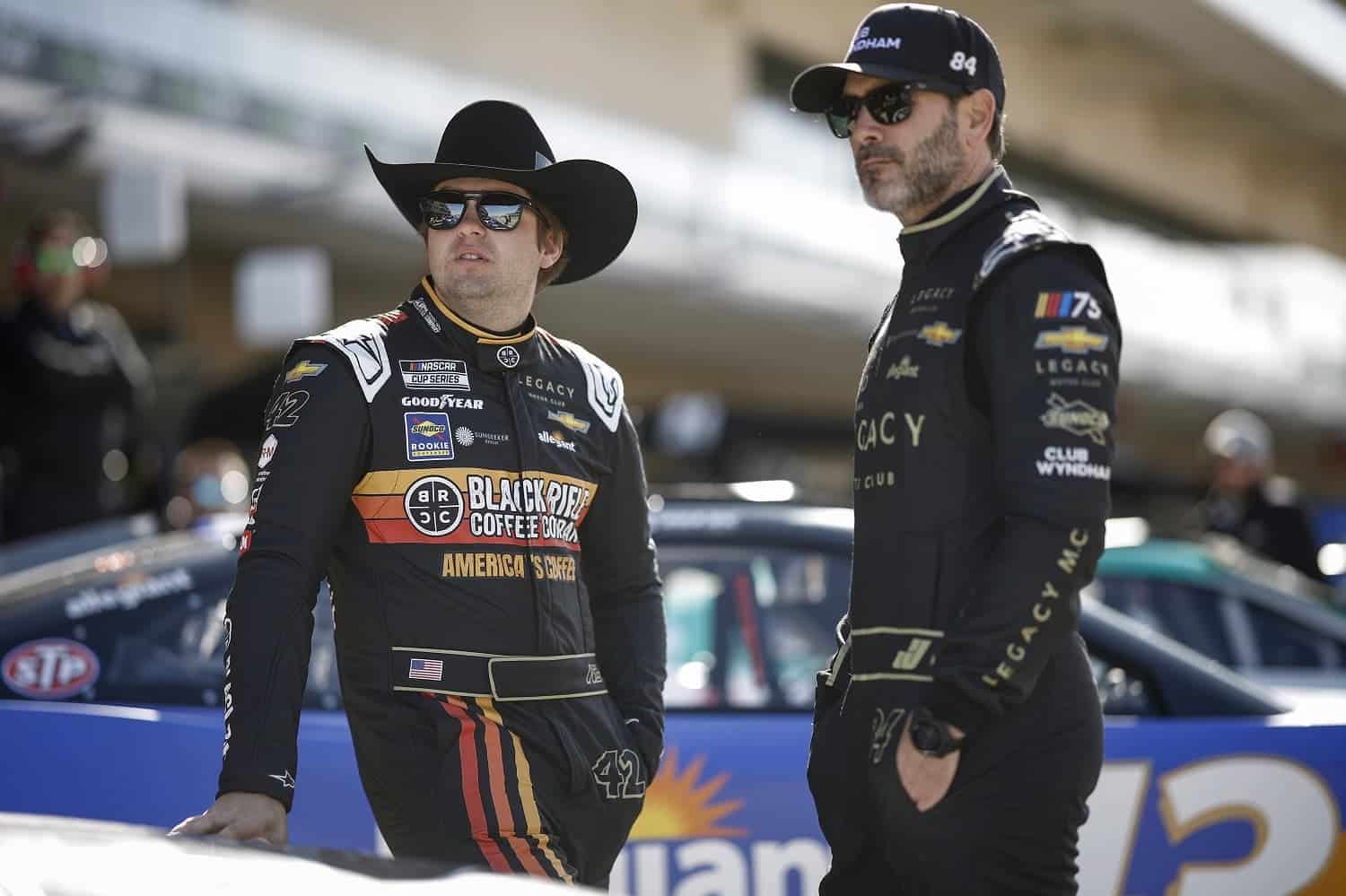 The 2022 NASCAR Cup Series took every team into the great unknown. The debut of the Next Gen car rendered years of data on car set-ups and track characteristics nearly meaningless. Everyone started from scratch in cars closer to the IROC model of parity than ever before.
Consequently, 15 drivers won during the regular season, and 19 visited Victory Lane over the course of 36 races. Trackhouse Racing figured things out, and so did Joey Logano. Some others did not.
This second time around, Stewart-Haas Racing, with Kevin Harvick an exception, is struggling mightily, as are Chevy drivers from whom more was expected, like Erik Jones and rookie Noah Gragson at Legacy Motor Club.
Now, LMC has made the jump to Toyota, effective next season. There are undoubtedly financial considerations at the heart of the decision. However, LMC will become one of just three Toyota teams, so perhaps Jimmie Johnson and Maury Gallagher feel as though they'll get more attention from a partner with fewer clients to serve.
The short history of Toyota in NASCAR
Toyota entered NASCAR in methodical fashion beginning in 2004. That year, the manufacturer joined GM, Ford, and Chrysler in the Craftsman Truck Series by bringing its Tundra into the mix. Chrysler left after the 2013 season, so it's just been three competing since.
Toyota added its Xfinity Series component by bringing the Camry into competition in 2007. The Supra replaced that model in 2019. Chrysler left in 2013, so it's just been Toyota, GM, and Ford since.
Finally, Toyota also made its Cup Series debut in 2007 as the partner of Michael Waltrip Racing, Bill Davis Racing, and Red Bull Racing. In 2008, Joe Gibbs Racing bolted from Chevy. Those four teams are as good a place as any to start in asking the question of whether Legacy Motor Club understands what it's getting itself into.
This score just in: Joe Gibbs Racing 144, all other Toyota teams 29
When Joe Gibbs Racing joined forces with Toyota in 2008, it was already an established organization with three driver championships to its credit and Tony Stewart, Kyle Busch, and Denny Hamlin on its roster. JGR is why Toyota has won three of the last seven manufacturers' championships.
JGR has won 202 races, and 144 have come in Toyotas. All other Toyota teams have combined for 29. How to explain it? For starters, owner Joe Gibbs jumped in with both feet and remained committed. He brought three strong drivers to the table in 2008 and added a fourth full-time car in 2015. Other teams have lasted about as egg salad in blistering sunshine.
Take a look at the three original Toyota teams:
Red Bull Racing dipped a toe in the NASCAR Cup Series in 2006 and then *went full-time as a Toyota team the following year with A.J. Allmendinger and Brian Vickers. The organization never expanded, never fared better in the standings than 12th place by Vickers in 2009, and left after the 2011 season.
Bill Davis Racing was a long-standing Cup team but had already backed down to a single full-time car by the time it switched to Toyota in 2007. The team was gone after the 2008 season for financial reasons.
Michael Waltrip Racing cars made a combined 18 starts from 2002-06 before an infusion of Toyota cash. Against all odds, given some major run-ins with NASCAR, MWR survived through 2015, but there were only seven wins despite running three full-time cars most years.
Footnote: BAM Racing was technically a Toyota team from 2008-10 but made just two total starts, another victim of the Great Recession.
Conclusion: Legacy Motor Club had better be committed
The second wave of Toyota teams fared a bit better than the teams other than Joe Gibbs Racing. Martin Truex Jr. even won the 2017 championship with Furniture Row Racing, which competed from 2015-18.
Michael Jordan entered NASCAR as an owner in 2021, and his partnership with JGR driver Denny Hamlin made a Toyota affiliation a natural. Bubba Wallace, Kurt Busch, and now Tyler Reddick have won for 23XI Racing, and going to three full-time cars soon appears to be inevitable.
Putting aside Truex's championship, Toyota's history thus far matches the recent trend for Chevy and Ford: Small teams have difficulty keeping up with competitors fielding three or four cars. It's more of an issue with Toyota because even the addition of Legacy Motor Club will only bring the manufacturer up to three teams and eight cars in 2024.
Maury Gallagher infused much-needed money into the former Richard Petty Motorsports garage and immediately doubled the team's size last year. Erik Jones and Noah Gragson are in Chevys now but have worked with Toyota in the past.
If they're going to succeed, the owners and the manufacturer must commit to the long haul and be willing to spend. The fact that Toyota flipped the team from Chevy suggests money won't be an issue, and Jimmie Johnson buying a piece of LMC and leaving his IndyCar flirtation behind suggests he's committed to the long run.
Got a question or observation about racing? Sportscasting's John Moriello does a mailbag column each Friday. Write to him at [email protected]