Dolphins Linebacker Zach Thomas Had a Heartwarming Reaction to the Hall of Fame Passing Over Him for the 7th Year in a Row
Miami Dolphins linebacker Zach Thomas is undoubtedly a Pro Football Hall of Fame kind of player. Since retiring in 2008, he has patiently bided his time, waiting on a particular special call from Canton. In 2022, Thomas was passed over yet again — for the seventh time.
The 49-year-old's numbers say he should've been inducted by now. The seven-time Pro Bowler was a bright spot on the dismal Nick Sabin-led Miami Dolphins team that marked the tail end of his NFL career.
So how does Thomas cope with the inevitable frustration of being passed over so many times? In a particularly surprising, heartwarming fashion.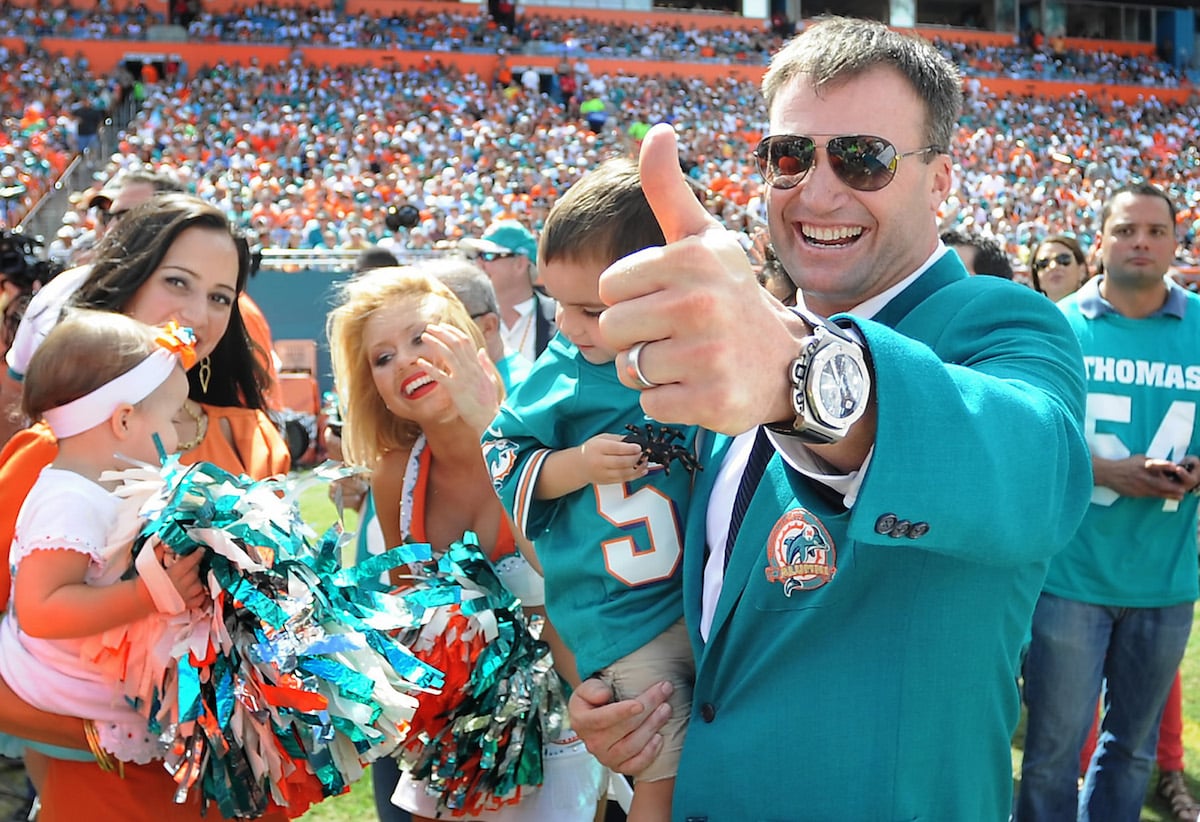 Zach Thomas earned Hall of Fame consideration during his NFL playing days
Thomas's career with the Dolphins ended horribly for the team, with an infamous 1-15 season. He went on to play one more year in the NFL with the Dallas Cowboys. But before that rough ending, during which he played well, Thomas was one of the brightest stars on the Dolphins.
The Pampa, Texas, native earned his four Hall of Fame finalist spots by being one of the best linebackers from 1996 until the end of his playing career in 2008. WPTV reports that Thomas instantly earned the top linebacker spot as a rookie, playing all 16 games that year. He recorded 20.5 sacks, 17 interceptions, and 17 forced fumbles during his 12-season run.
Most importantly, Thomas racked up 1,720 tackles. He led the entire NFL in tackles twice, in 2002 and again in 2006. His numbers put him in the same conversation as Hall of Fame inductees like Brian Urlacher and Ray Lewis.
But the Hall works in mysterious ways. One of those quirks appears to be Thomas being left out in the cold, year after year, for mysterious reasons.
Thomas coped with his latest Hall of Fame snub in the most heartwarming way
The former Dolphins LB was snubbed for the seventh time in 2022. Anyone with a heart knows that each rejection must sting more than the last. But outwardly, at least, the two-time NFL Linebacker of the Year award-winner is handling it with an unprecedented level of class.
Instead of throwing a pity party, Thomas brought joy to a fan. He learned about a long-time supporter of his, a Miami bartender who still wears Thomas's jerseys. The man, known only as Ramon, got a surprise visit less than 24 hours after Thomas's latest snub, USA Today reports.
Fox and Friends host Will Cain posted a video of the heartwarming moment on his Twitter account. Ramon shows off picture after picture of significant moments in his life. In each, he wears Thomas's Dolphins jersey. Then Thomas appears at the bar, eschewing sulking over being snubbed by Canton in favor of hanging out with a longtime fan.
Zach Thomas isn't alone in having a strained connection with the Pro Football Hall of Fame
If Thomas is looking for company, plenty of controversial choices are enshrined in Canton already. Some are retroactive.
For example, Chicago Bears legend Gale Sayers has average overall stats by modern standards. His intangibles — namely, his character and how it affected his teammates — bolstered his Hall of Fame bona fides. He's the perfect example of how stats aren't everything. Sometimes guys like Thomas must wait longer than their fans expect.
Thomas can also count his blessings; nobody has a bad word to say about him. Unlike, say, Jacksonville Jaguars tackle Tony Boselli, who loudly campaigned for his spot in the Hall. That angered Buffalo Bills legend Bruce Smith, who chafed as Boselli's case largely hinged on a single game against him.
Boselli's situation will always be a bit tainted by bad feelings from his peers. On the other hand, Thomas's patience will hopefully be rewarded by a controversy-free induction someday. As a finalist for the 2023 Hall of Fame, he certainly stands a chance. He'll find out on February 9.