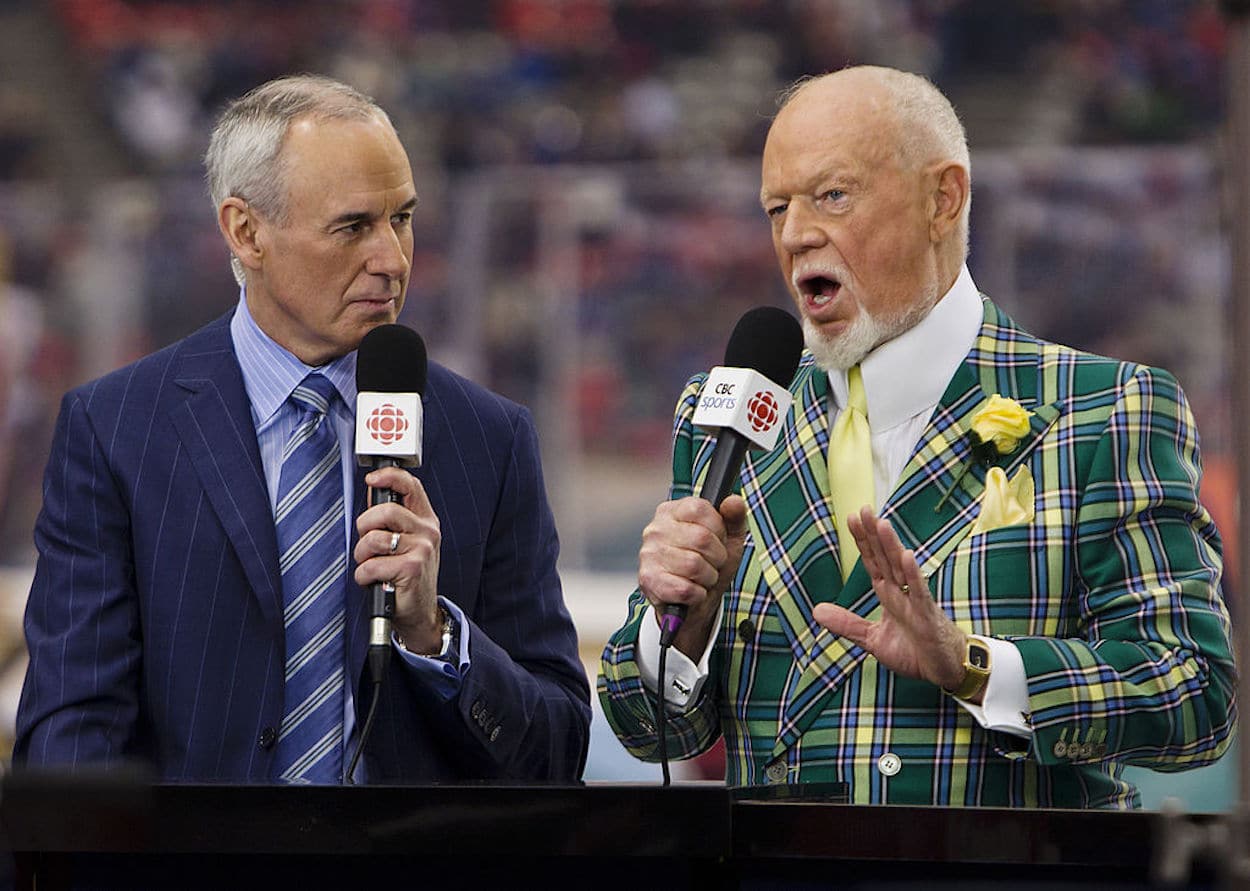 Don Cherry Doesn't Think That He and Ron MacLean Will Ever Be Friends Again
In a recent interview, Don Cherry explained that he doesn't think he can ever be friends with his old partner, Ron MacLean, ever again.
While there are plenty of dynamic duos in sports, some of those do their work in the media. As hockey fans will remember, Ron MacLean and Don Cherry were one of those iconic pairings. For what seemed like an eternity, the two men were a fixture on Hockey Night in Canada. The evening wasn't complete without "Coach's Corner," where Cherry would say whatever was on his mind as MacLean tried to keep the segment moving along.
Everything, however, changed in November 2019. Cherry, who was no stranger to controversial comments, crossed a line ahead of Remembrance Day and was removed from the program.
Those events did more than take Cherry off the air, though. Ron MacLean's subsequent apology apparently ended any chance of friendship between the duo.
Don Cherry didn't back down from his 2019 comments, but Ron MacLean did apologize for his role
As long-time Hockey Night In Canada viewers will tell you, Don Cherry has spoken about Remembrance Day poppies on several different occasions. In 2019, however, he produced the straw that broke the camel's back.
"The 85-year-old Hockey Night in Canada personality said on Saturday on his weekly Coach's Corner segment that he's less frequently seeing people wearing poppies anymore to honour fallen Canadian soldiers, and he singled out those he believes are immigrants in Toronto, prompting a swift online backlash," a CBC story from the time explained. "'You people … you love our way of life, you love our milk and honey, at least you can pay a couple bucks for a poppy or something like that,' Cherry said. 'These guys paid for your way of life that you enjoy in Canada, these guys paid the biggest price.'"
The following day, MacLean took to Twitter and apologized for failing to intervene.
"During last night's broadcast, Don made comments that were hurtful and prejudiced and I wish I had handled myself differently. It was a divisive moment and I am truly upset with myself for allowing it," he wrote, according to Global News. "I have worked with Don for 30 years, and we both love hockey. But last night, I know we failed you."
The host also began the next day's Hometown Hockey broadcast by speaking directly to the audience about what had happened.
"Don Cherry made remarks which were hurtful, discriminatory, which were flat out wrong," MacLean explained (h/t Sporting News). "We at Sportsnet have apologized. It certainly doesn't stand for what Sportsnet or Rogers [Communications] represents. We know diversity is the strength of the country. We see it in travels with our show and with Hockey Night in Canada. I owe you an apology, too: that's the big thing I want to emphasize. I sat there, did not catch it, did not respond."
Cherry, for his part, didn't back down.
"I know what I said, and I meant it," he told Joe Warrington of the Toronto Sun after losing his job. "Everybody in Canada should wear a poppy to honour our fallen soldiers."
That apology has apparently ended any chance of friendship between MacLean and Cherry
Prior to Cherry's departure from Hockey Night in Canada, he and MacLean had been working together for what felt like forever. These days, though, the former coach doesn't think he can ever rebuild the bond they once shared.
"I don't think we'll ever be friends again," Cherry told Warrington in a clip of a recent interview shared on social media. "No, you can't be friends … No … It's too bad because we were together for, we were on there every… and we used to have fun and the whole thing. It was fun. Coach's Corner was fun."
In fairness to the 88-year-old, though, a longer video of the conversation explained that he doesn't exactly hold a grudge against MacLean.
"I really do believe in the Lord," Cherry explained. "And the Lord said, you know, 'Forgive, forget.' I do believe that. I don't know, I don't think I can ever forget, though. Tougher to me. But I don't have any animosity toward him." Those comments were then followed by the line about never being friends again.
And there you have it, straight from the man himself. Don Cherry, for better or worse, will always tell you what he thinks.
Like Sportscasting on Facebook. Follow us on Twitter @sportscasting19 and subscribe to our YouTube channel.