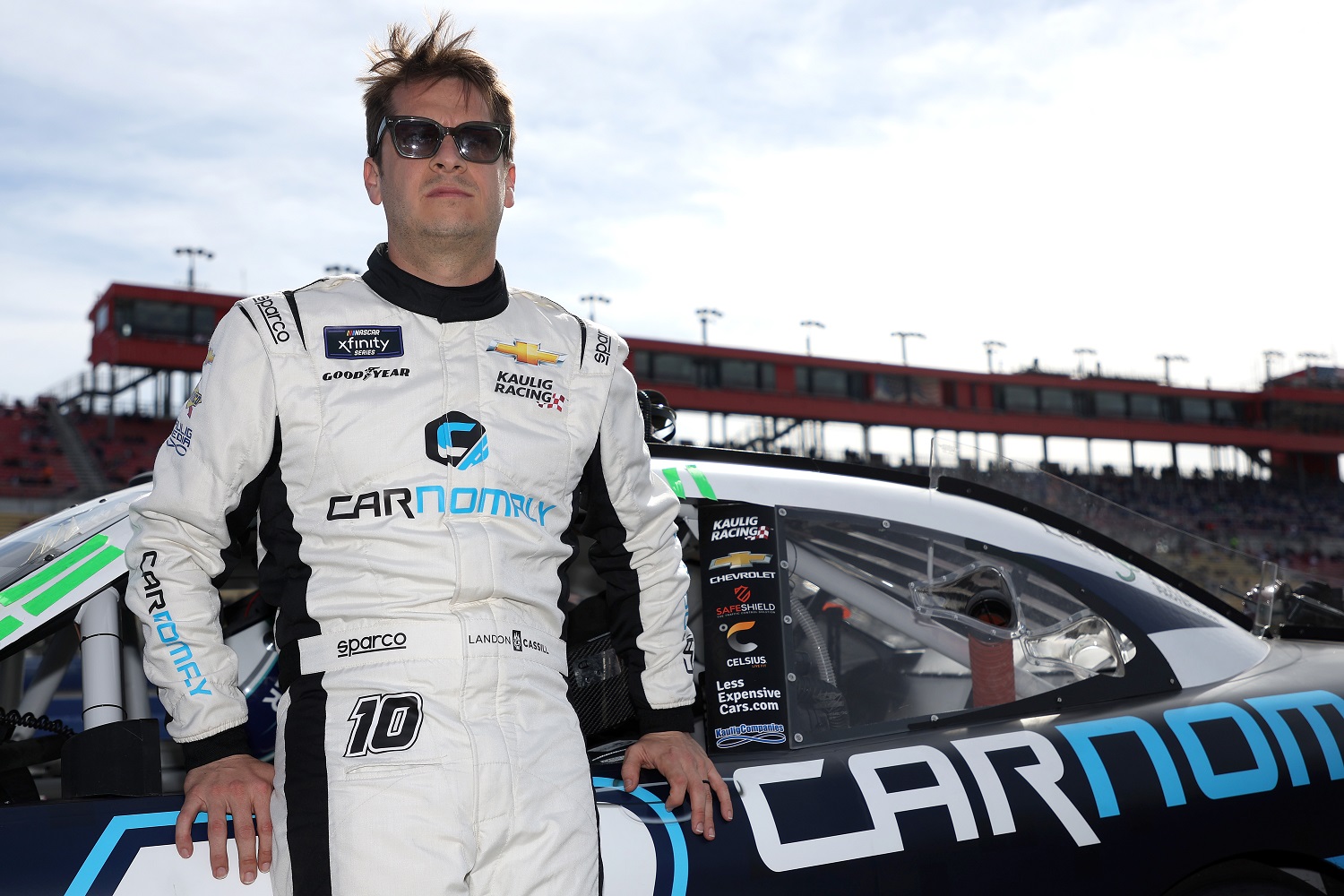 Don't Look Now, but Here Comes Landon Cassill as an Xfinity Series Factor
Landon Cassill has only one top-10 finish this season but shows real promise for the Kaulig Racing Xfinity Series team.
Landon Cassill is learning what it's like to drive for a proper racing team these days, and he's enjoying the ride.
Though the Xfinity Series is loaded with returning talent, Cassill showed a glimpse of what he's capable of last weekend in Las Vegas. Should he make it to the playoffs at the end of the schedule, the 32-year-old native of Iowa could draw upon enormous NASCAR experience to be a major player.
Landon Cassill turned up the heat in Fontana, so to speak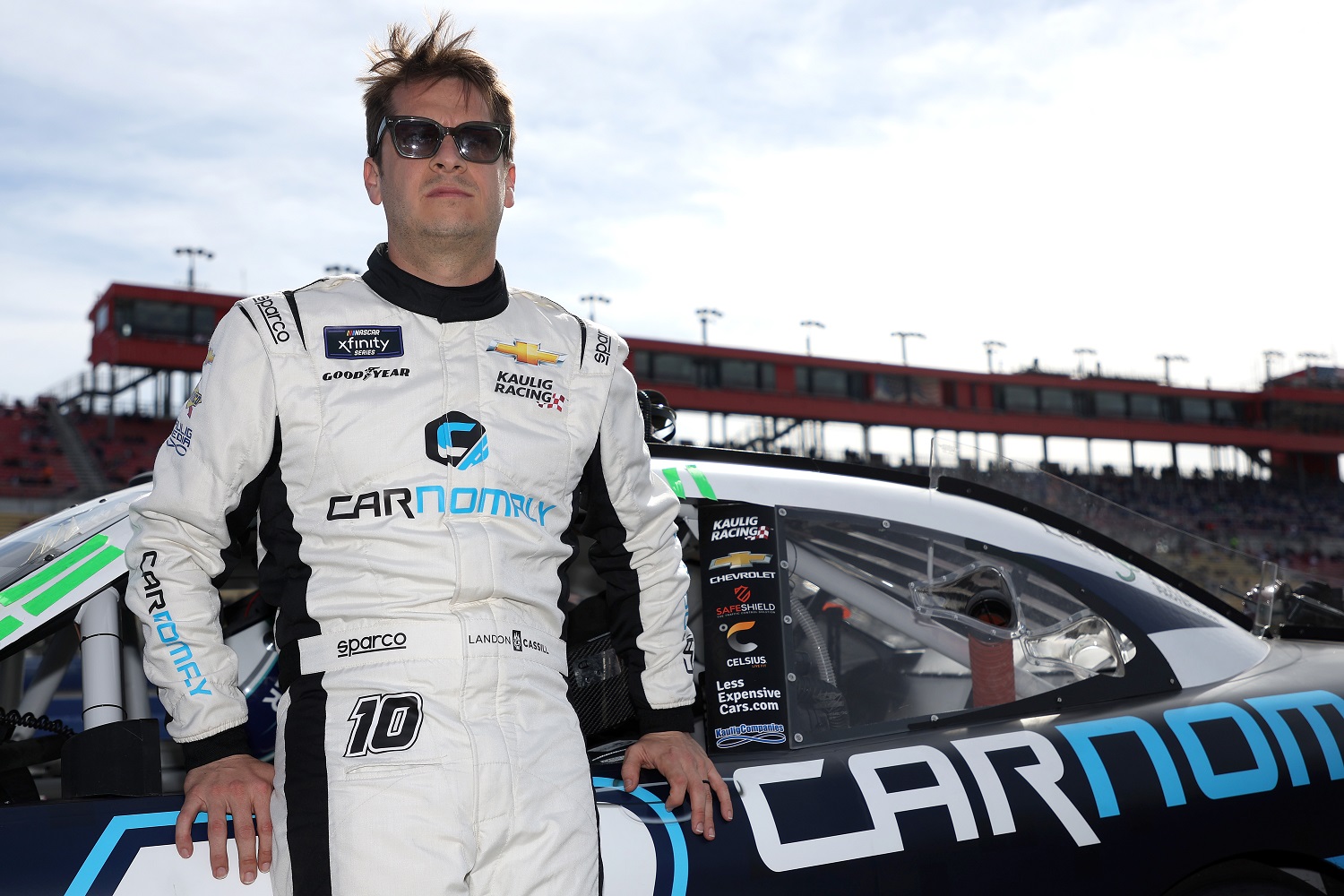 Veteran NASCAR driver Landon Cassill has finished last in just four of his 179 Xfinity Series starts, but the most recent instance was a frightening spectacle. Racing in a scheduled 300-miler last month at Auto Club Speedway, Cassill saw his day end in abrupt fashion.
The yellow flag came out after Cassill's No. 10 Chevy started leaking fluid on Lap 7. Before he could make his way back to the pits, fire broke out under the hood and quickly immersed the front of the car. The driver made it out safely, but the car was a mess. The hood warped from the extreme heat, and scorch marks decorated both sides of the car.
Lost in the scary visual that weekend was the fact that Cassill had qualified seventh in Fontana a week after qualifying sixth and finishing 14th at Daytona. In short, he was looking like the real thing.
Landon Cassill cracked the top 10 in Las Vegas
Though he failed to earn stage points, Landon Cassill did record his first top-10 finish of the season in Las Vegas. After qualifying fifth, he finished the day sixth. That marked the first trip to the top 10 since Bristol in 2019.
"It just proves what this team and these cars are capable of more than anything in my first whack at it driving a car like this," Cassill told TheRacing Experts.com.

Cassill is driving for Kaulig Racing, which is in its seventh season and has become a significant player in the Xfinity Series. The rest of Kaulig's Xfinity roster consists of defending champion Daniel Hemric and AJ Allmendinger.
Like Allmendinger, Cassill is a veteran of the Cup Series. He entered the season with 326 Cup Series starts, 176 in Xfinity cars, and eight in trucks. He's still looking for his first victory.
Kaulig Racing is a good place for Landon Cassill to land
Landon Cassill's resume includes 10 NASCAR Cup Series teams since 2010 and 10 more in the Xfinity Series dating to 2007. He had caught on with Morgan Shepherd in 2019, only to see that team shut down during the pandemic.
Cassill rejoined JD Motorsports last season, but the last third of the season was plagued by mechanical problems. He needed to move on to a team that could give him a reliable car, and Kaulig Racing gave him that opportunity.
With Justin Haley promoted to the Cup Series and Jeb Brown leaving, Kaulig filled the spots with Daniel Hemric, who competed for Joe Gibbs Racing last year, and Cassill.
The Xfinity free-agent market tends to be robust, so Kaulig had options after last season. However, as is often the case, sponsorship money came into play. Cassill had a solid relationship with Voyager Digital, a publicly traded cryptocurrency platform that sponsored 19 of his 32 races in 2021.
With Kaulig interested in Cassill, Voyager confirmed a two-year sponsorship extension with the driver, covering an undisclosed number of races.
"Continuing my partnership with Voyager Digital and Kaulig Racing is an incredible opportunity for me," Cassill said, according to The Associated Press. "I have a world-class partner in Voyager and the best support team in the business with Kaulig Racing."
One top-10 finish won't convince anyone. However, Cassill has experience and a car that runs well in qualifying. This is the first time in a long time that he looks like he has a real chance of riding onto Victory Lane.
All stats courtesy of Racing Reference.
RELATED: Building Around AJ Allmendinger Set Kaulig Racing on the Path to a Quick Start in the NASCAR Cup Series