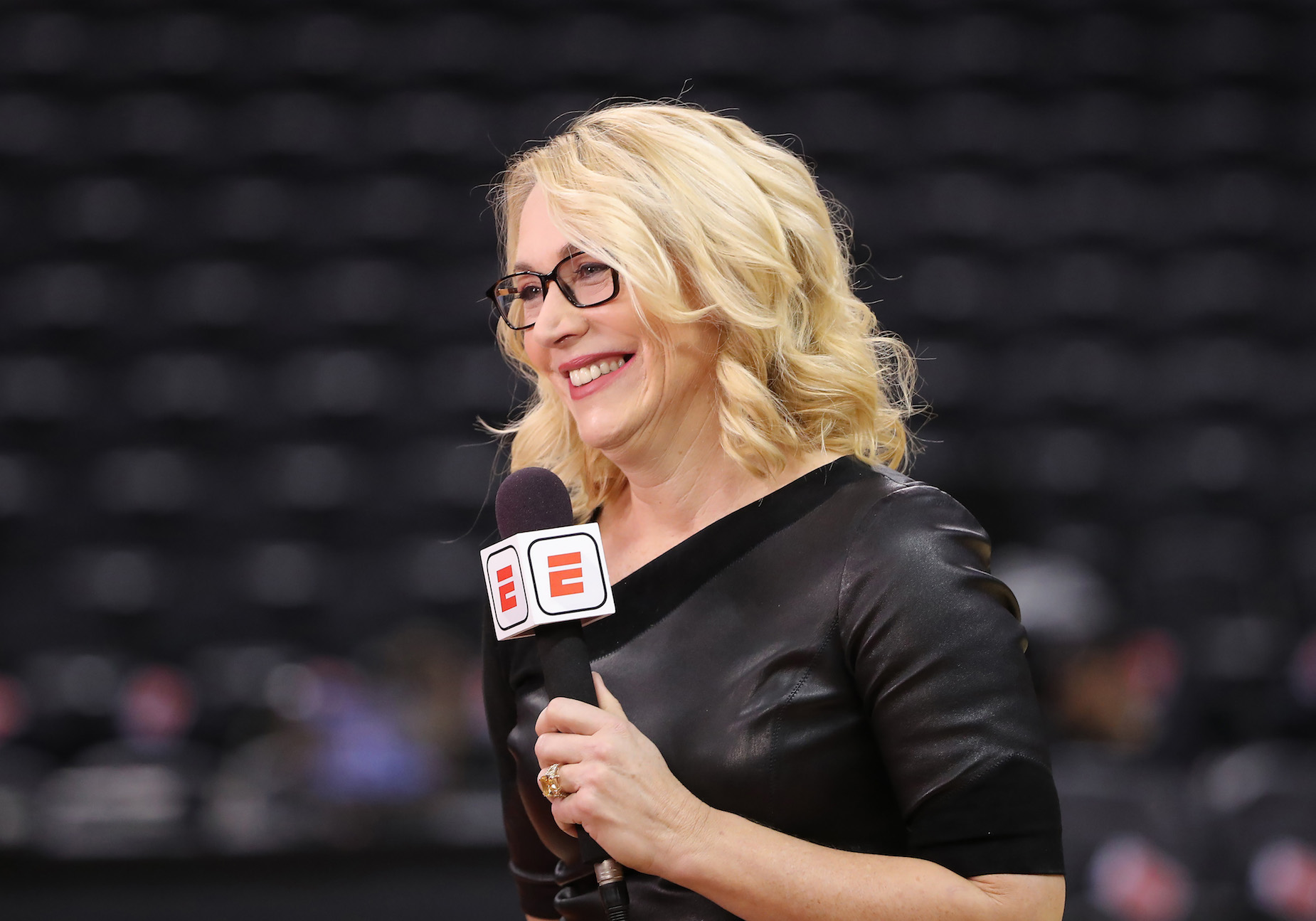 Doris Burke Had an Impressive Basketball Career Before She Ever Picked Up a Microphone
While you've probably heard Doris Burke call an NBA game, she had an impressive basketball career before ever picking up the microphone.
While sports fans tune in to the game to watch their favorite athletes and root for the home team, broadcasters are a key part of the viewing experience. In the world of basketball, few broadcasters are better than Doris Burke. If you're watching an important NBA matchup on ESPN, you're going to either hear her calling the action or sharing insights and interviews from the sidelines.
Although Burke has become a beloved part of the NBA landscape, her basketball career started before she ever picked up the microphone. In fact, she showed plenty of talent on the hardwood during her playing career.
Doris Burke's iconic broadcasting career
These days, Doris Burke is simply part of the media landscape. When you look at the scope of her career, that reality makes sense; she's been working the sidelines for almost 30 years.
Burke got her start in 1990, calling Providence College women's basketball games on the radio. Her talent was immediately apparent and, within a year, she had joined ESPN.
Since then, Burke has done virtually everything possible in the world of basketball media. As laid out by ESPN Press Room, she called New York Liberty games on the MSG Network and covered the WNBA for CBS Sports; she was the first woman "to call Knicks radio/television broadcast (2000) and a BIG EAST men's basketball game on television." Burke has also written columns about both basketball and parenting and served as an analyst for BIG EAST, Atlantic-10, MAAC, and ECAC action.
Most fans, however, are probably familiar with Burke's NBA work. As a sideline reporter and in-game analyst, she's become a household name and a fixture of ESPN broadcasts.
Doris Sable had an impressive playing career
If you're a basketball fan, you know the name Doris Burke. If things had gone differently, however, the world might have been hailing Doris Sable as the big name in women's basketball.
As Joseph Atmonavage detailed for NJ.com, Doris fell in love with basketball at an early age and relentlessly worked on her craft. She grabbed the starting point guard job on the Manasquan High School varsity team as a freshman; she averaged 19.8 points per game a senior and graduated as the top scorer in school history.
Burke scored a full scholarship to Providence and continued to star on the hardwood. According to ESPN, she "held seven records upon graduation, … finished her career as the school and conference all-time assists leader (602), Providence's single-season leader in assists (224), and single-season  (152) and career (440) leader in free throws."
After graduation, she remained on campus as a member of the coaching staff; she stayed on the job for two years before leaving to start a family. Unable to leave basketball behind, though, Doris started calling Providence women's games on the radio; from there, the rest is history.
That work ethic and love of the game have made Doris Burke a legend
It goes without saying that being a woman in the male-dominated sports world isn't easy. While Doris Burke has dealt with her fair share of haters—in 2008, Bill Simmons wondered if it made him sexist if he couldn't "listen to Doris Burke analyze NBA playoff games without thinking, Woman talking woman talking woman talking woman talking …' the entire time?"—she's become an incredibly respected fixture within the world of basketball.
In a 2014 Deadspin piece, Jeff Van Gundy went as far as calling Burke "the LeBron James of sportscasters." As any basketball fan can tell you, Dorris knows what she's talking about. She hustles, gets the interviews she needs, and shares that insight with the viewers; while other broadcasters may ramble, delve into personal details, or resort to empty cliches, Burke is always on her game.
At the end of the day, everything circles back to her playing career. As a girl, Doris Sable loved basketball and worked hard to be the best she possibly could. In addition to that strategy bringing her broadcast success, it helps her speak to even the most hardcore basketball lover.
"Little Doris Sable grew up in Manasquan, N.J., dreaming of playing in the NBA. How much of her male audience can't relate to that?" Bob Ryan once wrote on Boston.com. "Doris Burke has every right to analyze a basketball game, be it played by males or females. She is living proof that being a hoop junkie is not gender-specific."