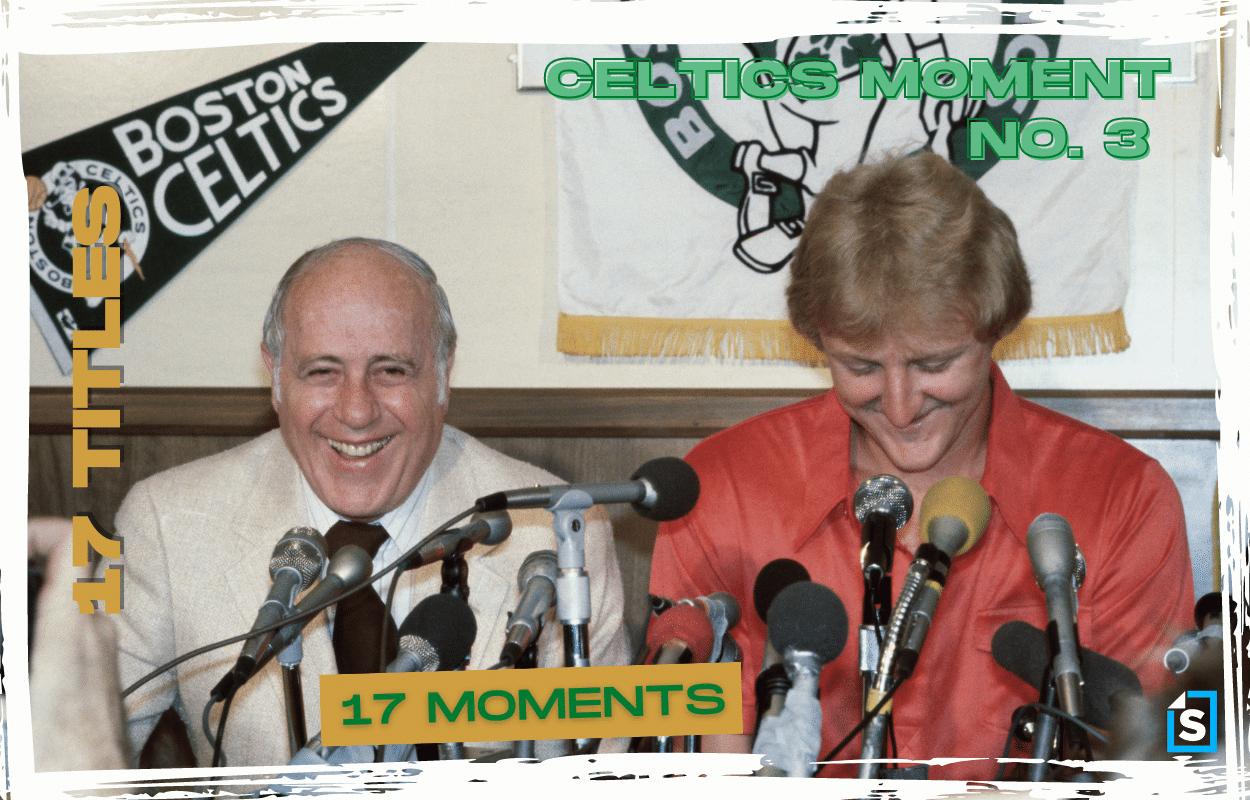 Drafting Larry Bird: Boston Celtics Championship History Moment No. 3
The long wait and the intense negotiations with Larry Bird and his agent were well worth it for the Boston Celtics.
For Red Auerbach, panic followed patience regarding Larry Bird. Even before Bird's magical senior year at Indiana State, Auerbach had plans for him to be a member of the Boston Celtics.
Auerbach, the legendary Celtics general manager/president/coach, selected Bird with the sixth overall pick in the 1978 NBA Draft. Boston took Bird, knowing he was going to play his senior year at Indiana State and wouldn't be ready to play in the NBA until the following year. That's when the panic kicked in. The Celtics needed to sign Bird before the 1979 Draft or lose his rights. Bird and his agent Bob Woolf made the Celtics sweat it out.
In honor of the Boston Celtics' 17 championships, we're highlighting 17 signature moments, both good and bad, that took the Celtics from a woeful 22-38 debut in 1946-47 to the current iteration of the longtime powerhouse franchise that's now coming off an NBA Finals appearance. The 17-part series on the Celtics' championship history will run through the summer and take us to the beginning of the 2022-23 NBA season, one Boston hopes ends with Banner No. 18.
Negotiations were intense between Larry Bird and the Boston Celtics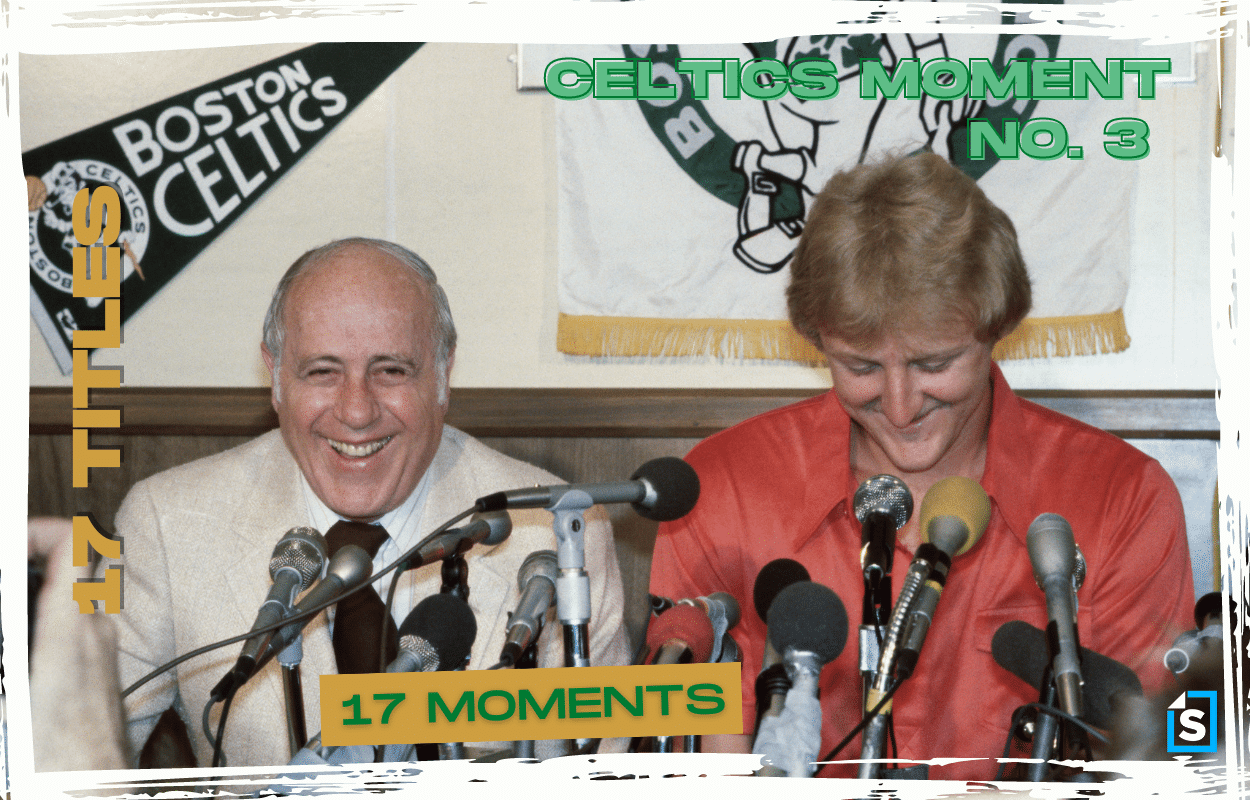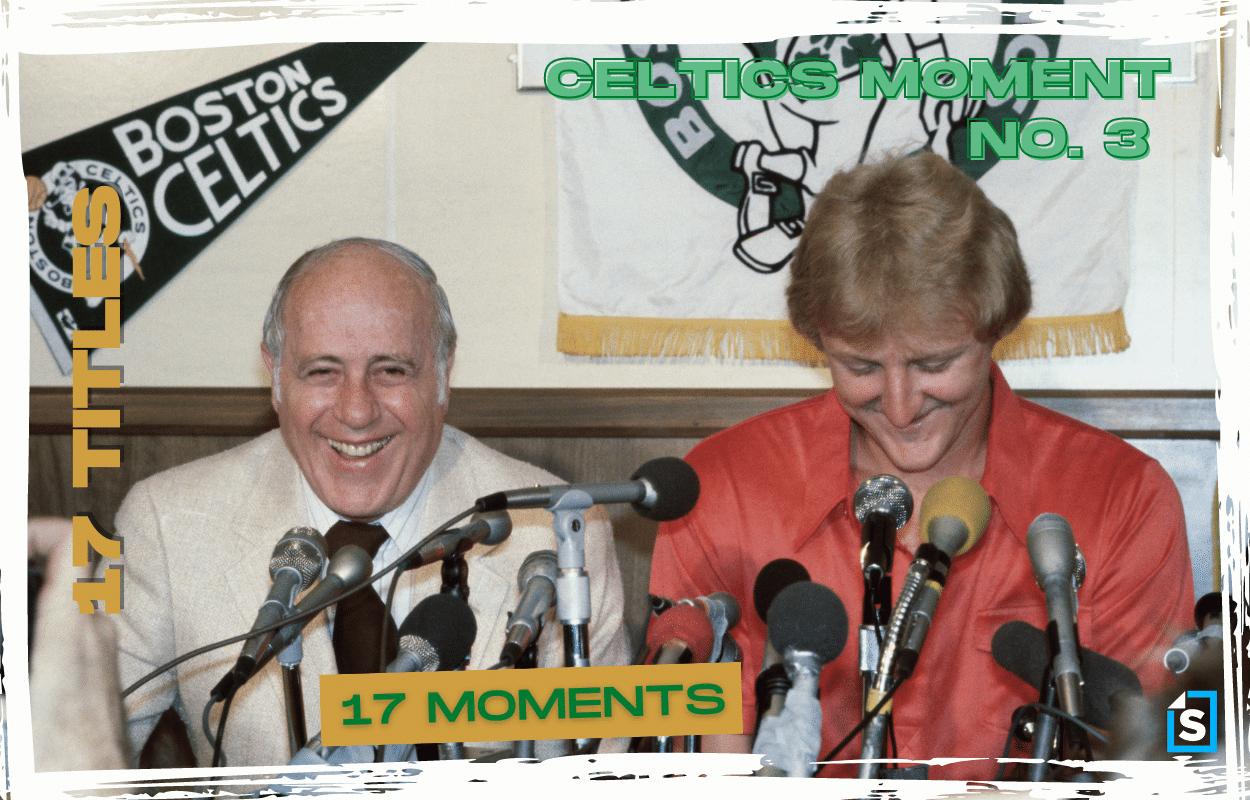 Five teams passed on Bird in the 1978 NBA Draft. They knew they'd have to wait a year to see Bird in action. Some teams didn't want to wait. Others were scared off by the money it would take to sign him. Woolf believed Bird should be the highest-paid rookie ever. Auerbach insisted he'd be paid no higher than any current Celtics player.
"I hope you don't believe those numbers I've been seeing in the papers," Auerbach told Woolf in their first meeting, according to Sports Illustrated.
"Of course not, Red," Woolf replied. "I'm thinking a lot higher."
Negotiations heated up. Boston needed to sign Bird before the 1979 NBA Draft, or his rights would be relinquished, allowing any team to draft him. Woolf explained how negotiations went to Sports Illustrated in 1979.
"Look, Red started fooling with me at $250,000. I told him, 'I'm going to ask for $1 million, and you say no. Then you've got to start at $500,000, and I'm going to say no. Come on, Red, you come up, and I'll come down. That's the way negotiations work.'" 

Bob Woolf, Larry Bird's agent in 1979 on negotiations with Red Auerbach
Auerbach called Bird a "cornerman," insisting a center and a fast guard were more important positions.
"Larry Bird can help, but he's not a franchise," Auerbach said to Woolf. "Geez, you got to keep your self-respect. After all, he can't play by himself."
As June 1979 inched closer, negotiations heated up. Auerbach walked out of Woolf's office numerous times without a deal. Finally, they agreed to a five-year contract worth $3.25 million, making Bird the richest rookie in NBA history.
"It was very civil," said Woolf of negotiating with Auerbach. "He'd blow up, then we'd work some more. Red goes through life like hot lava." 
Bird more than lived up to his contract and hype
The one-year wait and the intense negotiations paid off for Auerbach and the Celtics. Bird's impact on Boston and the NBA was felt immediately. In his first year with the team, he guided them to 61 victories, up from 29 the previous season. He was named Rookie of the Year after averaging 21.3 points and 10.4 rebounds.
He and Magic Johnson brought new life to the NBA. The two squared off in the 1979 NCAA championship game and then took their rivalry to the NBA the following season.
Every year in the 1980s, either Bird's Celtics or Magic's Lakers played in the NBA Finals. They faced off against each other three times. They became the face of the league and helped grow it into a global game.
Bird is arguably a top-five player of all time, certainly top 10. He was named MVP of the league three straight seasons from 1984 to 1986. He was also a three-time champion, winning titles in 1981, 1984, and 1986.
Back in 1988, Auerbach called Bird the best player he'd ever seen. It's quite the compliment coming from Auerbach, who also coached the legendary Bill Russell.
"If I had to start a team, the one guy in all history I would take would be Larry Bird," Auerbach said, per Frank Deford of Sports Illustrated. "This is the greatest ballplayer who ever played the game."
Like Sportscasting on Facebook. Follow us on Twitter @sportscasting19 and subscribe to our YouTube channel.