Draymond Green Epically Roasts Peyton Manning During His Hilarious Manningcast Appearance: 'As Great as You're Supposed to Be, the Colts Cut You'
Peyton Manning and Eli Manning have had some interesting encounters with their Manningcast guests throughout the first year of the program. Most of them had some burns lined up for the legendary brothers, but Draymond Green might've delivered the most ruthless line of the season during Monday night's game between the Los Angeles Rams and the San Francisco 49ers.
Draymond Green joined a star-studded group of guests on Monday night's Manningcast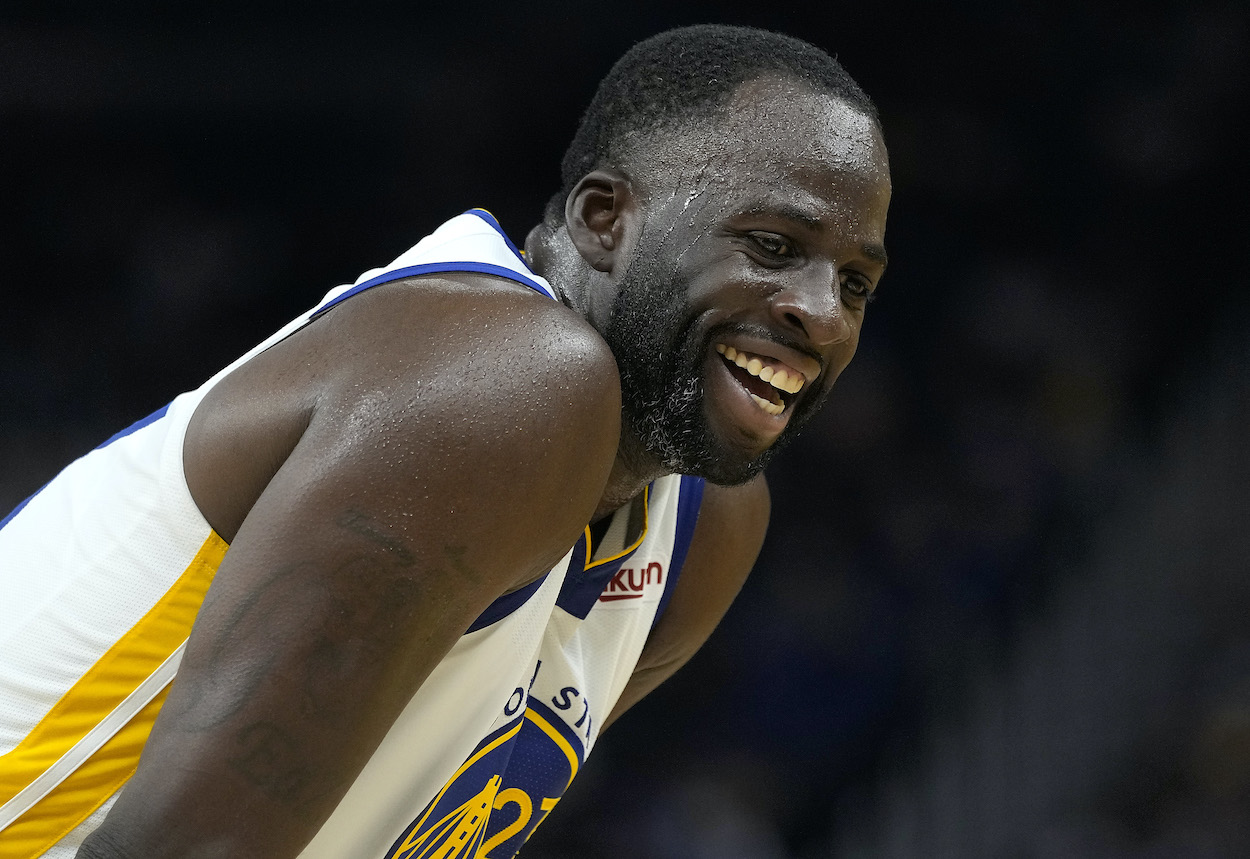 The Manning brothers returned to ESPN2 on Monday night for the sixth edition of Manningcast, and yet another star-studded group of guests joined them for the show.
Broadcaster Al Michaels hopped on for the first quarter and gave the Mannings some advice on how to call NFL games on live television. He stuck around for the second quarter until reigning PGA Championship winner Phil Mickelson joined the broadcast.
Mickelson was genuinely interested in how the Manning brothers approached the game, and he offered some insightful football questions throughout his appearance. But in typical Mickelson fashion, he also roasted Eli's golf swing and asked if Peyton was "soft" for missing the entire 2011 season.
Green joined in the third quarter and spoke about the parallels between football and basketball, his previous beef with Charles Barkley, and more. Then, Phillip Rivers called in for the fourth quarter and reminisced with his former competitors.
But Green clearly had the best line of the night.
Draymond Green epically roasts Peyton Manning
During his appearance on Monday night's Manningcast, Green spoke about his trash-talking prowess on the basketball court. Out of curiosity, Eli asked him what line he would use to roast Peyton, and Green didn't disappoint.
I'd tell Peyton, as great as you're supposed to be, the Colts cut you.

Draymond Green
Of course, the Indianapolis Colts released Peyton in the 2012 offseason before drafting Andrew Luck No. 1 overall, but it all worked out in the end for him in Denver.
"Thank you. Thank you. Appreciate it," Peyton answered sarcastically.
"I thought nobody could sting me more than Mickelson in the second quarter, but Draymond has done that here in the third quarter. I love it. I love it. At least I'm getting tough on this show."
"I love this show. I love this show," Eli chimed in.
So do we, Eli. So do we.
Manning brothers return the favor
As is typical for the Manningcast broadcasts this year, Peyton and Eli had a trick up their sleeves for Green. Earlier in the third quarter, they showed a video of Green's embarrassing false start in a Michigan State spring game during his college career.
"After this play, did you get any looks from some NFL teams?" Eli joked.
"They set me up!" Green responded. "I didn't know this was a setup. So when I went out there, they told me 'We're going on set-hit,' so everybody over there on the defensive line and the offensive line is yelling 'hit-hit,' and in my mind, I'm just thinking I'm about to go out and catch a pass. I'm not watching the ball. When I hear hit, I'm going.
"I didn't get many looks after that. It was terrible."
The Manningcast shows have essentially turned into Comedy Central roasts, and we're totally here for it.
Like Sportscasting on Facebook. Follow us on Twitter @sportscasting19.