Drew Brees Made $269.7 Million on the Field but Didn't Initially Think the NFL Was 'in the Cards': 'I Never Thought That Football Would Ever Take Me Anywhere'
One of the greatest NFL careers of all time came to an end this offseason, as New Orleans Saints legend Drew Brees retired from football. Brees ended his career as one of the top quarterbacks to ever put shoulder pads on and made a lot of money while doing it.
However, prior to becoming a pro football legend, Brees didn't think the NFL was a possibility for him, so he put a plan together that has still paid off big time.
Drew Brees played college football at Purdue
Brees entered college football out of Texas, where he wasn't highly recruited. He had two options for school, Kentucky and Purdue, and ultimately chose the latter, which was one of the best decisions of his career.
After only throwing 43 passes in 1997, Brees became a superstar for Purdue in 1998. He threw for 3,983 yards, 39 touchdowns, and 20 interceptions before racking up 3,909 yards, 25 touchdowns, and 12 picks in 1999. Brees' play in 1999 also helped him finish fourth in the Heisman Trophy race.
In 2000, Brees returned for his senior season, and he continued to ball, racking up 3,668 yards, 26 touchdowns, and 12 interceptions that year. He then finished third in the Heisman race.
Brees' college career led to him becoming a second-round NFL draft pick, but it wasn't until he was going into his junior year at Purdue that he realized the NFL could even be in the cards for him.
He didn't think the NFL was a possibility
Despite having success on the gridiron, Brees always thought baseball would be the sport to maybe take him somewhere, even when Purdue and Kentucky were recruiting him to play football.
"I was like, 'Can I walk on the baseball team?'" Brees said on the July 14 episode of The Players' Tribune's Truss Levelz. "…Because I still had my mind made up that I was a baseball player. 'I'm gonna go there, I'll play football, but I really want to be a two-sport athlete.' They're like, 'Yeah, you can play baseball.'"
Brees chose Purdue because he thought it would give him the best education, and he would get to play against the Ohio States and Michigans in the Big Ten. However, he didn't realize football — not baseball — was what could take him somewhere until after his sophomore year.
"I never thought that football would ever take me anywhere, even as we were having success at Purdue, my sophomore year, my junior year," he said. "I remember going into my junior year — we had broken every Big Ten record imaginable my sophomore year — there was a media guy that said to me, 'Hey, do you think you're going to leave early after this year?' And I'm like, 'Leave early for what?' … That was the first time I ever thought that the NFL was a possibility."
Brees said he was still thinking about walking on the baseball team at the time, but he never did because he thought the quarterback competition at Purdue was too tough to take his focus off football.
Focusing on football has since become one of the best decisions he has ever made, but the plans he had for his life before that — not including playing baseball — have still paid off.
Drew Brees made millions on the field with the Saints — and has also made significant cash off it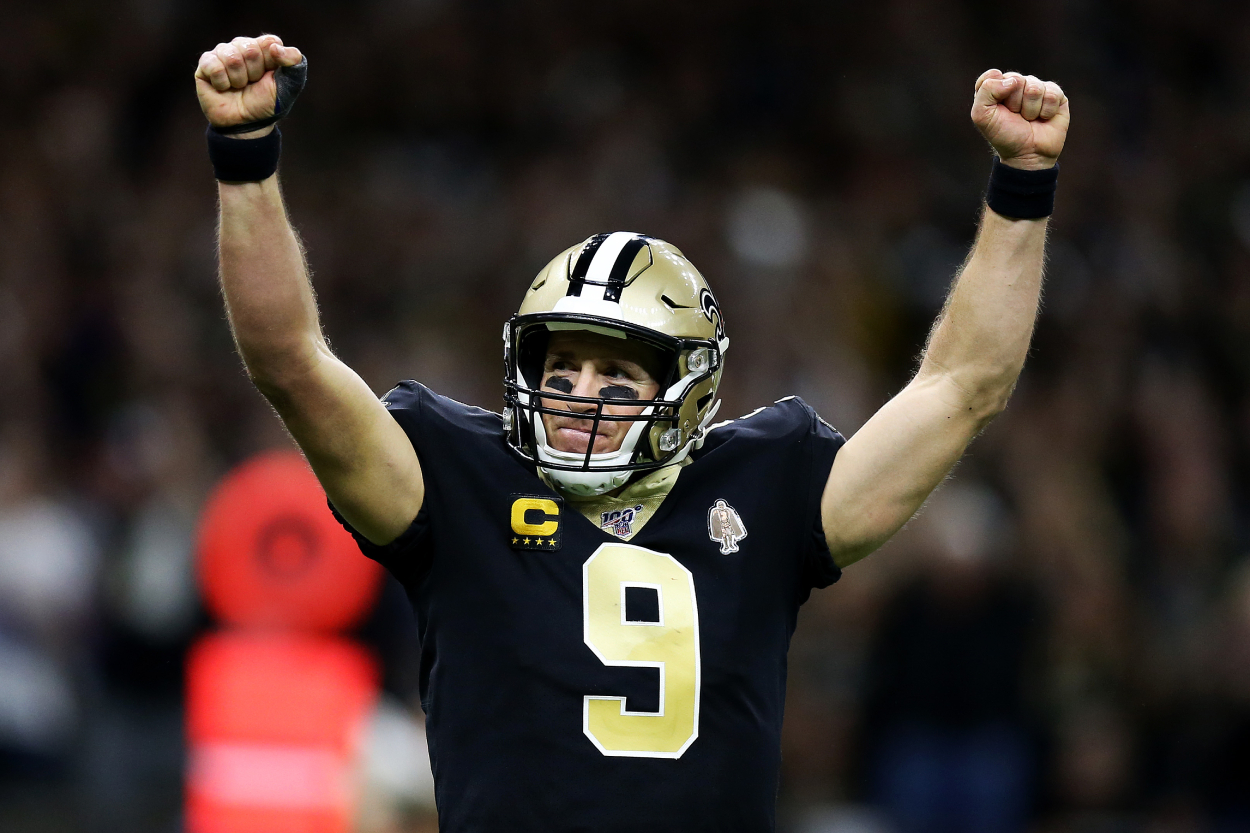 After spending his first five seasons with the San Diego Chargers, Brees joined the New Orleans Saints in 2006. He then became one of the greatest quarterbacks in NFL history while in New Orleans, ultimately throwing for the most passing yards in league history (80,358) and the second-most touchdowns (571). He also won a Super Bowl with the Saints during the 2009 season.
Brees made an estimated $269.71 million throughout his NFL career and $256.5 million with the Saints, per Spotrac.
However, before realizing he could play in the NFL, Brees worked on getting a degree at Purdue to set himself up for after college.
"Again, I didn't think NFL was really in the cards; I didn't think I'd be going on and playing at the next level for so long," he said. "So, really, my mindset was, 'I'm going to get a great degree from Purdue University — that network nationally — and then find my way in the business world.'"
According to Forbes, Brees made an extra $15 million off the field in 2020. He has sponsorships with companies like AdvoCare, Nike, and Verizon, but he has also used what he learned at Purdue, as he now owns Jimmy John's and Dunkin' franchises.
To put it simply: Brees is a wealthy man.
Drew Brees made millions in the NFL with the Saints, but he used his education to help him make even more off the football field. Despite his off-field success, though, Brees is probably still pretty thankful football was in the cards for him.
Stats courtesy of Sports Reference and Pro Football Reference