Drew Brees Pulls Back the Curtain on His Post-Football Life and What He Prioritizes as a Retired NFL Player
After an impressive 20-season NFL career, retired New Orleans Saint Drew Brees approaches life with a whole new set of priorities.
Four school-age kids and a charitable foundation are among them, but two things in Brees' current morning routine are absolutely non-negotiable. What's important to the athlete now? Here's what you should know:
Drew Brees starts his day the same way he did as an NFL quarterback
Shortly after hanging up his cleats, Brees sat for an interview with Everyday Warrior Podcast host Mike Sarraille. After marveling that he and his wife attended the same high school, Sarraille asked how the former footballer starts his day.
Without hesitation, Brees lifted a mug and answered, "Read the bible and a cup of coffee. Non-negotiable. That's how the day starts, every day." Never one to stop at the easy questions, the former Navy Seal asked how a future Brees would determine whether his life had been one of purpose and impact.
Answering, "Man, that's a good one," Brees explained that purpose is something he strives for every day and that his current purpose is not the same as when he was leading his New Orleans teammates to victory.
During his decades with the NFL, Brees focused on pulling various personalities together to complete an objective. After leaving that job, the former QB had a "wow" moment when he realized he was stepping into the next chapter of his life:
"It's like wow, I've focused so much on success within this realm, you know, what's the next stage or the next chapter look like? And you know, there's, there's people have talked about this and I've heard a lot about this is kind of going from that path."
Drew Brees' other non-negotiables
Concurrent with the podcast, Men's Journal published an equally insightful take on Brees' post-NFL philosophy which includes his personal plan for excellence:
Set an intention every morning
Find your inner motivation
Seek to improve continuously
Regarding failure, Brees told podcast listeners that watching his kids learn to skimboard reminded him of the importance of getting back up after falling, no matter how many times it takes.
Brees' pre- and post-NFL life revealed
Sports fans would probably understand if Brees had opted to retire in relative obscurity. After all, he dedicated more than half his life to football.
As he told fans on Instagram, Brees exhausted himself serving the Saints organization while pouring his heart and soul into being their quarterback. He retired from the game, not from his beloved Crescent City, explaining, "I am only retiring from playing football, I am not retiring from New Orleans. This is not goodbye, but rather a new beginning. Now my real life's work begins!"
Before his years with the NFL, Brees played for Purdue University where he broke more than one Big Ten Conference record. Before graduating in 2001 with a degree in industrial management, Brees received an assortment of athletic honors, including the Maxwell Award for the nation's most outstanding player and Purdue's own Leonard Wilson Award for dedication and unselfishness.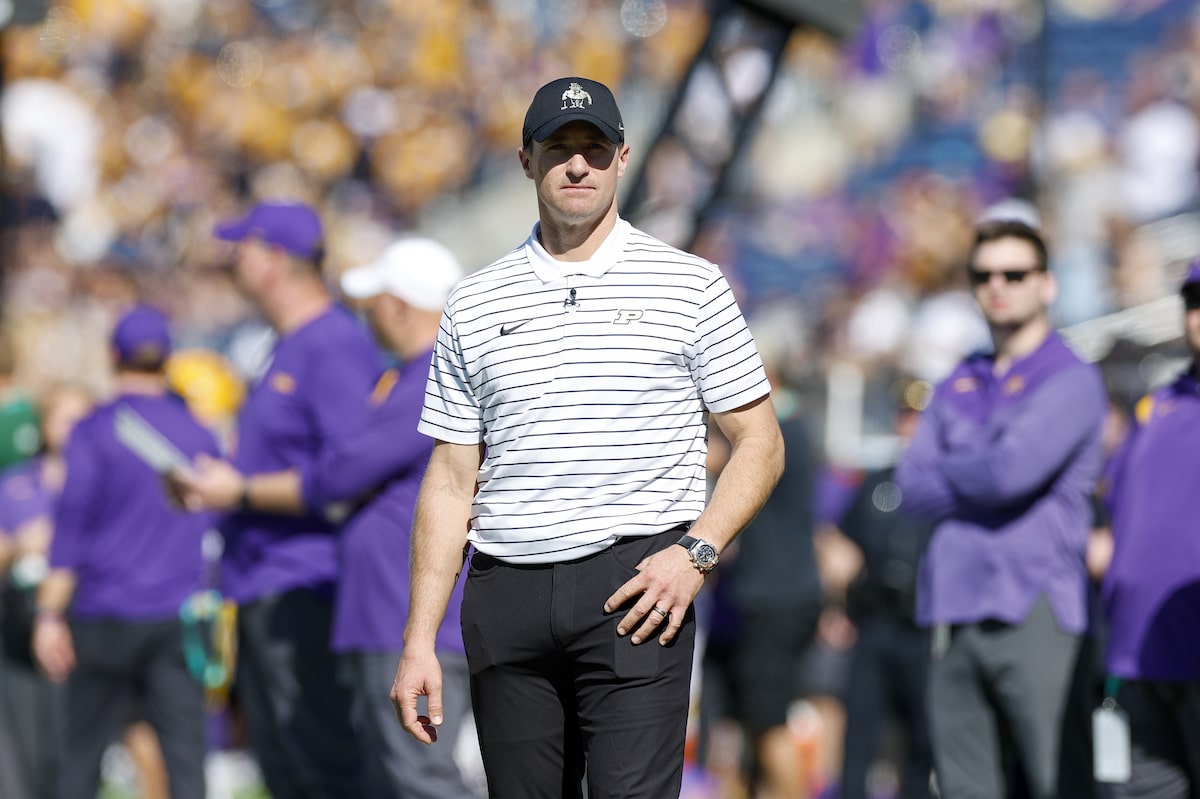 In December 2022, Brees returned to his alma mater as interim football coach in preparation for the 2023 Cheez-It Citrus Bowl. Played at Camping World Stadium in Orlando on January 2, the game did not go well for Purdue. They didn't even score until the fourth quarter.
In the end, LSU prevailed over Purdue, 63-7.  It's a good thing Brees maintains a positive outlook because accepting the interim coach position at Purdue caused him to lose his ambassadorship gig with PointsBet, according to CBS Sports.
The former gridiron star and his family maintain homes in San Diego and New Orleans, where the Brees Dream Foundation provides funds to improve parks, playgrounds, and schools. Along with his wife, Brittany, the athlete also contributed several million dollars to the state of Louisiana's Covid-19 relief and hurricane Ida recovery efforts, reports the Canal Street Chronicles.