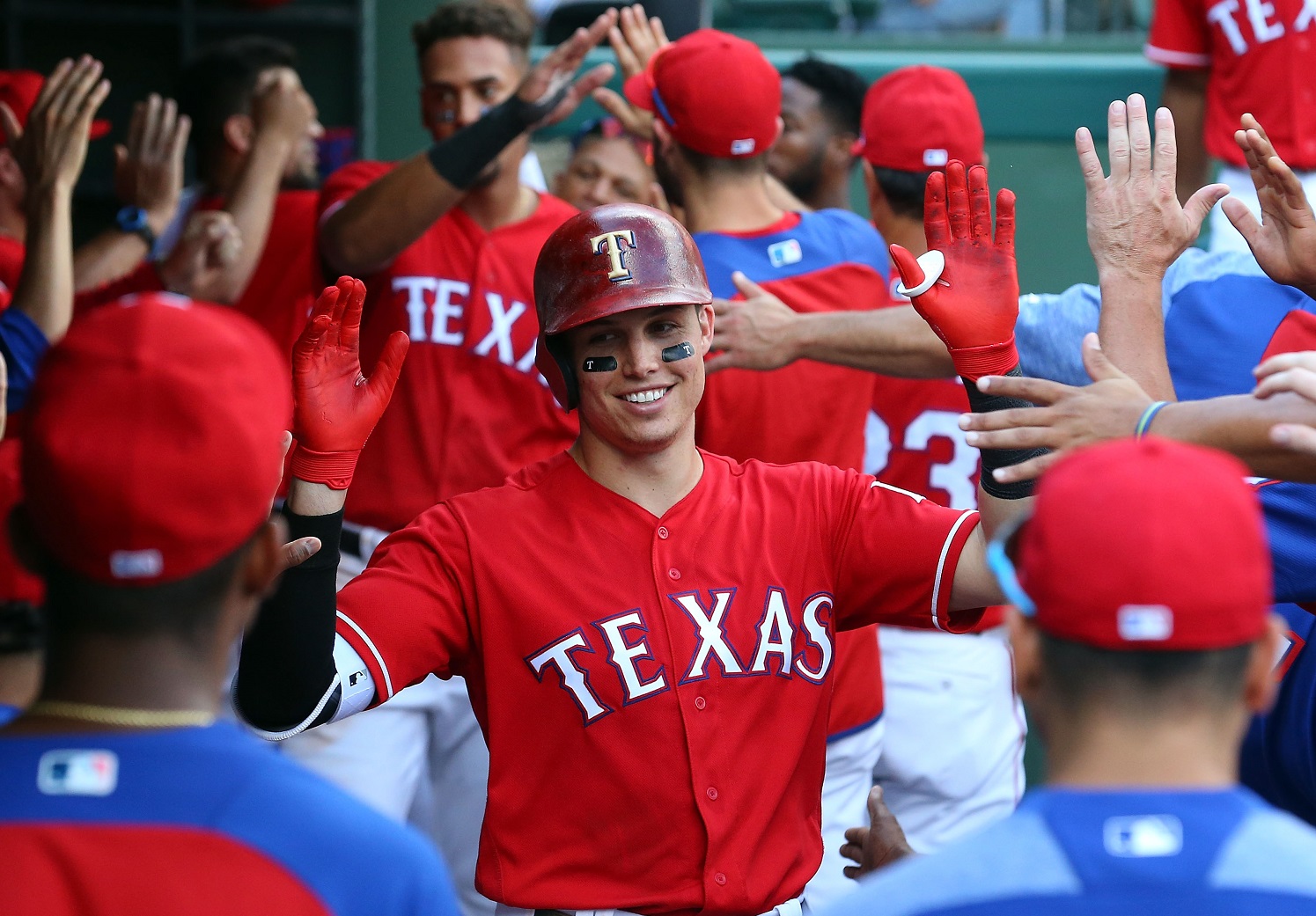 Drew Robinson Pursues the Ultimate Comeback With the San Francisco Giants: 'I'm Here for a Reason'
Drew Robinson is on the comeback trail with the San Francisco Giants after attempting suicide in April 2020 and miraculously surviving a gunshot.
Drew Robinson was one of the best baseball prospects in the Las Vegas area at the same time that Kris Bryant and Bryce Harper were rising through the ranks. A decade later, he is both grateful and lucky to be alive. He is getting a fresh start with the San Francisco Giants as he opens up about the incredible story he has shared with ESPN.
Drew Robinson seemed destined for stardom
Drew Robinson was born and raised in Las Vegas, where he was the youngest of three children. His brother, Chad, made it to the low minors as a pitcher around the time that Drew was going through a growth spurt and developing into a promising high school shortstop and outfielder.
Drew Robinson, Bryce Harper, and Kris Bryant graduated from local high schools in 2010. Harper was the No. 1 pick in the MLB draft that spring, and Bryant became a No. 2 pick out of college three years later. The Texas Rangers selected Robinson in the fourth round, and he signed for a $198,000 bonus.
Robinson got off to a solid start in the Arizona League that summer, struggled at the plate in the Northwest League the following year, then got back on track after that. He batted .257 with 20 home runs in 2016, his first full season at the Triple-A level, and it earned him 48 games in the American League with the Rangers in 2017.
Robinson struck out 42 times in just 121 at-bats, but he also flashed some power. By all accounts, he was 25 years old and on track for a decade or more of major-league service.
After he could muster only a .183 average in 47 games with the Rangers the following season, he found himself bouncing around the minors. On Dec. 11, 2018, the Rangers traded Robinson to the St. Louis Cardinals.
An unexpected setback and downward spiral
Drew Robinson played winter ball in the Dominican Republic in the weeks leading up to his trade and was ready to hit the ground running with the St. Louis Cardinals. He made the team out of spring training in 2019. However, the Cardinals bounced him around, sending Robinson back down the minors four times in a month.
Robinson's season ended with an injury to his non-throwing elbow that required surgery, and then he received a jolt as the Cardinals released him on Aug. 28, 2019. Robinson had already struggled with depression at times, and he told ESPN that the setback intensified his thoughts about suicide.
Robinson sought professional help, immersed himself in self-help books, and received a boost as the San Francisco Giants signed him for 2020. It was only a minor-league contract, but it at least kept Robinson in the game.
By six months later, everything had changed for the worse. Players reported to spring training in mid-February and were being sent home a month later as the COVID-19 pandemic gripped the country. With no idea what his future held, Robinson slipped deeper into depression.
On April 16, 2020, Robison made a dramatic decision: He set off to kill himself.
Drew Robinson: 'I'm here for a reason'
On April 13 of last year, Drew Robinson was meeting with a woman whose dog had given birth to puppies. He found one that he adored, but Robinson went home without it. "She had no idea," Robinson told ESPN. "How could she? I couldn't take the dog because I was planning on killing myself."
Three days later, Robinson wrote a note to loved ones, wrestled with his thoughts for several hours, and grabbed his gun. He pressed it against the right side of his head and pulled the trigger, beginning a stunning 20 hours that he sums up now by saying, "I'm here for a reason."
Somehow, the gunshot severely damaged his right eye but did not kill Robinson. Laying on the floor, he blotted blood with a dirty towel. Incredibly, he rose to his feet and walked to the shower to run water over his head. Later, still somewhere between lucid and dazed, he remembers trying to brush his teeth to rid the taste of blood.
Four hours later, he was in bed. Robinson was convinced that he would soon die. Some 15 hours after that, Robinson was sitting on his couch with the gun in one hand and his cellphone in the other, unsure which he intended to use.
Twenty hours after pulling the trigger, costing him his right eye, Robinson called 911. Minutes later, police were breaking down the door.
"Why'd you shoot yourself?" a police officer asked.
"Because I hate myself," Robinson replied.
Drew Robinson is on the comeback trail
Miraculously, once-promising baseball prospect Drew Robinson survived shooting himself. His story went untold until this week because there was no minor-league baseball season in 2020 during the pandemic.
He decided to tell his story to ESPN to help others wrestling with mental afflictions.
"I was supposed to go through that," Robinson said. "I'm supposed to help people get through battles that don't seem winnable. It was completely supposed to happen. There's no other answer. It doesn't make any sense. It was supposed to happen. … I shot myself, but I killed my ego."
Last Sept. 9, the day before World Suicide Prevention Day, Robinson gave a speech to his once and future San Francisco Giants teammates.
That's right. Despite losing the sight in his right eye, Robinson has resumed baseball workouts, and the Giants have offered him a minor-league contract. He'll report to training camp later this month.
How to get help: In the U.S., call the National Suicide Prevention Lifeline at 1-800-273-8255. Or text HOME to 741-741 to connect with a trained crisis counselor at the free Crisis Text Line.