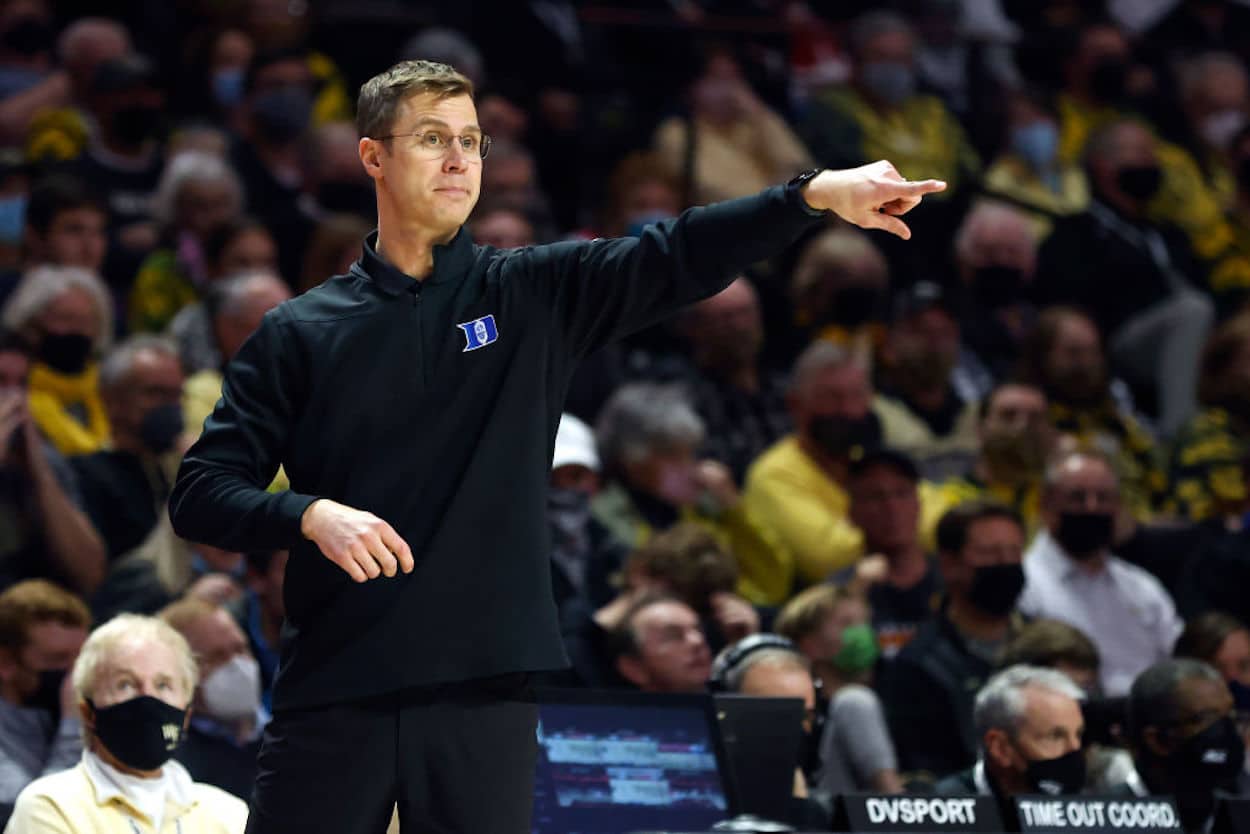 Duke Basketball: Jon Scheyer Believes His Age Is 'an Advantage'
Jon Scheyer may be young, but that doesn't scare the new Duke Blue Devils head coach. If anything, he views his age as an advantage.
While the famous cliche may say that age is only a number, that number tends to matter in the world of sports. Players are frequently written off as too young to be trusted or too old to be relied upon. Although that logic isn't usually applied to coaches, things can cross from the playing field onto the sidelines. Just consider Jon Scheyer, the new head coach of the Duke Blue Devils.
The bench boss is currently 34-years-old and, for context, Mike Krzyzewski spent 42 seasons in Durham. That might seem like a challenge for the younger man — Scheyer is stepping into a massive job with no head coaching experience — but he doesn't believe that's the case. If anything, he believes it will give him an advantage.
Jon Scheyer isn't concerned about his relative youth and inexperience
In the world of sports, it's generally accepted that you don't want to be the one who replaces a living legend. While Jon Scheyer is facing that situation at Duke, he doesn't sound too worried about being the new man on campus. Instead, he sees his promotion as a chance to bring a fresh perspective to the iconic program.
"Well, it's funny," Scheyer told Jeff Goodman in a Stadium interview. "I think there's two major things we're going through right now as a program. One is understanding the impact of not having Coach K as our head coach. So, there's naturally, just by that, we have to do things differently, but, two, it's a different time in college basketball. You know, we're faced with decisions, opportunities, setbacks, that, really, Coach K has never had to think about. And, a lot of it, you can say he got out at the right time, which I think a lot of people feel. For me, I'm excited as anybody to be going into this new era."
At that point, age entered the conversation as Goodman quipped that Scheyer was excited because he was 34.
"I think it's an advantage in a lot of respects," the coach continued. "And so, for me, I look at that as an opportunity. So, there's going to be things that are different simply because he's not here as the head coach, but also because it's a different era in a different time."
Scheyer has a point about fresh perspectives, but Coach K wasn't exactly out of touch at Duke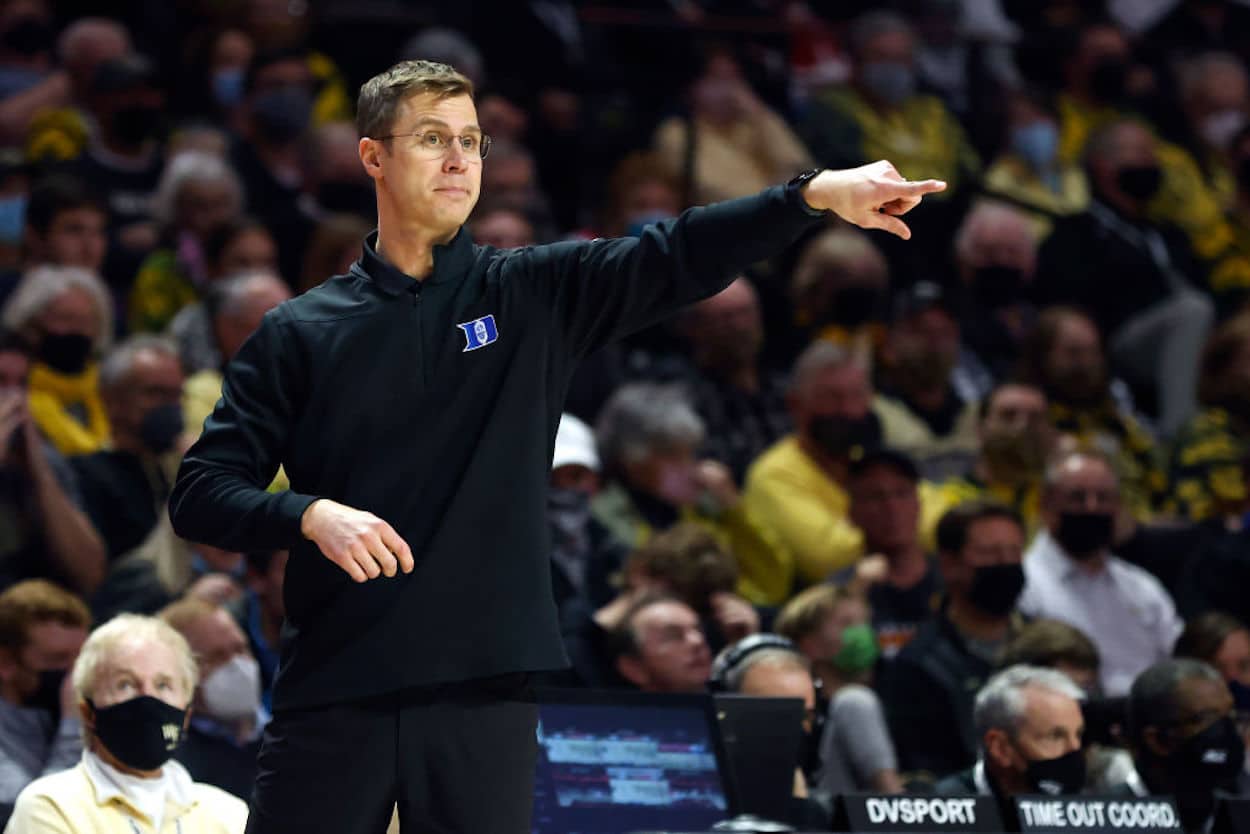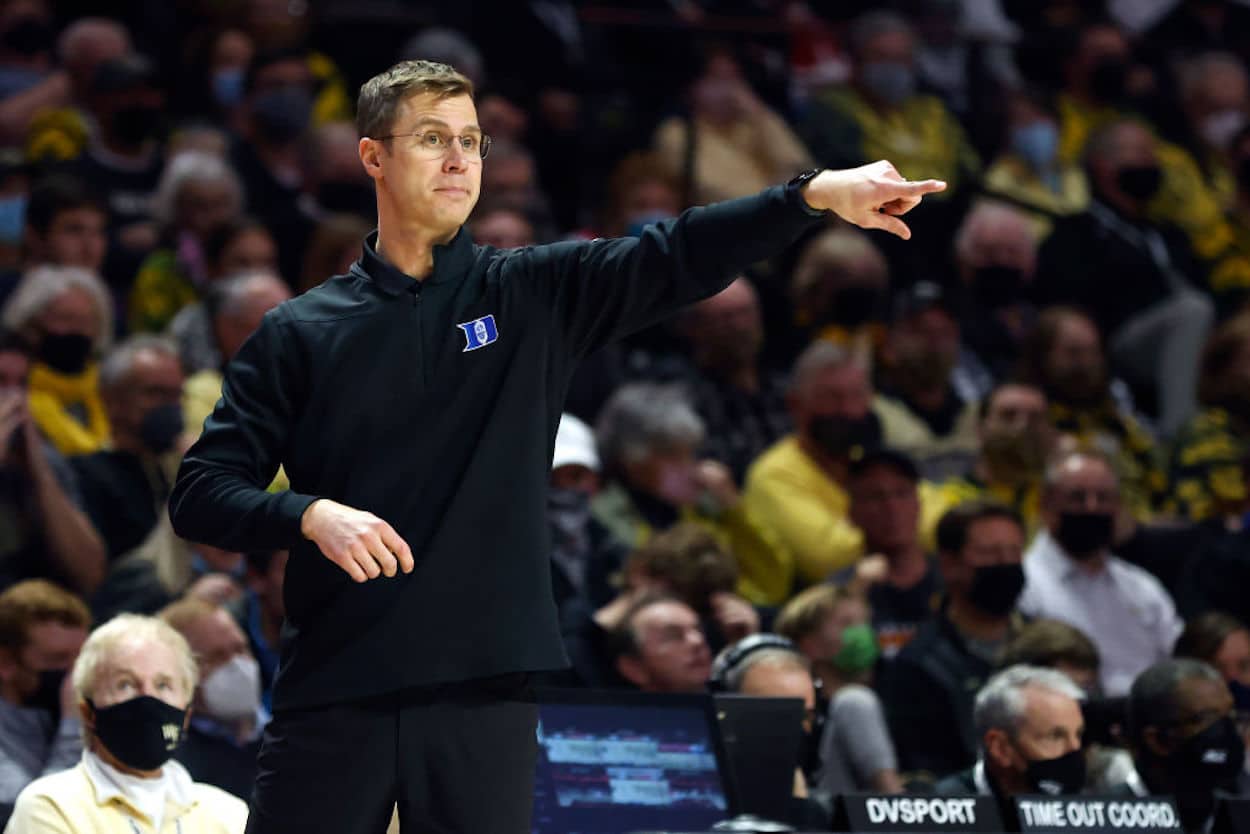 At this point, Scheyer has been somewhat ambiguous about what changes he'll bring to Duke. It is safe to assume, however, that he'll bring a fresh perspective that's more in tune with today's teenagers.
While Coach K wasn't exactly a dinosaur — he adapted over the years and had the clout of working with the likes of Kobe Bryant and LeBron James — a 75-year-old former Army officer doesn't have that much in common with today's teenagers. His recruiting pitches clearly worked, but Scheyer is probably more capable of speaking to modern players and their families. He did, after all, play at Duke relatively recently and attempted to land an NBA job.
It's also worth considering how name, image, and likeness rules affect things, since those changes are presumably what Scheyer was alluding to when he mentioned the challenges that Krzyzewski avoided. Again, Coach K wasn't completely out of touch — he did speak out in support of NIL money– but the new bench boss comes at things from a different perspective. He played college basketball recently and hit the court alongside guys who carved out legitimate professional careers. Through that lens, he can understand the financial realities of modern basketball and the challenges that today's prospects are facing.
All of that could theoretically combine to further enhance Duke's recruiting capabilities. If we assume the Duke brand doesn't completely fall off the radar in the next few years, that standing will already resonate with prospective players. Add in some lucrative NIL opportunities and a coach who understands what it means to be a young man trying to make a living playing basketball, and it's easy to see the appeal of becoming a Blue Devil.
Scheyer's relative inexperience could also manifest in more mundane ways, though. Since he's less beholden to certain processes, the young coach could be better equipped to roll with the punches. Should the NCAA change some of its regulations, whether they're about NIL money or any other red tape, he might not be stuck in the same rut as his predecessor.
It is worth noting, however, that youth is a double-edged sword. Scheyer, for all of his new perspective, doesn't have the same wealth of knowledge as Krzyzewski. While Duke has theoretically addressed that with the addition of Mike Schrage, it could be something to watch. Recruiting pitches will fall apart, after all, if things don't click on the floor.
How things come together, though, is the million-dollar question. At this point, all we can do is wait to see whether Scheyer and his Duke Blue Devils sink or swim.
Like Sportscasting on Facebook. Follow us on Twitter @sportscasting19 and subscribe to our YouTube channel.