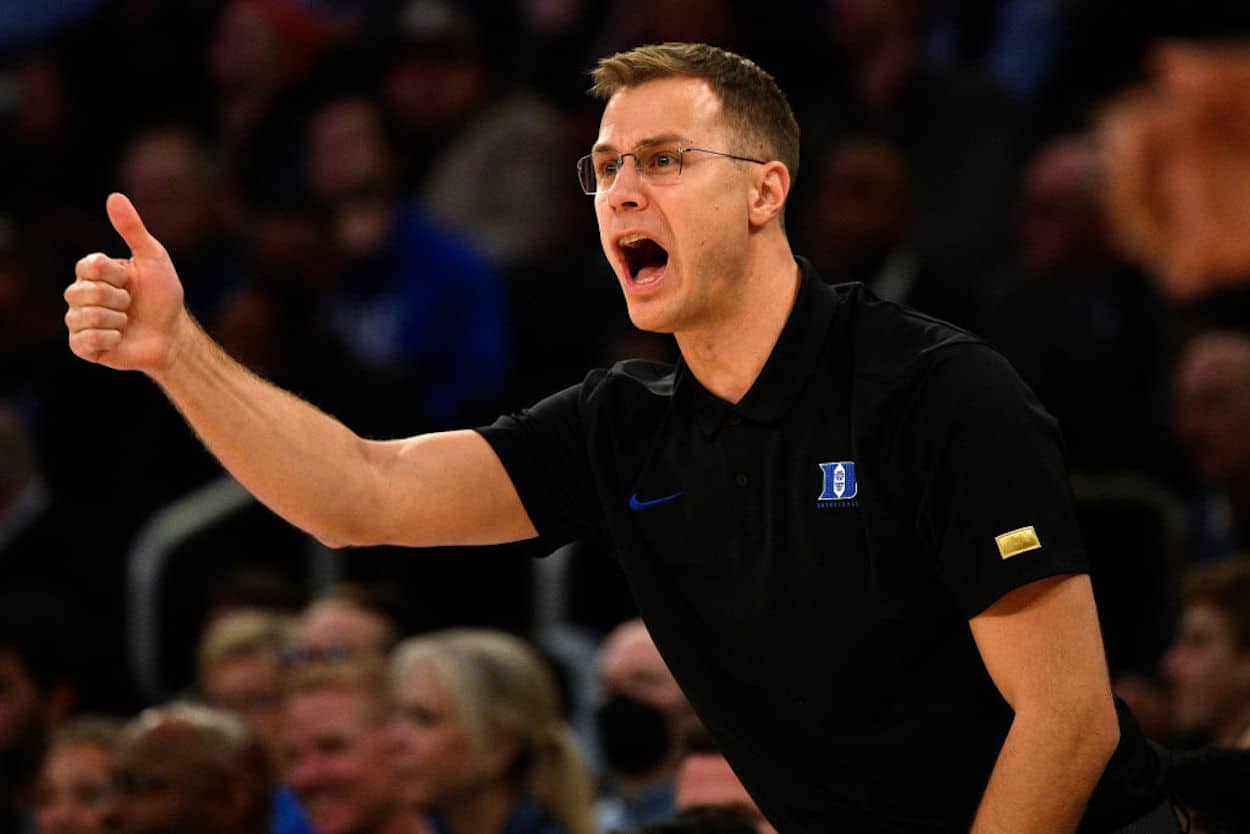 Duke Basketball: Jon Scheyer's Recent NIL Comments Should Terrify Other Programs
Jon Scheyer may be new to head coaching, but he seems ready to embrace the challenges of modern college basketball.
When a sports team makes a major change, there are always two possibilities. Let's look at the Duke Blue Devils men's basketball team as an example of that. Mike Krzyzewski has, of course, handed control of the program to Jon Scheyer. The rookie head coach could wilt under the pressure, or he could help guide NCAA blue-blood into a new era.
While we'll have to wait to see how things play out on the court, Scheyer's comments about NCAA name, image, and likeness (NIL) regulations could represent a step toward modernity. Whether that's encouraging or terrifying will depend on your rooting preferences.
Jon Scheyer seems ready to throw Duke's weight around on the NIL front
As fans, we think of college coaches putting in work during practices and games. Running a big-time basketball program, however, requires plenty of paperwork and management. Recently, the NCAA's ambiguous NIL policy has only made things trickier.
Jon Scheyer, however, isn't concerned about the changing collegiate landscape. If anything, he knows that there's no time to bury his head in the sand and wish for something different.
"Look, I came through Duke about 15 years ago, which is pretty recent, and it's night and day from what it's like for our guys now with opportunities they have versus what I had," the new head coach told David Kaplan of NBC Sports Chicago. "It would be really easy to say, 'I wish it was that way' or 'Can we go back to when it was more simple' or whatever it may be. But, all in all, if it's done right, this is better. And you have to be thoughtful, and we have to make sure we're still, you know, valuing the right things, but our students and our student-athletes deserve the opportunity to make their name, to make money off name, image, and likeness. They deserve to have their choice [of] where they want to be."
Scheyer does more than understand that reality, though. Instead, he sees it as a chance to stand out.
"And so, for us, we look at it as an opportunity," he continued. "And I'm not going to speak for what other coaches feel or what they're doing, but I can tell you that's how we're approaching it. And we're really excited about this next chapter and new era of college basketball."
NIL money could make Duke an even stronger force on the recruiting landscape
In fairness to Scheyer, his quotes still leave some things unanswered. What are the "right things" that should be valued, for example? Will Duke do anything specific to embrace the "opportunities" of modern college basketball?
While we'll have to wait and see about the specifics, Scheyer's attitude does somewhat speak for itself. While Coach K spoke out in support of NIL in 2019 (h/t CBS Sports), he usually approached things from a big-picture, all-NCAA perspective. His replacement, however, is (somewhat ambiguously) talking about what it means for Duke.
Although it admittedly takes a bit of assumption, the word "opportunity" suggests that the Blue Devils know the game and are ready to play it. It's easy to imagine the recruiting pitch: "If you want to prove your NBA potential and start making money ASAP, why wouldn't you want to come to Duke?"
To make things even scarier for the rest of the ACC, consider two other realities. First, Duke has recently been on a recruiting hot streak. They landed the top-ranked 2022 class and already have two top-ten commitments from the class of 2023. That's happened in the infancy of Scheyer's reign; if his vision, both on and off the court, proves successful, his stock will only climb.
Secondly, Scheyer added Jai Lucas to his staff. The assistant coach established himself as a strong recruiter at Kentucky and will now be doing his part to bring players to Durham. Again, he's a young coach with a burgeoning reputation; if things go well, he'll only make Duke more and more appealing.
Again, that relies on some conjecture and hypotheticals. Perhaps I'm misinterpreting Scheyer's quote. Maybe he'll fall flat on his face in 2022, thereby damaging Duke's recruiting standing. If everything falls into place, though, it's easy to see things snowballing.
The Blue Devils are bringing in a strong recruiting class this fall, and let's assume that Scheyer rides it to a successful season. That improves the young coach's stature and gives Lucas a stronger pitch; it also further's Duke's commercial presence, meaning future players can command more NIL money from brands. In theory, that helps the program bring in the next round of talented players, who thrive on the court and continue the cycle.
If you're a Duke fan, that's a dream come true. Otherwise, it seems like a nightmare scenario.
Like Sportscasting on Facebook. Follow us on Twitter @sportscasting19 and subscribe to our YouTube channel.