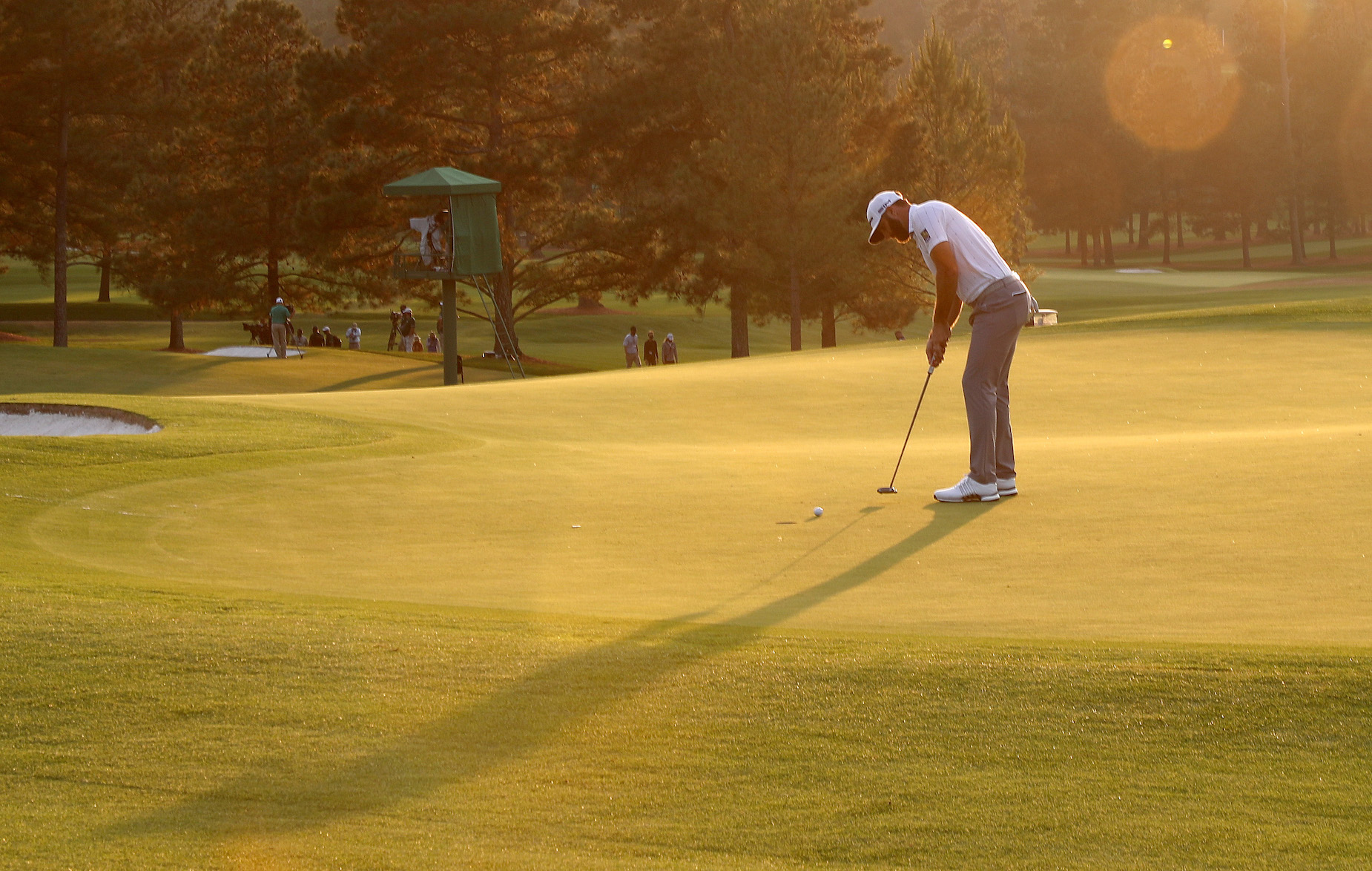 Dustin Johnson Can Add More Than $2 Million To His Massive Net Worth With a Win at the Masters
If Dustin Johnson can hold on at The Masters, he'll take add more than $2 million in prize money to his already-impressive net worth.
While COVID-19 forced the timeline to change a bit, The Masters is still a special tradition in the world of golf. When the tournament ends, the winner—at this point, Dustin Johnson is the leader in the clubhouse—will take home the iconic green jacket. That's not the only prize up for grabs, though.
In addition to a snazzy new piece of clothing, The Masters' winner also claims a sizable check. If Dustin Johnson manages to hold on to the top spot on the leaderboard, he'll add more than $2 million to his impressive net worth.
Dustin Johnson has built up a $50 million net worth during his time on the course
These days, Dustin Johnson is one of the biggest names in the world of professional golf. His success, however, wasn't always a forgone conclusion.
Johnson always had plenty of talent on the links but, as Ian O'Connor recounted in an ESPN feature, didn't always focus on sports. "He was missing school enough to be tossed from the golf team, and at 16, he was one of five boys recruited by the older brother of a friend to burglarize a home," the author explained.
While things eventually settled down, Johnson still had some issues to overcome. His early time on the PGA Tour was marked by inconsistency; although no one could doubt the big lefty's talent, he struggled to put it all together. He also failed several drug tests during his time as a pro.
Thanks to some guidance from Wayne Gretzky, however, Johnson seems to have put his struggles behind him; he's now one of golf's top names. While he still only has one major title to his name, he's won 21 total PGA Tour events and taken home almost $69 million in total winnings. He's also built up a fortune of $50 million, according to CelebrityNetWorth, which isn't anything to sneeze at either.
How much prize money do you get for winning The Masters?
When you think about The Masters, you're probably more focused on the pomp and circumstance than anything else. For golfers like Dustin Johnson, though, there's still a sizable payday on the line.
According to Kyle Porter of CBS Sports, this year's total purse clocks in at an impressive $11.5 million. The winner will claim 18% of that amount; that share then decreases as you work your way down the leaderboard.
In case math isn't your strong suit, 18% of $11.5 million shakes out to $2,070,000. The second-place finisher will earn $1,242,000; third place claims $782,000, and so on.
There's more on the line for Dustin Johnson than money
Even if you're worth $50 million, adding an extra $2 million to your bottom line is nothing to sneeze at. Dustin Johnson, however, is chasing more than just a paycheck at The Masters.
During his time on the PGA Tour, Johnson has made an unfortunate habit of choking away leads. He crashed and burned at the 2010 U.S. Open; he slipped up again five years later. While things weren't quite as dramatic at this year's PGA Championship, DJ still blew a late lead and fell behind Collin Morikawa.
If Johnson can take care of business on Sunday at The Masters, though, that narrative will be a thing of the past.
"If I can play like I did today, I think it will break that streak," said Johnson explained on Saturday, according to Sam Farmer of the LA Times. "Tomorrow, it's just 18 holes of golf. I need to go out and play solid. I feel like I'm swinging really well. If I can just continue to give myself a lot of looks at birdie, I think I'll have a good day."
With that being said, though, Dustin Johnson probably wants that $2 million check and a green jacket, too.