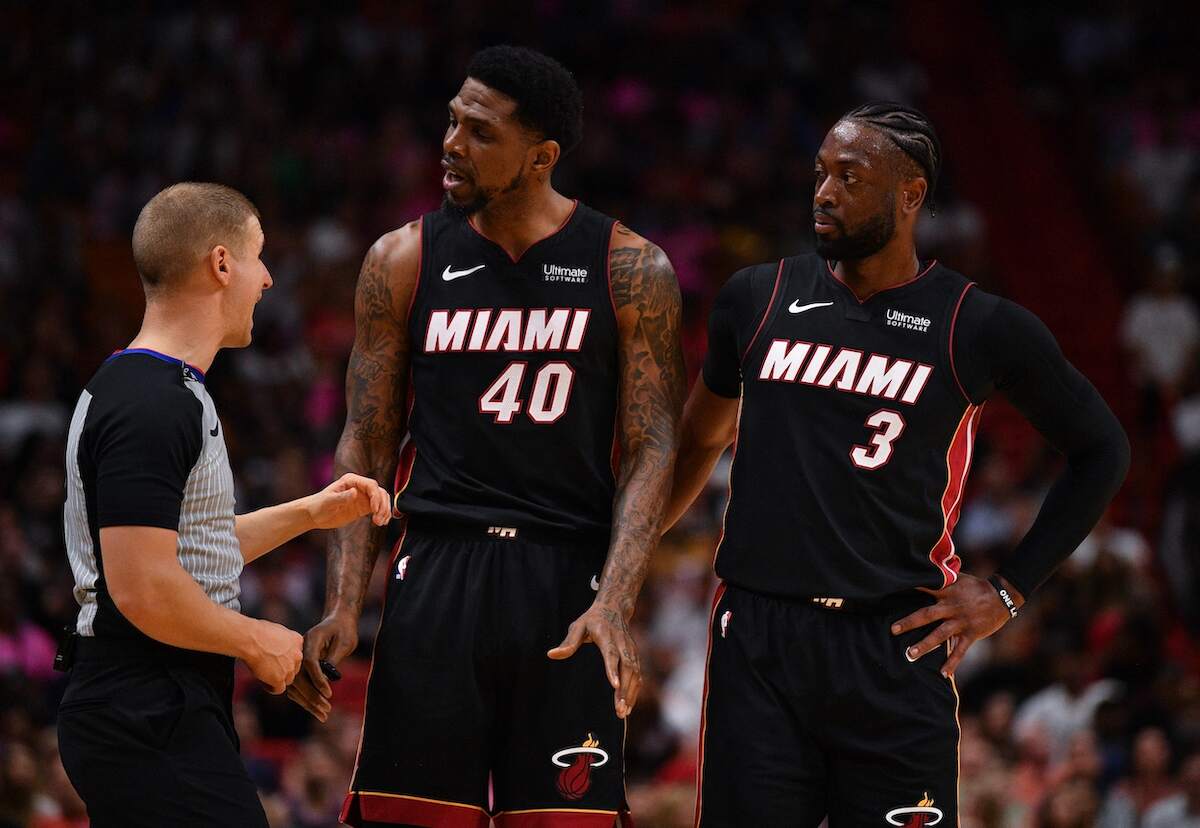 Dwyane Wade Once Received Serious Warning From Udonis Haslem About O.J. Simpson and Messing With His Woman
Dwyane Wade warned by Udonis Haslem about OJ Simpson's woman.
Dwyane Wade joined the Miami Heat as a rookie during the 2003-04 season. Udonis Haslem had been playing overseas for a year and joined the team that same season. In a recent episode of the All the Smoke podcast, Haslem revealed how in that first year together, he warned his fellow rookie about a flirting woman to avoid confrontation and a serious situation with O.J. Simpson. 
Dwyane Wade and Udonis Haslem join Heat as rookies in 2003-04
After a successful college career at Marquette, the Miami Heat drafted Dwyane Wade with the fifth overall pick in the 2003 NBA Draft. Following a great career at Florida, Udonis Haslem went undrafted, headed overseas, and played in France for a season. In 2003, he signed with his hometown team in Miami.
During that first season, Wade averaged 16.2 points, 4.5 assists, and 1.4 steals per contest. He made the NBA All-Rookie First Team. That same year Haslem averaged 7.3 points and 6.3 rebounds and made the NBA All-Rookie Second Team. 
The pair was just getting started.
Dwyane Wade warned by Udonis Haslem about potential conflict looming with O.J. Simpson
In their rookie seasons, Dwayne Wade and Udonis Haslem lived in the world-renowned Mutiny Hotel. O.J. Simpson also lived there. During a recent episode of the All the Smoke podcast, Haslem described one incident where the former Buffalo Bills player's girlfriend showed an interest in Wade and what advice he gave his friend to avoid any potential confrontation. 
"Me and D. Wade was living in the Mutiny, and O.J.'s woman tried to holla at D. Wade," Haslem told show co-hosts Stephen Jackson and Matt Barnes. "Man, I told D. Wade, 'Man, I don't know, that's O.J.'s woman. I don't know if he did it or didn't do it, but we might have to handle him if he come over here playing.'"
Haslem's mentioning whether Simpson did it or didn't do it refers to the shocking murders of Simpson's former wife, Nicole Brown, and her friend Ronald Goldman in June 1994. The Pro Football Hall of Fame running back was arrested for the murders just days after the violent deaths following a dramatic police chase broadcast on national television. Simpson was acquitted in October 1995 but later found liable in civil court for the crime.
The pair won three NBA titles 
Interestingly, it was just a couple of years after the incident at the Mutiny when Simpson was convicted of kidnapping and armed robbery for an incident in Las Vegas. He was sentenced to 33 years in prison.
Meanwhile, Dwyane Wade and Udonis Haslem played together for 15 seasons in Miami. The duo won three NBA titles in 2006, 2012, and 2013. In 2016-17, Wade broke up the pairing temporarily when he split time over the next couple of seasons with Chicago and Cleveland.
Wade reunited with Haslem in 2017-18 when he rejoined the Heat. He retired from the Heat following the 2018-19 season. Haslem has played his entire NBA career in Miami. He's still on the roster but has not seen any minutes this season.
Both Wade and Haslem are unique in how they played with one NBA team for so long. They obviously found chemistry together, winning the three titles with the Heat. And to think it all could have never happened and gone horribly wrong at the Mutiny Hotel if Haslem hadn't warned Wade, who was checking him out. 
Stats courtesy of Basketball Reference