Emotional Simone Biles Reveals Her Aunt Unexpectedly Died 2 Days Before She Won Bronze at the Tokyo Olympics
Gymnastics icon Simone Biles has gone through a whirlwind of emotions over the past week. After withdrawing from the women's team final last Tuesday and pulling out of a majority of the individual gymnastics events at the 2020 Tokyo Olympic Games, Biles returned to the mat this week and took home the bronze medal in the women's balance beam final.
It was an admirable display of resiliency for the 24-year-old, especially considering the new information that she also suffered the unexpected loss of her aunt in the middle of it all.
Simone Biles was the talk of the Olympics after her shocking withdrawal
Team USA entered the women's gymnastics team final last Tuesday as the prohibitive favorite to win its third straight gold medal in the event. But Biles, who was the star of the American squad, shockingly withdrew from the competition after failing to land her vault attempt. She later pulled out of every individual event except for the balance beam.
Originally, USA Gymnastics cited a "medical issue" as the reason for her withdrawal, but the NBC broadcast booth told a different story.
"We've just been told that, with regards to Simone withdrawing, it is not injury-related. It is a mental issue that Simone is having," NBC's John Roethlisberger said live on the television broadcast.
Biles later admitted she had been dealing with "twisties" throughout the Olympic Games, which is a phenomenon in which gymnasts can start to feel disoriented in the air and forget how to twist and turn like they normally do. The American said she "literally can not tell up from down" when she's experiencing the strange sensation. "It's the craziest feeling ever," she said last week.
Biles reveals her aunt unexpectedly passed away during Olympics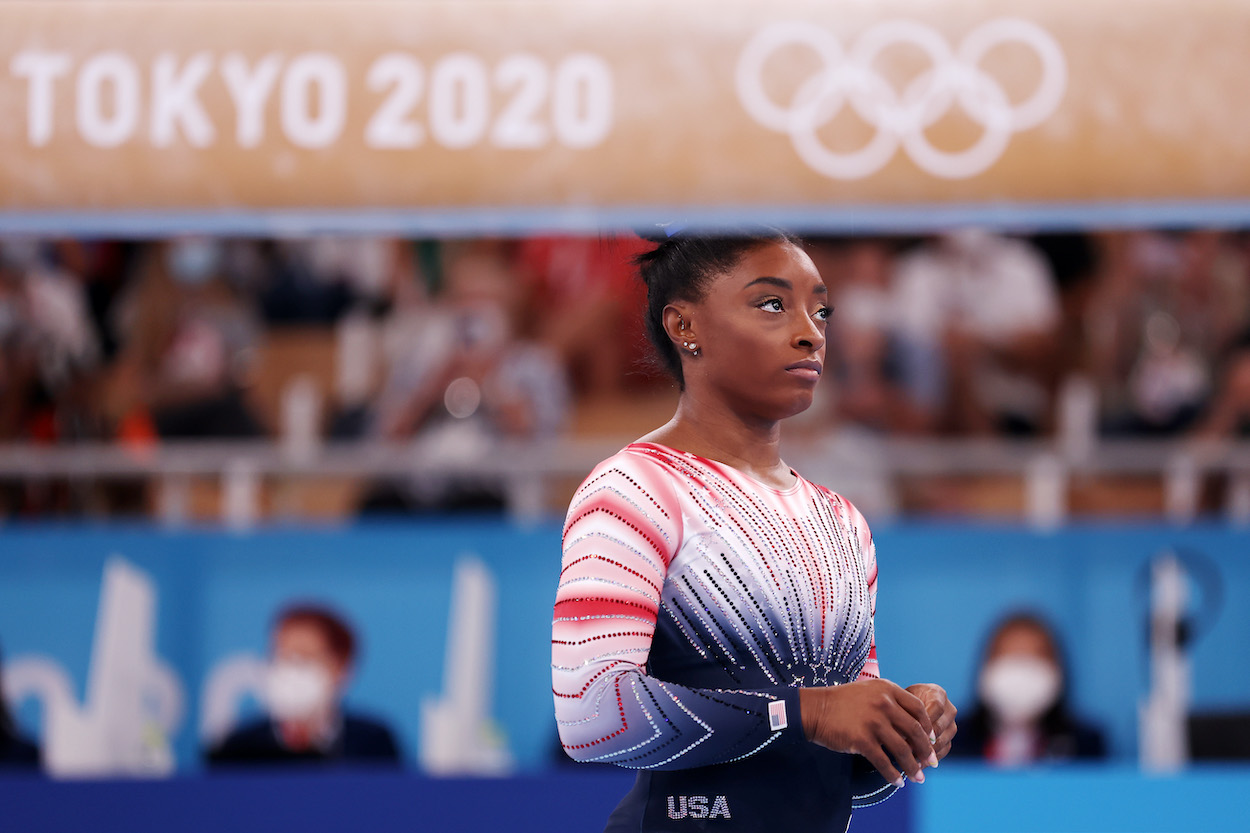 As if battling physical and emotional demons in a faraway country without her family wasn't enough, Biles also received some devastating news earlier this week. On Tuesday, after securing bronze in the women's balance beam final, she revealed her aunt died "unexpectedly" just two days prior.
"At the end of the day, people don't understand what we are going through," Biles said. "Two days ago, I woke up and my aunt unexpectedly passed, and it wasn't any easier being here at the Olympic Games.
"People have to realize that, at the end of the day, we're humans, we're not just entertainment. There are things going on behind the scenes that people have no idea about." 
She's right. We don't ever know what's going on in an athlete's personal life. And now that we know what was going on in hers, the bronze medal she won is just that much more impressive.
A more miraculous bronze medal than we even thought
When Biles returned to the mat Tuesday and won bronze in the women's balance beam final, fans commended the gymnastics legend for her eloquent performance. After everything she had been through in Tokyo — a case of the "twisties," controversial withdrawals, and insensitive fans calling our her patriotism and mental fortitude — it was a miraculous accomplishment to still find a way to medal in her final event.
But it's even more miraculous considering Biles lost a close family member just two days before the competition.
Biles is an inspiration. She's wise enough at just 24 years old to prioritize her mental health over her ultimate physical goal, mature enough to encourage others to do the same, and strong enough to fight through everything she did to make her country proud.
Bow down to the GOAT.