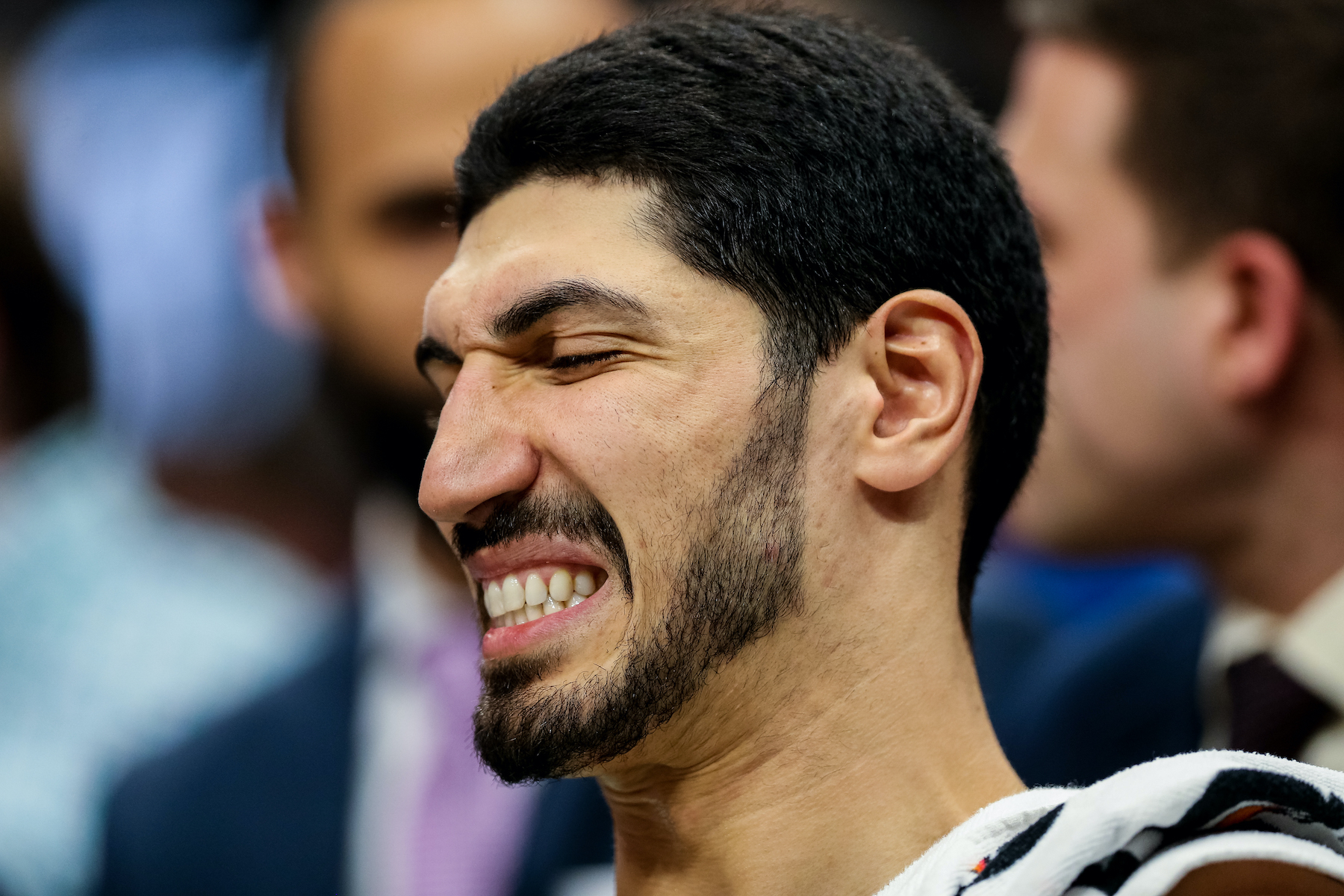 Enes Kanter Blames Himself For His Father Being Imprisoned in Turkey
NBA player Enes Kanter ran into political trouble after his dad got arrested, and he blamed himself. Thankfully, he got good news in June.
Foreign NBA stars often face challenging circumstances, especially when it involves traveling for games. Several examples exist, though one of the most recent is Enes Kanter, now playing for the Boston Celtics. Most NBA fans will know him as a bit of a nomad in the world of pro basketball.
Kanter started as a draft pick for the Utah Jazz nine years ago. Then he moved around to several teams over the decade — and showed interest in the WWE. Last year, he spent a brief time with the Trail Blazers before being traded to Boston.
Born in Switzerland and raised in Turkey, Kanter ran into political trouble after his dad got arrested. Some good news, however, occurred in June.
Enes Kanter blamed himself for his father's arrest
The political climate in Turkey of late has certainly been controversial. President Recep Tayyip Erdoğan has often been likened to a dictator, something that still creates major political divides on a global scale.
Earlier this decade, when Kanter played for Utah, the NBA star often criticized Erdoğan to the press. It created major personal issues for his family still living in his home country. In 2013, reports ESPN, Kanter's father was accused of being a terrorist due to an association with Fethullah Gülen, once blamed for an attempted governmental coup.
Of course, this devastated Kanter, and he had to go on playing in the NBA knowing his father might never be set free. At the time, Kanter said his father had to go through a kangaroo court situation where imprisonment was almost a certainty without evidence.
According to Kanter, he blamed himself for his father going to prison in 2018 because he openly likened Erdoğan to a "Hitler of our century," according to The Guardian.
Kanter faced consequences for his views
Due to his father's conviction, Kanter was unable to contact any of his family in Turkey. To make matters worse, the Turkish government also declared Kanter a terrorist due to his views.
This made travel more of a problem for his career. He could never go back to his home country without being immediately arrested. Plus, he had to avoid travel to Europe and Canada out of fear for his life. Rumors even said Turkey demanded Interpol put a red notice out to arrest Kanter, according to CNN.
Because of this, he had to stay grounded here in the U.S. with the assumption he would be a man without a country forever. When with the Blazers, reports ESPN, he also had to cancel a trip to Canada when the team played the Toronto Raptors in the semifinals.
No other story like this exists in the NBA, including Kanter constantly living in fear of his life. Then, some good news came recently about his father somehow winning his freedom.
Enes Kanter's father was released from prison after two years
Kanter's father was initially sentenced to 15 years in prison. On June 19, reports CBS Sports, Kanter tweeted to all his fans that his father was miraculously set free due to public backlash on the matter against the government.
No one should say the people still never have a say in things, no matter if under an autocratic government. Celebrities and those associated with the NBA all flooded Kanter's Twitter comment section with hearty congratulations.
Said Kanter in his tweet: "This is due to the pressure we have put on the Turkish regime. They no longer could keep him from his freedom because of the spotlight that we all put on this case! However! He is just one person, there are still tens of thousands of people wrongfully in jail in Turkey. I will not forget you, we will not forget you"!
Now Kanter has a new life pursuit in winning justice for others in his homeland. Whether that means the Turkish government will ensure his own life remains safe is another thing. At least Kanter can finish out his two-year contract with the Celtics knowing his family is safe, if a video of them reuniting being a hopeful topper.