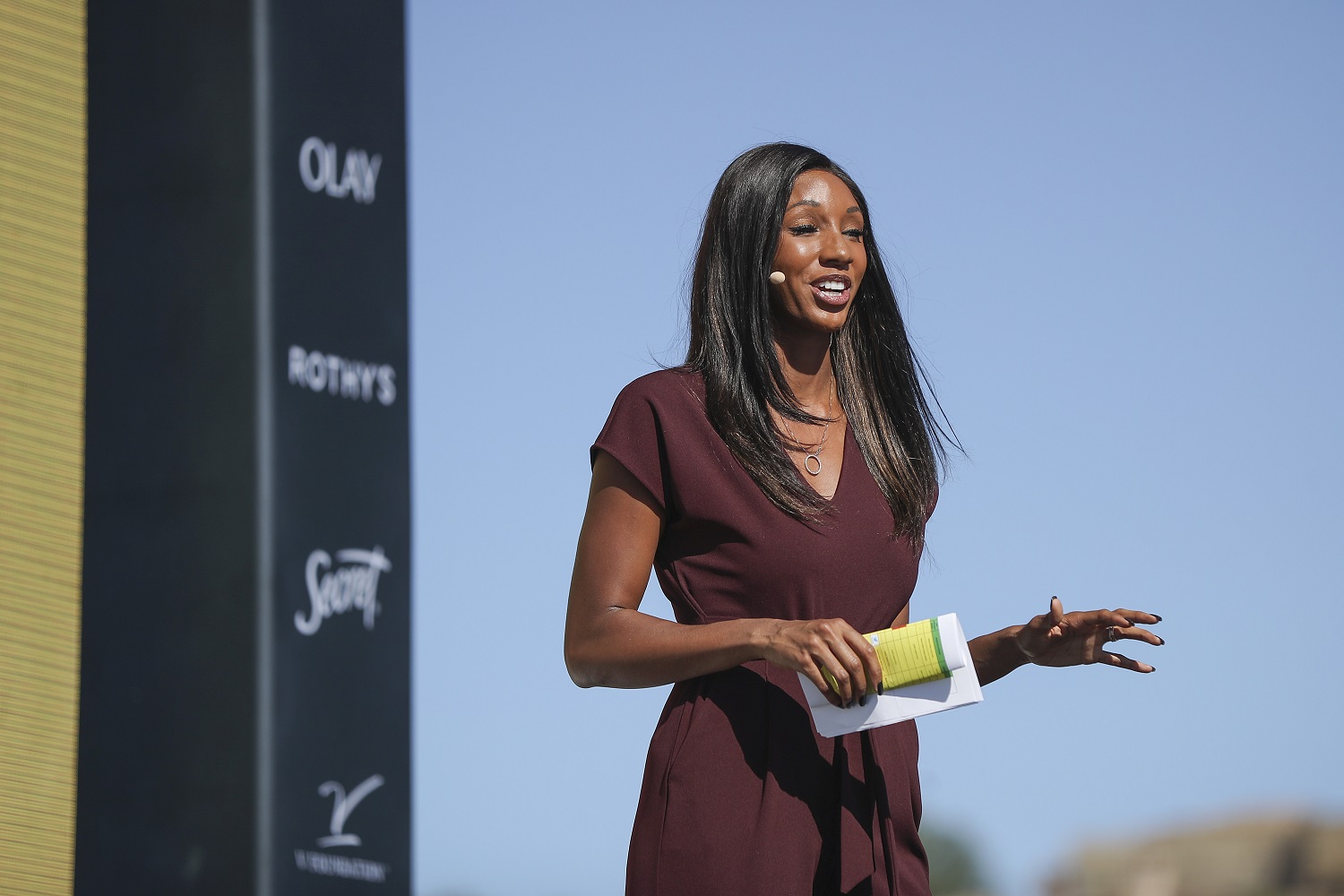 ESPN's Maria Taylor Loves the Chicken Wings at the NBA's Best-Known Strip Club
Lou Williams' run-in with the NBA turned Magic City in Atlanta into a national story last summer. Now, Maria Taylor of ESPN says the guard is right about the quality of chicken wings there.
It's eight months later, and an Atlanta strip club is still reaping the benefit of the publicity generated by Lou Williams' ill-advised visit on the eve of the NBA restart last season. Even ESPN personality Maria Taylor is talking about the chicken wings at Magic City now.
Lou Williams turned Magic City into a must-visit club
The legend of the Magic City strip club, back in the spotlight courtesy of ESPN's Maria Taylor chatting with Jalen Rose, began in July 2020 as the NBA was ramping up for the restart to its season in the Orlando bubble after a 20-week hiatus caused by the pandemic. As the Los Angeles Clippers were moving closer to their opener, the NBA gave guard Lou Williams permission to travel to Atlanta for personal business.
The personal business turned out to be a memorial service for his recently deceased grandfather. However, questions arose once Williams returned to Orlando to begin a new quarantine before resuming practice. That's because photos on a social media account belonging to rapper Jack Harlow pointed to Williams having partied at Magic City while in Atlanta.
Williams did his best to talk his way out of trouble, suggesting that the photos were from a previous visit to the club. Actually, he had plausible deniability on his side had everyone stuck to the story (and he hadn't been wearing a mask obviously issued in Orlando): Williams apparently visits the club so often that Magic City offers a wings flavor – lemon pepper BBQ — named after the NBA veteran.
ESPN's Maria Taylor loves the chicken wings at Magic City
Ultimately, NBA guard Lou Williams conceded that he had visited the strip club after his grandfather's memorial service. But Williams claimed he did so only because he was hungry and Magic City had his favorite wings.
ESPN sideline reporter and studio host Maria Taylor appeared on the Jalen & Jacoby show last week and knew more about Magic City than one might expect. Taylor, 33, who was born a short hop north of Atlanta, confirmed that she has dined on the strip club's wings, much to the amusement of Jalen Rose.
"If you go to Magic City, that's the first thing that you do," she said. "You order lemon pepper wings. They will be wet, as they should be — don't ever eat a dry lemon pepper wing, it's not appropriate. You send them back immediately.
"And the first stop you should make is probably Magic City if you're coming to Atlanta. Once you get your vaccine. OK, obviously, you're going to wear your mask.  Obviously, you're not going to bring COVID to us. But Magic City will bless you with the wings. They'll bless you with some excellent dancing and entertainment. I love Magic City."
Move over Maria Taylor, Lou Williams is back in town
Lou Williams was heartbroken and even considered retirement after the Los Angeles Clippers traded him on March 25, 2021. It ended the guard's run of 3 ½ seasons with the club. If there was any consolation for Williams, who played his high school ball in Snellville, Georgia, it's that the Clippers dealt him to the Atlanta Hawks.
Naturally, the Magic City jokes started flowing like overpriced vodka in a strip-club VIP room.
It's likely all good with the cub owners. Having the endorsements of Maria Taylor – "I love Magic City" — during a chat with ESPN co-worker Jalen Rose in good for business. And an endorsement from Johnny Manziel (see the above tweet) is a bonus. But having No. 1 endorser Lou Williams back in town should have business booming.
Like Sportscasting on Facebook. Follow us on Twitter @sportscasting19.