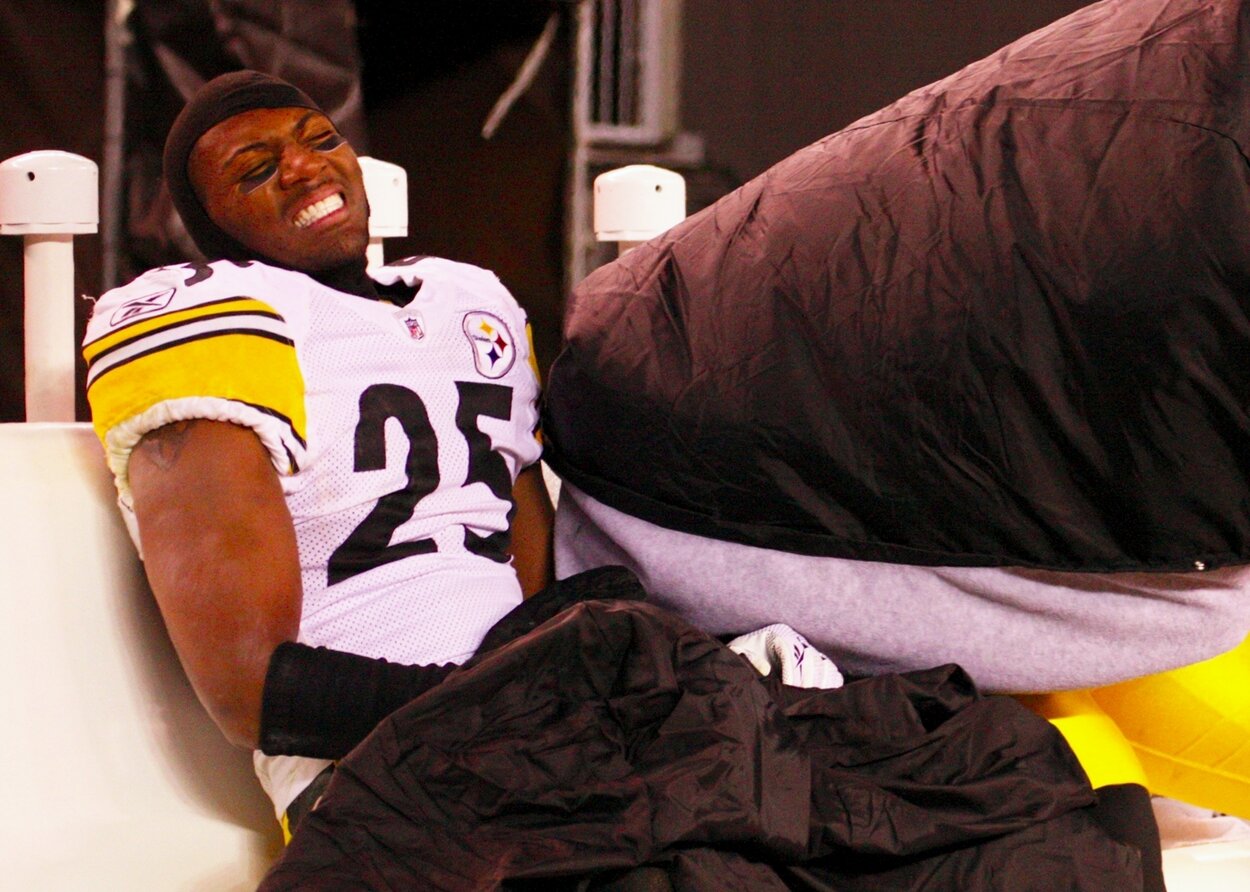 ESPN NFL Analyst Ryan Clark Could Have Tragically Died From a 2007 Game Against the Broncos
Before he became a popular analyst at ESPN, former Pittsburgh Steelers safety Ryan Clark could have tragically died during a 2007 game against the Denver Broncos.
Ryan Clark went from a beloved Pittsburgh Steelers defensive back to a rising star at ESPN in less than a decade.
Despite going undrafted in 2002, Clark kept fighting and eventually made his way to the Steelers. With opponents focused on strong safety Troy Polamalu, Clark took advantage and became an impactful free safety.
With the Steelers, Clark had one of the worst experiences of his life. If not for immediate medical attention, he could have died following a 2007 game against the Denver Broncos.
Ryan Clark enjoyed some successful years with the Steelers
An All-SEC defensive back who started 36 consecutive games at LSU, Ryan Clark nonetheless went undrafted in 2002.
The New York Giants picked Clark up. He did everything it took to stay, even injuring second-round pick and rookie receiver Tim Carter after a hard hit in training camp. Clark spent two seasons with the Giants and another two years with the then-Washington Redskins.
Starting alongside Sean Taylor in Washington's secondary, Clark played well enough that the Pittsburgh Steelers signed him to a four-year, $7 million contract in March 2006. This proved to be one of the best moves in recent Steelers history.
Across eight years and 111 games with the Steelers, Clark picked off 12 passes, forced three fumbles, recovered another six, and played a pivotal role on defense. Clark won a Super Bowl ring in February 2009 and earned Pro Bowl honors after the 2011 season.
The veteran safety ended his NFL career by starting 15 games and playing 98% of the Redskins' defensive snaps in 2014.
Ryan Clark is a rising star at ESPN
Ryan Clark wasn't the first former NFL player to join ESPN after retiring, and he certainly won't be the last.
Clark, along with former Dallas Cowboys defensive lineman Marcus Spears and ex-Lions quarterback Dan Orlovsky, has seen his profile rise in recent years. ESPN has used Clark's commentary on everything from Get Up! to NFL Live.
In 2021, Clark and retired UFC fighter Daniel Cormier began hosting a weekly MMA show for ESPN, where fans enjoy their knowledge and banter. The retired NFL player also hosts a weekly digital series called FaceFirst.
Clark only turned 43 last October, and he appears to have a bright future at ESPN. But before winning a Super Bowl or suiting up for ESPN, Ryan Clark nearly died in his 20s.
Ryan Clark could have died in 2007
Ryan Clark has sickle cell trait, which puts people at risk in high-altitude areas. 
The Pittsburgh Steelers traveled to face Jay Cutler and the Denver Broncos in October 2007 on Sunday Night Football. Clark, who had recently turned 28, recorded four tackles and drew the start in a 31-28 loss. 
Before the team's plane flew home, Clark developed a terrible pain in the left side of his body. Rather than fly with the team, he was rushed to a nearby hospital. 
Clark suffered a splenic infarction, which later required the removal of his spleen and gallbladder. In a 2014 interview with SB Nation, Clark reflected on being sick for a month, a stretch where he lost 40 pounds and battled high fevers.
"My wife, such a smart lady, goes to get a blow dryer so she can blow dry under the covers to warm me up. She puts it on cool without realizing it. I just didn't feel like it was going to stop. I was like, 'God, if it's my time, let my wife find a good husband. Let him not be as good-looking as me, but let him be a good guy. Take care of my family. Please forgive me for my sins. I'm ready.'"
Clark survived and, while he didn't play again in 2007, returned for the 2008 season. Although doctors later medically cleared him to play any future games in Denver, the Steelers held him out of those subsequent matchups.
Clark also told SB Nation he felt pain under his ribs when Washington played at Denver in 2005. A doctor told Clark he only had a bruised spleen.
Like Sportscasting on Facebook. Follow us on Twitter @sportscasting19.