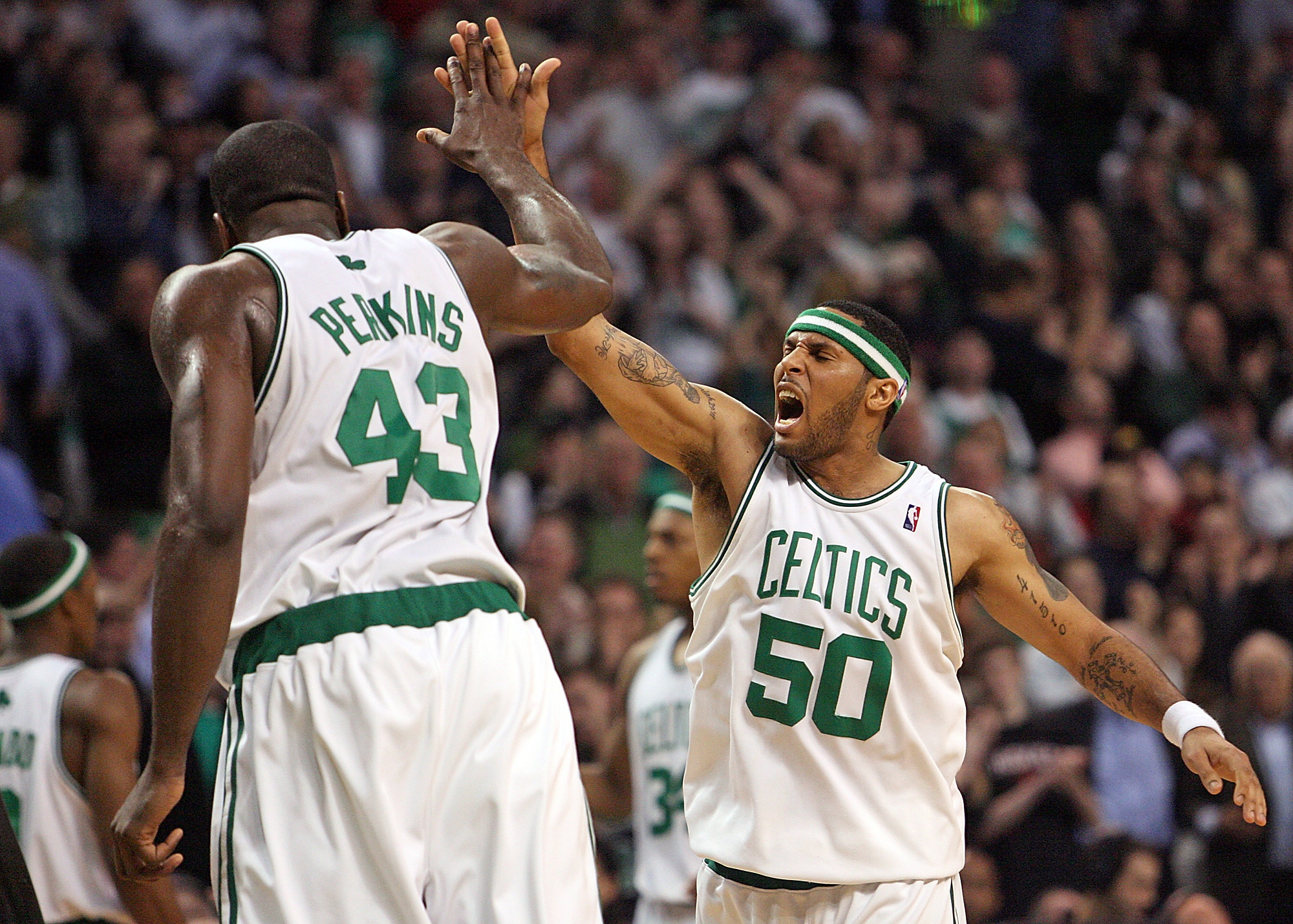 Former Boston Celtics Players Kendrick Perkins, Eddie House Veer off Track With Some Serious Trash Talk
Former Boston Celtics teammates Kendrick Perkins and Eddie House did a little trash-talking Monday night.
After going 4-0 on their West Coast trip, the Boston Celtics are a loose group. That might not be the case with a couple of their analysts, who just happen to be former teammates with the Celtics.
Kendrick Perkins was live in Oklahoma after the Celtics had finished their road trip with their fourth straight victory. He was communicating with Eddie House, who was back in the studio. The conversation drifted away from Boston being one of the hottest teams in the league to an intense trash-talk session between the two.
Kendrick Perkins and Eddie House were part of the Boston Celtics championship team in 2008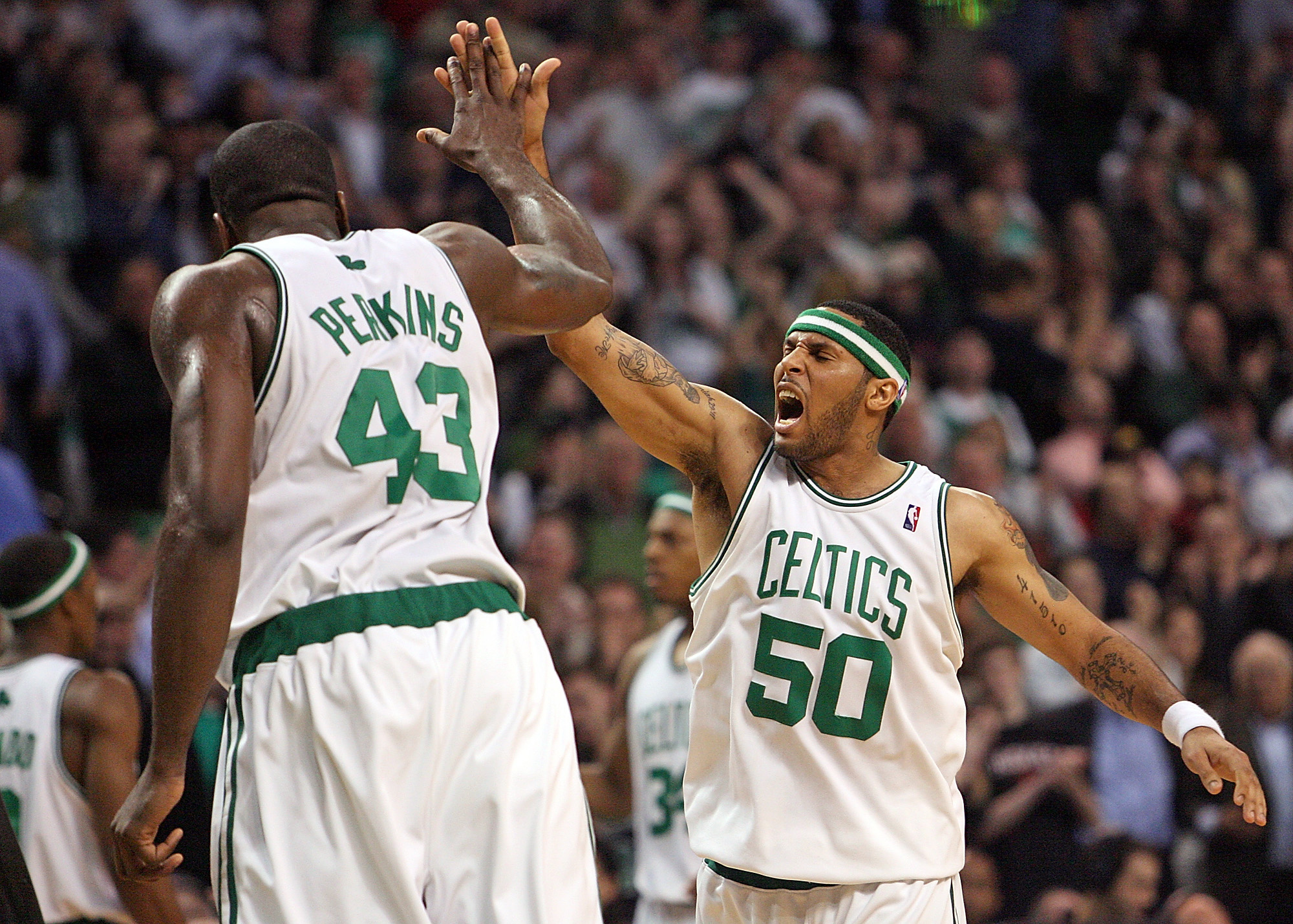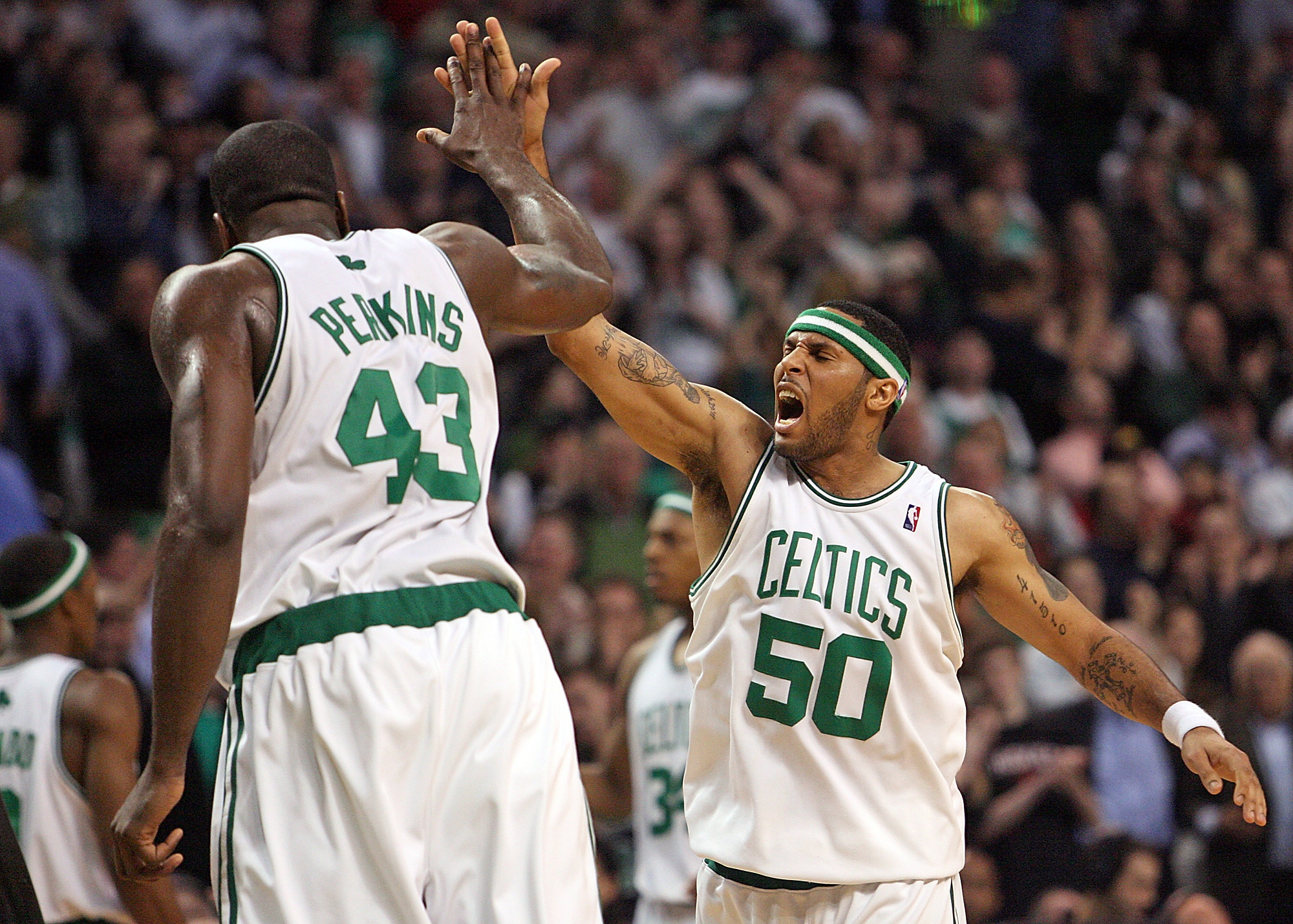 Perkins and House played key roles in the Celtics championship in 2008. Although Kevin Garnett, Ray Allen, and Paul Pierce got the bulk of the headlines, Perkins and House certainly did their part.
Perkins provided the toughness inside the paint as the starting center. He averaged 6.9 points and 6.1 rebounds that season. He started all 78 games he played.
House came off the bench to spell point guard Rajon Rondo or Allen. He provided Boston with some instant offense off the bench. Boston signed him at the beginning of the season, and he filled his role to perfection.
House put up 7.5 points in 19.5 minutes. He shot 91.7% from the free-throw line. House came up big in Game 4 of the NBA Finals against the Lakers, knocking down a pair of late three-pointers. The Celtics earned a 97-91 victory on the road, taking a 3-1 series lead. He finished the game with 11 points.
Boston won the series in six games.
Kendrick Perkins and Eddie House engaged in some serious trash talk after the Boston Celtics win
After the Celtics defeated the Denver Nuggets on Sunday, Celtic forward Grant Williams insisted teammates call him "Batman" after his effort to help shut down Nikola Jokic, also known as "The Joker." While he may have wanted the nickname to stick, Jayson Tatum wouldn't have it.
When the Celtics knocked off the Thunder on Monday, nicknames were the headlines once again after the game. Williams, who had another big night, gave each of his teammates a new nickname.
Perkins stayed on the topic of nicknames and tried to have some fun with House, but things seemed to get a little intense. He asked co-host Amina Smith, seated next to House, to ask House a question.
"Amina, can you ask E. House, like if he came off a big night, what nickname would he give himself?" Perkins said.
House heard the question and jumped in.
"I'm not giving myself no nickname," he said. "That's for somebody else to do."
"Why you always gotta be grumpy?" Perkins asked. "I was just trying to figure out what kind of nickname I'd give myself."
"You know why, you didn't have too many big nights scoring, so you trying to figure that out," House said.
"Hey E, House, let me tell you something. You don't go straight to the University of Cash without having big nights of scoring, OK?"
"We all had big nights in high school."
Perkins and House kept going, and Perkins revealed a surprising fact about his height
The two kept going at it. Brian Scalabrine, who was standing next to Perkins on the Thunder court, was loving the exchange,
"I don't know what you did in high school, but I know what I did," Perkins said.
"Averaged 27 in California, big-time numbers," House replied.
"Mickey D's All-American?" Perkins asked House.
"No, I didn't make Mickey D's All-American."
"Oh, OK, Ok. Let's talk then."
"I wasn't 6-10, either."
Perkins, listed at 6-foot-10 in most NBA references, said he wasn't either.
"I'm not 6-10," he said.
"What are you?" asked House.
"6-8," Perkins said.
After the exchange, they went back to postgame talk. It was quite the exchange between the two former Celtics teammates, but it was also nice to get some confirmation that the height of NBA players can certainly be inflated on paper.
All statistics courtesy of Basketball Reference.