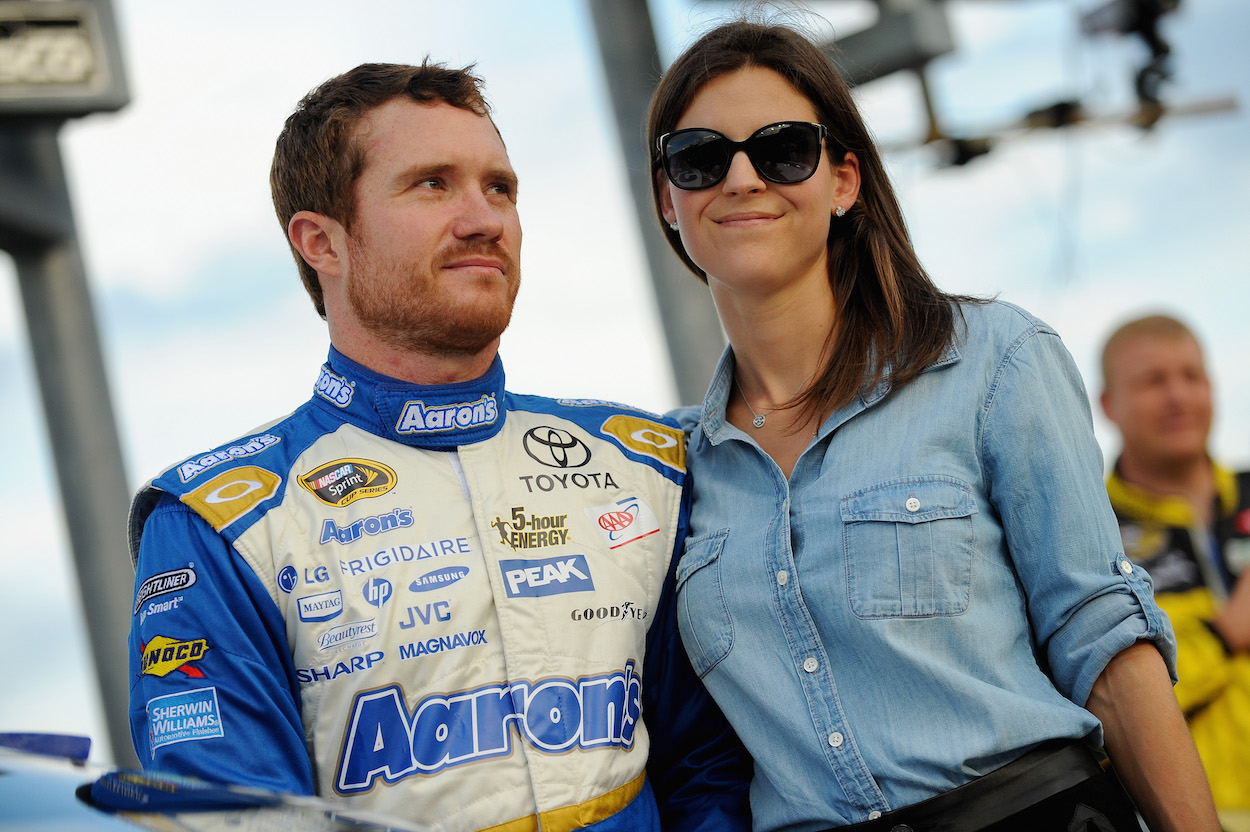 How Former NASCAR Driver Brian Vickers Has an Eerily Close Connection to the Late Convicted Sex Offender Jeffrey Epstein
Brian Vickers has a very close link to the late convicted sex offender Jeffrey Epstein.
Brian Vickers raced 14 years on the NASCAR Cup Series and won three times. Unfortunately, his racing career was cut short due to health issues, and he last raced in 2016. However, before Vickers retired from racing, he married Sarah Kellen in 2013. Kellen, who also used the alias Sarah Kensington, allegedly served as the recruiter for the late convicted sex offender Jeffrey Epstein.
Brian Vickers wins 3 times on NASCAR Cup Series
Brian Vickers won the 2003 Xfinity Series championship and earned a full-time ride on the NASCAR Cup Series the following year. That first season Cup racing with Hendrick Motorsports, Vickers earned four top 10s and finished 25th. 
A couple of years later, Vickers won his first Cup race at Talladega. He finished 15th in the final season standings. Over the course of the next decade, Vickers found moderate success as he bounced around with different teams, five in total. 
His most successful year came in 2009 when he had 13 top-10 finishes, including a win at Michigan. Vickers missed most of the 2010 season when it was discovered that he had blood clots in his legs and near his lungs. It was a condition that would dog him the rest of his career.
Brian Vickers earned the third and final win of his career in 2012 at New Hampshire while running a limited schedule. He ran his last full Cup Series season in 2014 and finished 22nd. Multiple health issues limited him to racing only a couple of times in 2015. He drove five races as an interim driver with Stewart-Haas Racing in 2016 and retired. 
Brian Vickers' wife was Jeffrey Epstein's personal assistant
In 2013, Brian Vickers married Sarah Kellen. Kellen also used the alias Sarah Kensington. She was the former assistant of the late American financier and convicted sex offender Jeffrey Epstein. She has been named in lawsuits and accused of being the "lieutenant" who helped Epstein and Ghislaine Maxwell's procure hundreds of girls.
Kellen appears in 350 logs for Epstein's private jet, including flights with former U.S. president Bill Clinton and Prince Andrew. According to the lawsuits, she allegedly kept lists of young women to recruit as "massage therapists" for Epstein, booked travel for the women, and took them to his room where they were abused. She has repeatedly denied the allegations.
Brian Vickers' wife has never been arrested. In December 2020, she told The Sun that she was a victim of Epstein. 
"I've been made out to be such a monster — but it's not true. I'm a victim of Jeffrey Epstein. I was raped and abused weekly." 
What is Vickers doing now?
Brian Vickers and his wife live in a three-bedroom, $10-million penthouse of the Mercer Greene building in New York City, where Vickers is president of the condo board. According to the New York Post, residents aren't happy with Vickers and complain the building is always under construction, and they pay the price in both inconvenience and dollars.
One homeowner was reportedly charged $100,000 in assessments in the last five years. Management firm Douglas Elliman said Vickers and four other board members must unanimously approve any work in a vote.
According to the paper, Vickers and his wife are also the direct recipients of complaints from other residents for working on their own personal home projects despite spending a lot of time away from the residence.
"They've also done their own renovations over the last five years," one homeowner said. "It's the other homeowners that have to put up with it." 
Since Brian Vickers retired from NASCAR in 2016, his life has taken some interesting twists and turns like the Watkins Glen road course. And considering his role on the condo board and who he's married to, there could be more looming down the road.
Like Sportscasting on Facebook. Follow us on Twitter @sportscasting19.