Formula 1 Is Saying Something You've Been Dying to Tell Self-important Celebrities
Article Highlights:
Sky Sports commentator Martin Brundle is popular for his grid walks before Formula 1 races
F1 officials are warning celebrities like Megan Thee Stallion to leave the bodyguards behind while on the grid
Brundle admits to not caring for celebrities, but they'll now have to submit to interviews if he asks
When Formula 1 handed down a new rule last week, hardcore fans undoubtedly hoped that the governing body was assuring there would never be a replay of the 2021 Belgian Grand Prix.
That late-August "race" could potentially decide the World Drivers' Championship between Max Verstappen and seven-time titlist Lewis Hamilton. If that's the case, it would be an embarrassment for F1 racing.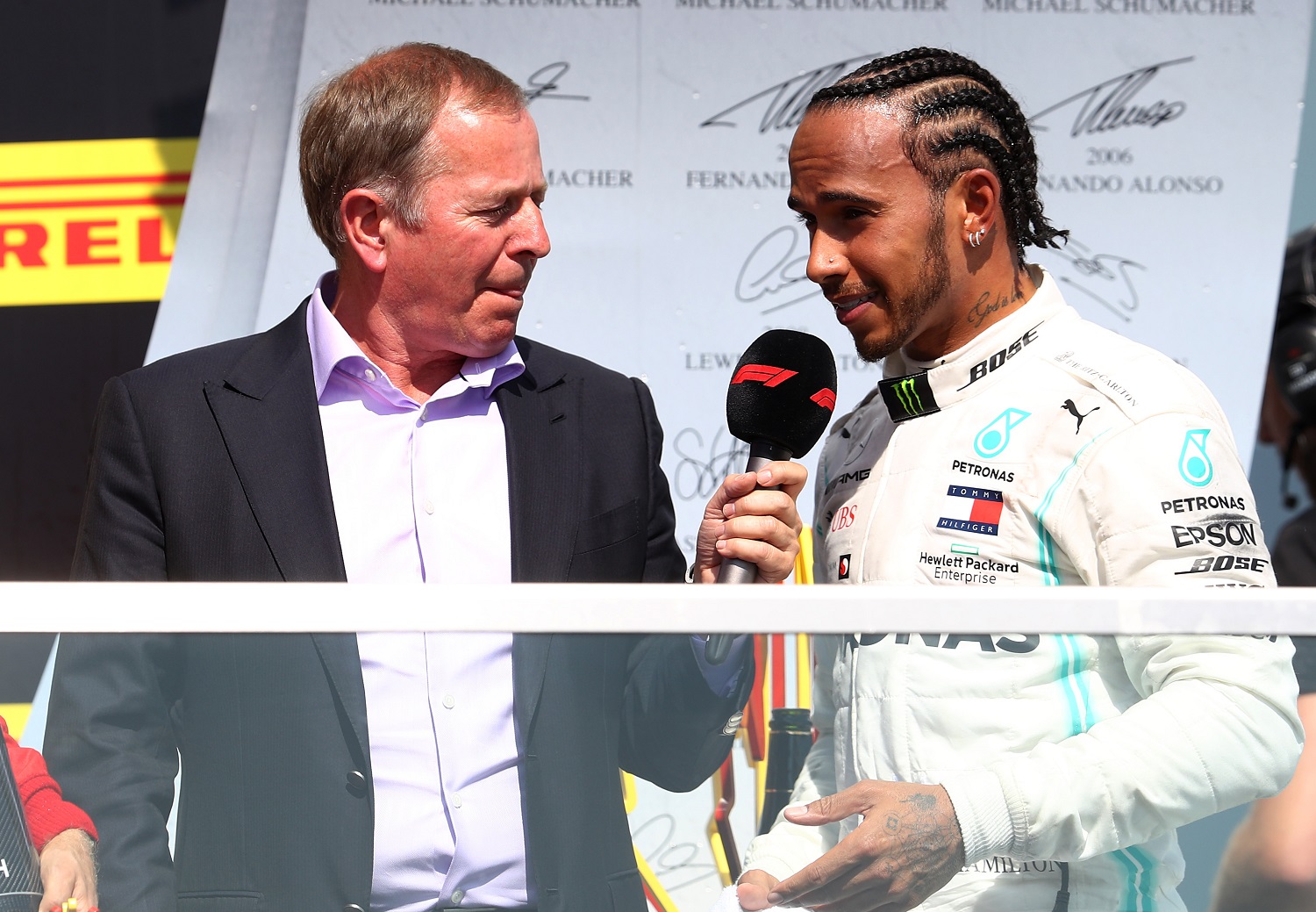 On Aug. 28, Verstappen qualified on the pole, George Russell scored a surprise second-place showing, and Hamilton checked in third. However, torrential rain the following day made it impossible to run the race, and the placement of the Dutch Grand Prix on the schedule the following weekend took the option of postponing off the table.
Instead, the cars ran two ceremonial laps behind the safety car and then pitted, at which point F1 canceled the expected race. Officials awarded 50% of the normal race points based upon the qualifying results. That earned Verstappen 12.5 points and Hamilton 7.5. Although Verstappen is methodically pulling away in the standings with four races to go, that five-point swing theoretically could decide the championship if Hamilton rallies but doesn't overtake the Dutchman.
Formula 1 met in October to discuss potential rules changes because of that scenario. However, any alternative (awarding a few points for qualifying results at all races, for instance) would require the World Motor Sport Council to sign off, so the potential solution remains a work in progress.
On the other hand, stuff that takes place around the venue but not part of the actual competition is solely the responsibility of Formula 1. To that end, officials will race fans of the plague that is celebrities pretending to be interested in F1. In reality, they're really interested in is logging face time on a television feed seen around the world.
"The Brundle Clause" in a nod to Martin Brundle, the Sky Sports commentator whose grid walks before races became a tradition before the pandemic curtailed access. The grid walk consists of Brundle and a camera operator wandering in search of drivers willing to submit to a question or two. The occasional celebrity enters the mix as well, though Brundle is a sports guy at heart and would prefer to stick to speaking to drivers.
With COVID-19 protocols easing recently, Brundle resumed his usual grid walks at the United States Grand Prix at Circuit of the Americas. Unfortunately, a few too many celebrities didn't know how to play the game. Tennis great Serena Williams flat-out snubbed Brundle. Meanwhile, rapper Megan Thee Stallion seemed prepared to comply even if she wasn't happy about it. However, her bodyguard put a hand on Brundle to move him aside and a second member of the entourage further shucked him away.
Brundle, 62, is a former Formula 1 driver and has long been a cornerstone of F1 coverage, so the snub did not go unnoticed. Brundle happily reported last week that Formula 1 just set new rules for celebrities on the grid: Bodyguards are a no-no, and interviews are mandatory if approached.
'They're obliged to talk to me," Brundle told Sky Sports. "I sort of like it if they ignore me, to be honest."
Though some celebrities attend F1 races because they're genuine fans, others just want to be seen. That does nothing to enhance the experience for racing fans present in person or watching on TV.
"I like to call out some of the celebs that I think are just using the grid a little bit if I'm honest," Brundle said. "They don't really have a passion. I know there are millions of fans at home going, 'I should be on that grid. I'm a massive Formula 1 fan, not them.'"
Speaking of massive F1 fans, Brundle enjoyed nearly universal support after he posted on Twitter about the U.S. Grand Prix incident.
"I put out a simple tweet about it and got five million impressions," he said, somewhat bemused. "I don't understand any of that, to be honest."
Like Sportscasting on Facebook. Follow us on Twitter @sportscasting19.