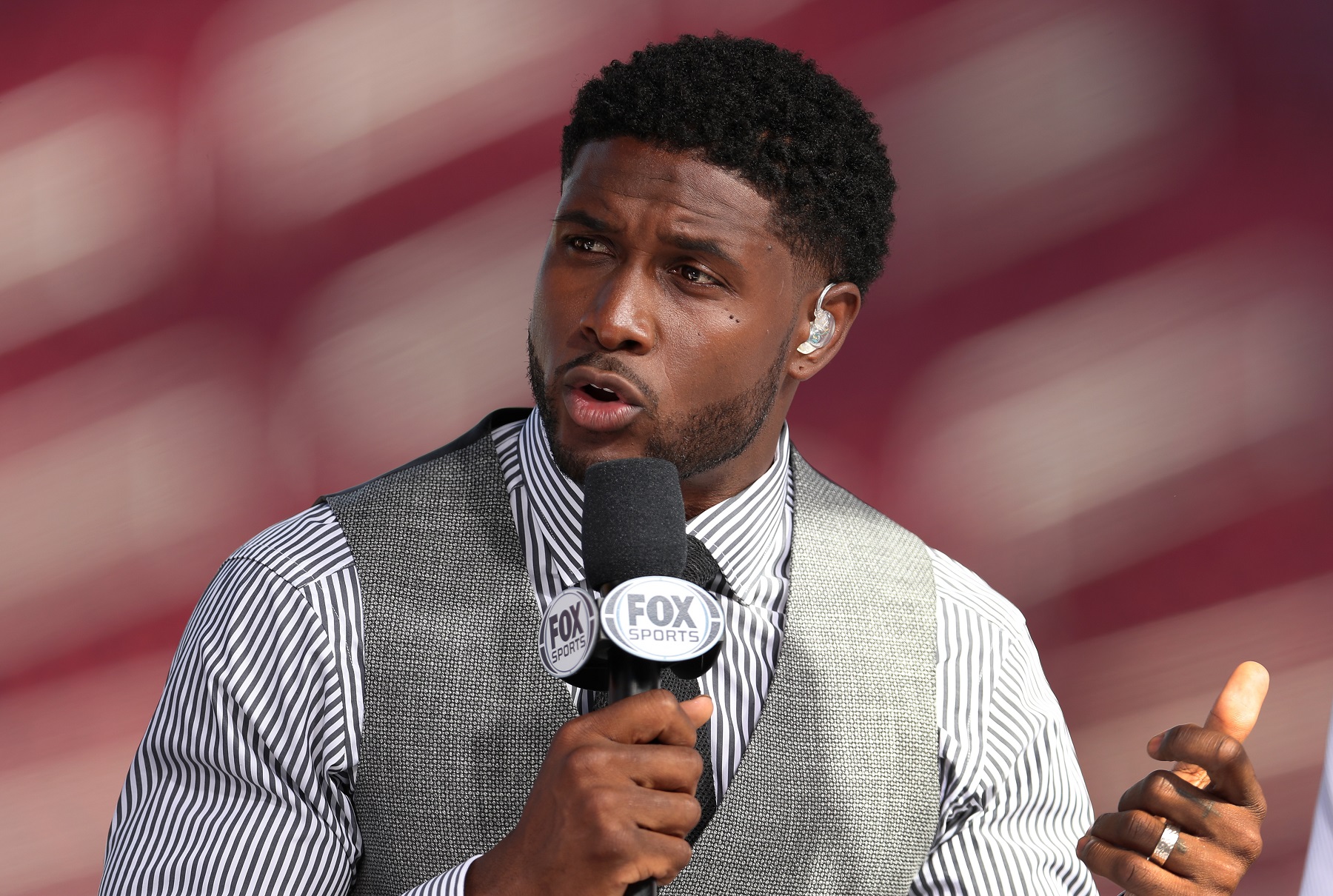 Fox's Reggie Bush Went All-in on the Donald Trump Conspiracy Theory
Former USC football star Reggie Bush is touting a controversial conspiracy theory about the disclosure that Donald Trump has contracted the COVID-19 virus.
Don't try defending Reggie Bush's tweet on the basis of him being sleep-deprived. We saw the (extremely) former Heisman Trophy winner at work last week and can verify that the onetime college football star gets some shuteye on the Fox Sports set.
No, there must be something else behind the former No. 2 overall draft pick's take on President Donald Trump's revelation that he has tested positive for the COVID-19 virus. Whatever it is, Bush had better be right. Otherwise, he's in for a heck of a battle to regain his credibility.
Reggie Bush left a mess for USC to clean up
Penn State became known for its linebackers and the University of Miami for its quarterbacks. USC's signature has always been running backs beginning with Mike Garrett and O.J. Simpson in the 1960s. Sam Cunningham, Anthony Davis. Ricky Bell and Charles White would soon follow.
Marcus Allen extended the history from 1978-81, but what followed was a line of good but not sensational backs until Reggie Bush arrived in 2003 as the second-rated prospect in the country, according to Rivals.com. He amassed 1,331 all-purpose yards his freshman season, posted his first 200-yard game as a sophomore, and then truly excelled as a junior.
Bush ran for 294 yards against Oregon and 260 vs. UCLA to finish the regular season with 1,658 yards and 15 rushing scores, and he beat out Texas QB Vince Young for the Heisman Trophy. Bush declared for the NFL draft, and reports of possible improprieties that included his parents living rent-free in an agent's home surfaced.
In October 2007, Lloyd Lake sued Bush and his parents to recover nearly $300,000 he said he provided in cash and gifts, and the agent began assisting an NCAA investigation. Bush and Lake reached a settlement in 2010, but the NCAA continued to poke around.
The NCAA stripped 14 wins – including a BCS victory over Oklahoma – from USC's record and took away 30 scholarships in 2010. New coach Lane Kiffin had to deal with the fallout of the violations, which took place while Bush played for Pete Carroll. The Trojans have had only three 10-win seasons since after posting seven straight under Carroll.
School officials permanently disassociated USC from Bush (it was rescinded in 2020) and removed his replica Heisman from campus. Bush renounced his Heisman in 2010 and eventually returned the trophy.
Everyone in the country was better than him in 2016
The New Orleans Saints picked Reggie Bush No. 2 overall in the 2006 NFL draft, thus beginning a pro career that had a few productive years but largely disappointed. Bush never rushed for more than 581 yards in a season in five years with the Saints, but he did catch 294 passes for 12 touchdowns. Even then, though, he seldom showed explosiveness and averaged a modest 7.3 yards per reception.
Playing for the Miami Dolphins and Detroit Lions from 2011-13, Bush just missed producing a string of three straight 1,000-yard rushing seasons. He averaged an impressive 4.6 yards per carry during those prime seasons of his career. However, Joique Bell wrestled the starting job away from him in 2014, and Bush joined the San Francisco 49ers the following year.
Bush's 2015 season ended after five games because on a knee injury sustained when he slipped on concrete at the Edward Jones Dome, for which the running back successfully sued the St. Louis Rams for $12.45 million.
Bush attempted a comeback in the 2016 season with the Buffalo Bills, but his stat line was historically bad. Appearing in 13 games, he rushed 12 times for minus-3 yards, meaning that literally everyone sitting in a recliner at home to watch his games had a more productive year than Bush.
Reggie Bush is all-in on a Donald Trump conspiracy theory
Fox Sports hired Reggie Bush as a college football studio analyst before the 2019 season to work alongside retired coach Urban Meyer and former Trojans teammate Matt Leinart on Saturdays. To date, his most memorable moment in the studio has been him falling asleep during Texas' thrilling 63-56 victory over Texas Tech on Sept. 26, 2020.
Maybe he was trying to get viewers to forget that embarrassing moment captured by studio cameras, but Bush went onto Twitter to tout a conspiracy theory shortly after President Donald Trump announced that he had tested positive for the COVID-19 virus.
"Teflon Don just wants the attention on him. Now the entire world will be on Trump watch. Now you test positive?" he wrote. "After all the rallies with no masks you held, now you conveniently catch COVID after that disastrous debate?"

Reggie Bush on Twitter
When a Twitter follower suggested that the president's team invented the illness so that Trump could avoid a second debate with Joe Biden, Bush agreed:
"Exactly now he won't be available for questioning, can't do debates, he's going to disappear for 14 days while the world thinks he may die, YEAH RIGHT!!!!"