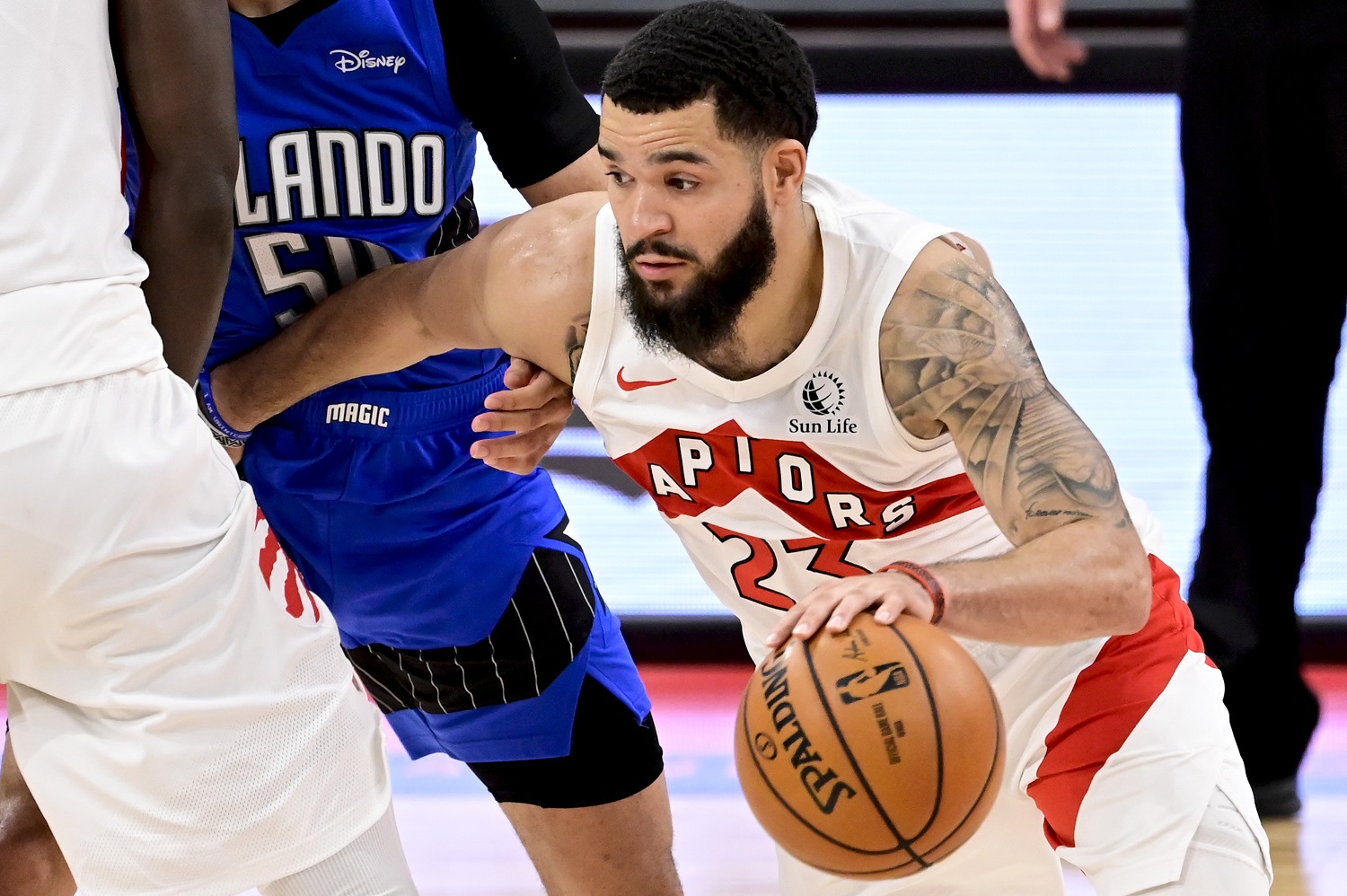 Fred VanVleet Outsmarted the NBA and Made $100 Million by Dodging the Draft
Toronto Raptors guard Fred VanVleet turned down the opportunity to be drafted by two NBA teams because he had a better idea about how to reach the bigtime.
Fred VanVleet doesn't make the shortlist of great NBA players yet because the Toronto Raptors guard is as erratic as he is entertaining. When he went off on the Orlando Magic for 54 points in a game this week, it was only the fourth time in 21 appearances this season that he shot better than 50% from the field in a game.
If he ever finds more consistency in his shooting, basketball fans will start rating him as one of the best undrafted NBA players ever. What they'll say might be true, but it won't necessarily be accurate. That's because VanVleet played the system before it could play him.
Fred VanVleet was intriguing coming out of college
People knew who future Toronto Raptors guard Fred VanVleet was coming out of high school. VanVleet had led his Rockford, Illinois, team to a third-place finish in the state tournament and earned all-state recognition from multiple media outlets.
VanVleet showed up in the Rivals.com top 150 rankings. While that's not an automatic ticket to a major college, it's generally enough for at least a few lower-rung schools from the glamour conferences like the ACC, Big Ten, and Pac-12 to offer scholarships. What VanVleet instead found was the greatest interest coming from second-tier conferences. By picking Wichita State in 2012, VanVleet became the highest-ranked prospect in the recruiting class to land in the Missouri Valley Conference.
His development with the Shockers was gradual but consistent. After coming off the bench as a freshman, VanVleet started all 102 games over his final three seasons, playing in the NCAA Tournament each year. He scored just 12.5 points a game, but the 6-foot-1 guard was more valuable running the Wichita State offense. With a ratio of 3.5 assists for every turnover, VanVleet was reliable while logging huge minutes.
VanVleet left school as a two-time conference player of the year but as a borderline NBA draft prospect. Though a respectable 38.6% shooter from beyond the arc, the combination of his size and 42.6% accuracy overall was just enough to cause concern for some league general managers.
Fred VanVleet dodged the NBA draft
Fred VanVleet shot 17 of 23 from the field, including 11-for-14 work on 3-pointers, on Feb. 2, 2021, to scorch the Orlando Magic for 54 points. In doing so, VanVleet set an NBA record for points in a game by an undrafted player. Neil Johnston had once scored 50 points for the Philadelphia Warriors, and his mark had stood since 1954.
However, VanVleet's achievement deserves an asterisk. According to the Rockford Register Star, VanVleet gambled on draft night in 2016 by turning down two opportunities to be selected in the second round. Both offers from the unidentified teams came on the condition that he accept assignment to the NBA Development League, where VanVleet would find himself riding a bus to games and earning $20,000 a season.
That wasn't an especially distinguished draft beyond Buddy Hield, Ben Simmons, Jaylen Brown, and a few others. VanVleet calculated that the minor league would remain an option regardless. So, he aimed for the best free-agent offer from a team willing to at least look at him in the summer league.
That offer came immediately from the Toronto Raptors, who did not have a second-round pick, and VanVleet cashed in big because he made the NBA roster that season.
The gamble has already been worth $100 million
Fred VanVleet's development with the Toronto Raptors has mirrored his experience at Wichita State. After logging under eight minutes a night as a rookie and spending some time in the G League, VanVleet moved into the rotation in the 2017-18 season to average 8.6 points and 3.2 assists while playing 20 minutes a game. His scoring averages improved to 11.0 and 17.6 a game the following two seasons, and he became a full-time starter during the pandemic-shortened season.
VanVleet was already a winner at the bank a quarter of the way through his first season. His original contract was two years for $1.85 million, and he re-upped in 2018 for another two years – this time at $18 million.
On Nov. 24, 2020, VanVleet hit the jackpot. With a short free agency window due to the length of the previous season and interest coming from NBA rivals, the Raptors locked VanVleet into a four-year contract. The four-year deal is fully guaranteed for $85 million and will bring VanVleet's career earnings to over $100 million.
All stats courtesy of Basketball Reference.