Smart Geno Smith Contract Hints at Seahawks Drafting a QB
A new Geno Smith contract is well-deserved for the Seattle Seahawks veteran quarterback. After years of bouncing around the NFL as a backup, he finally stepped into the spotlight and had a Pro Bowl season as a starter replacing Russell Wilson. And while Smith will be thrilled with $40 million guaranteed (which more than doubled his career earnings), it is essentially a one-year deal, which suggests the Seahawks draft a QB in the 2023 NFL draft.
The Geno Smith contract
When the Seahawks traded Russell Wilson to the Denver Broncos last offseason, nearly everyone penciled in Seattle for a top-five pick in the 2023 NFL Draft.
Well, the Seahawks draft does include a top-five pick, but that is from the Broncos. Seattle doesn't have their own pick until No. 20 after finishing 9-8 and making the playoffs in 2022.
That performance is thanks to a stellar draft class, an excellent coaching job from Pete Carroll, and, most of all, Geno Smith. The veteran QB threw for 4,282 yards, 30 touchdowns, and 11 interceptions while posting a league-leading 69.8% completion rate.
This all led to a Geno Smith contract extension that the team and QB agreed on just ahead of the NFL league year and free agency kicks off.
Smith now has a three-year, $75,000,000 contract with $40,000,000 guaranteed and an average annual value (AAV) of $25,000,000.
In 2023, the Seahawks QB will earn a base salary of $1,200,000, $8,700,000 in prorated signing bonus, and $200,000 for a workout bonus while carrying a cap hit of $10,100,000 and a dead cap value of $27,300,000.
There is also a boatload of incentives in the Geno Smith contract. If he exceeds his numbers this season, he'll get $2 million for improving in passing yards (4,282), passing touchdowns (30), completion percentage (69.8), passer rating (100.9), and team wins (nine). If he hits all five categories, he gets an additional $5 million.
The interesting thing about this Geno Smith contract, though, is that it is basically a one-year deal. Only $27.3 million (1.2M base plus a $26.1M signing bonus) is guaranteed at signing. The rest of the agreement guarantees in stages after each season ends.
In 2024, the Seahawks can get out of the Geno Smith contract with $17,400,000 (saving $13.8M) in dead cap and in 2025 with just $8,700,000 in dead cap (saving $25M).
This setup points to the Seahawks taking a young QB in the 2023 NFL Draft.
Who should the Seahawks draft at QB in the 2023 NFL Draft?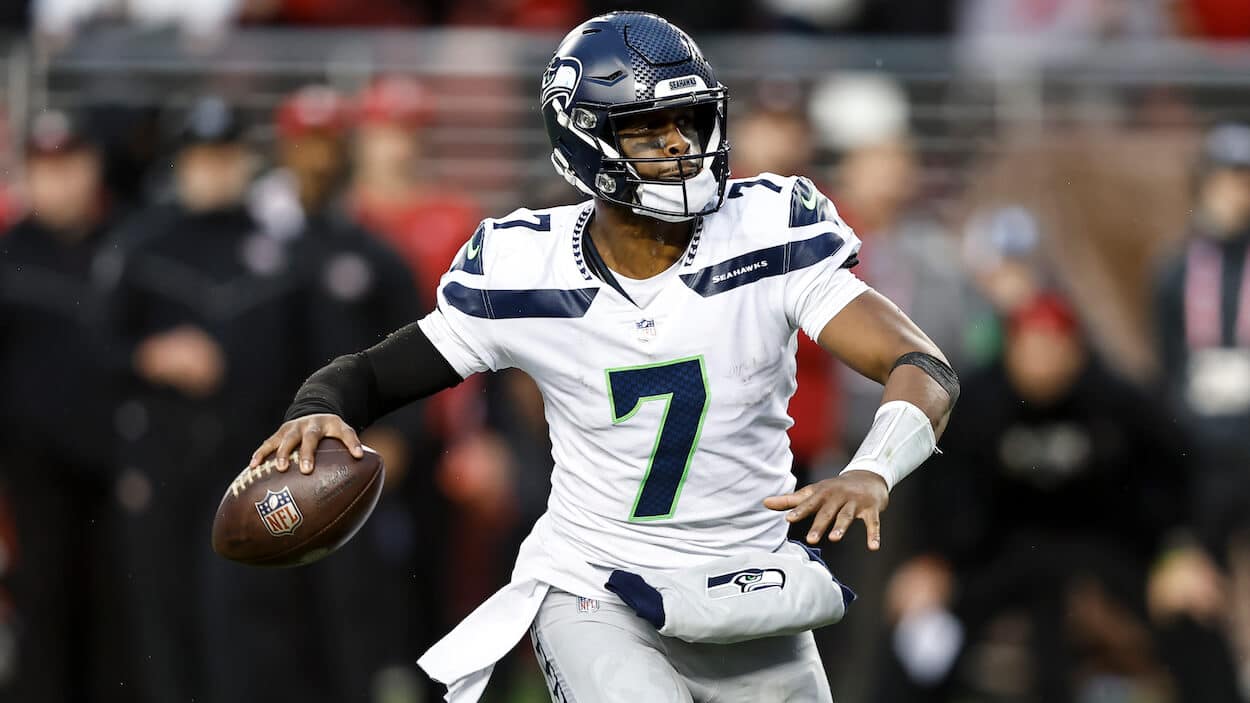 As the Seahawks look to quickly retool after the Russell Wilson Era, the team is in a unique position to capitalize on their former QB's failure in 2022. If Seattle continues to play well with Geno Smith, they won't be drafting in the top five for a while.
That makes it essential that the team takes advantage of this lofty draft spot and takes a possible franchise QB. Smith was great last season, and maybe he'll be great again this year. However, at 32, this won't last forever.
It is time for the organization to get a new franchise signal-caller.
After the Chicago Bears traded the No. 1 pick to the Carolina Panthers, it looks like Ohio State's C.J. Stroud will be the No. 1 pick. After that, the Houston Texans will take Bryce Young from Alabama off the boards.
That leaves Wil Levis from Kentucky and NFL combine star Anthony Richardson from Florida as the two choices for the Indianapolis Colts at No. 4. Whoever is left should become the Seahawks' draft pick.
These two players are perfect prospects for the Seahawks in the 2023 NFL Draft. Both have incredible athleticism and upside. That said, both would benefit from a year (Levis) or two (Richardson) sitting behind a veteran.
With the new Geno Smith contract, sitting for a season is a certainty, and even two is possible. So, Seahawks fans should start digging into Richardson and Levis. One of them will likely be the team's signal-caller of the future.