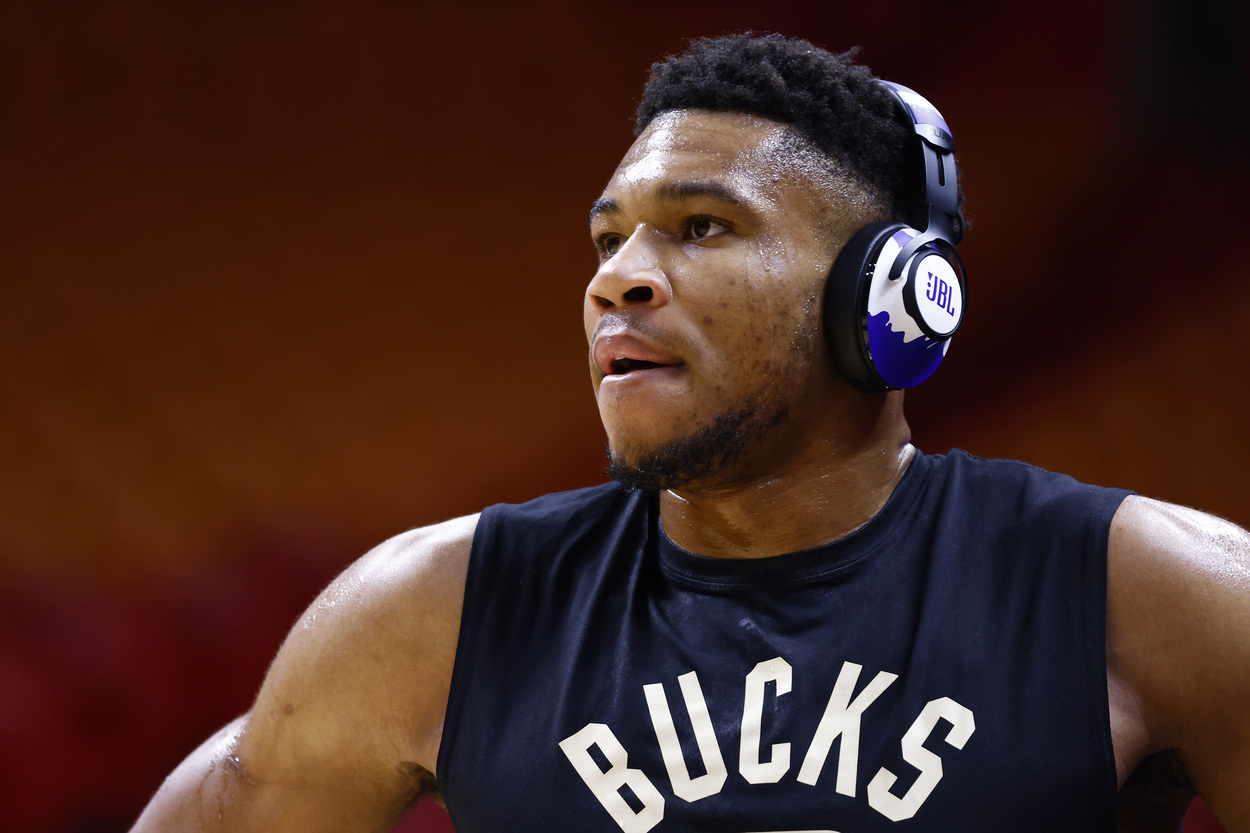 Giannis Antetokounmpo's $1.8 Million Wisconsin Mansion Was Previously Owned by 2 Former Bucks
Before Giannis Antetokounmpo purchased a home near Milwaukee, the same residence was occupied by two former Bucks teammates.
After humble beginnings in Greece, Giannis Antetokounmpo put down roots in Wisconsin. The Milwaukee Bucks superstar has called the Badger State home since entering the NBA in 2013. As the 2021 NBA champion's career has progressed, so has his financial situation and, in turn, his living quarters.
Antetokounmpo, like many NBA players, resides in a spacious mansion. But the Greek Freak is one of the rare players who played with the prior homeowner … as well as the homeowner before that.
Giannis Antetokounmpo used a portion of his first major NBA contract to purchase a home in Wisconsin
As the 15th pick of the 2013 NBA Draft, Giannis' first NBA contract was life-changing money. But it was far from what he'd later receive as he transformed from a raw athlete to a dominant superstar.
After earning less than $3 million a year through his first four professional campaigns, Antetokounmpo's four-year, $100 million extension kicked in for the 2017-18 season. In one season, he went from making just under $3 million to over $22 million a year. And he used some of that influx of cash to buy a seven-figure home.
In 2018, reports Urban Milwaukee, the Greek Freak traded in his downtown Milwaukee apartment for a $1.8 million mansion in River Hills, a small village in Milwaukee County. At the time of purchase, Antetokounmpo's 9,000-square-foot home had six bedrooms, seven-and-a-half bathrooms, a game room, a theater room, a wine cellar, a workout room, an in-ground pool, and a guest house.
Antetokounmpo's house was previously owned by two of his former Bucks teammates
Giannis' million-dollar home has developed quite a Bucks-themed lineage over the years.
In 2015, reports the LA Times, when the house was about 10 years old, Michael Carter-Williams bought the property for a cool $1.65 million. The 2013-14 Rookie of the Year was traded to Milwaukee in February 2015 and bought the home soon after. However, he was traded to the Chicago Bulls in October 2016.
One month after his departure, Carter-Williams sold the house to veteran forward Mirza Teletovic for $1.6 million. The Bosnian needed a place to live after signing a three-year deal with Milwaukee that summer for $31.5 million. But his time with the Bucks was also short-lived after the team waived him in March 2018.
After Teletovic's tenure in Milwaukee was up, he sold the house to the budding star Antetokounmpo just after the start of the 2018-19 season.
Giannis can afford a bigger home if he wants
The Greek Freak's pad is impressive in many ways. But the two-time MVP could afford something even bigger and better down the road.
Giannis is in the first year of a five-year, $228 million max contract. For the 2021-22 season, the seven-time All-Star made $39.3 million, $17 million more than he made when he first bought his house. By the fifth and final NBA season of his contract, 2025-26, the 27-year-old will pull in just under $52 million for a single season.
With a $70 million net worth, Antetokounmpo can more or less buy whatever piece of property he wants in Wisconsin. Heck, he could probably buy a few towns in Wisconsin if he wanted to. But that's, of course, assuming there was another Bucks player who could take the house off of his hands.
Contract figures courtesy of Spotrac.