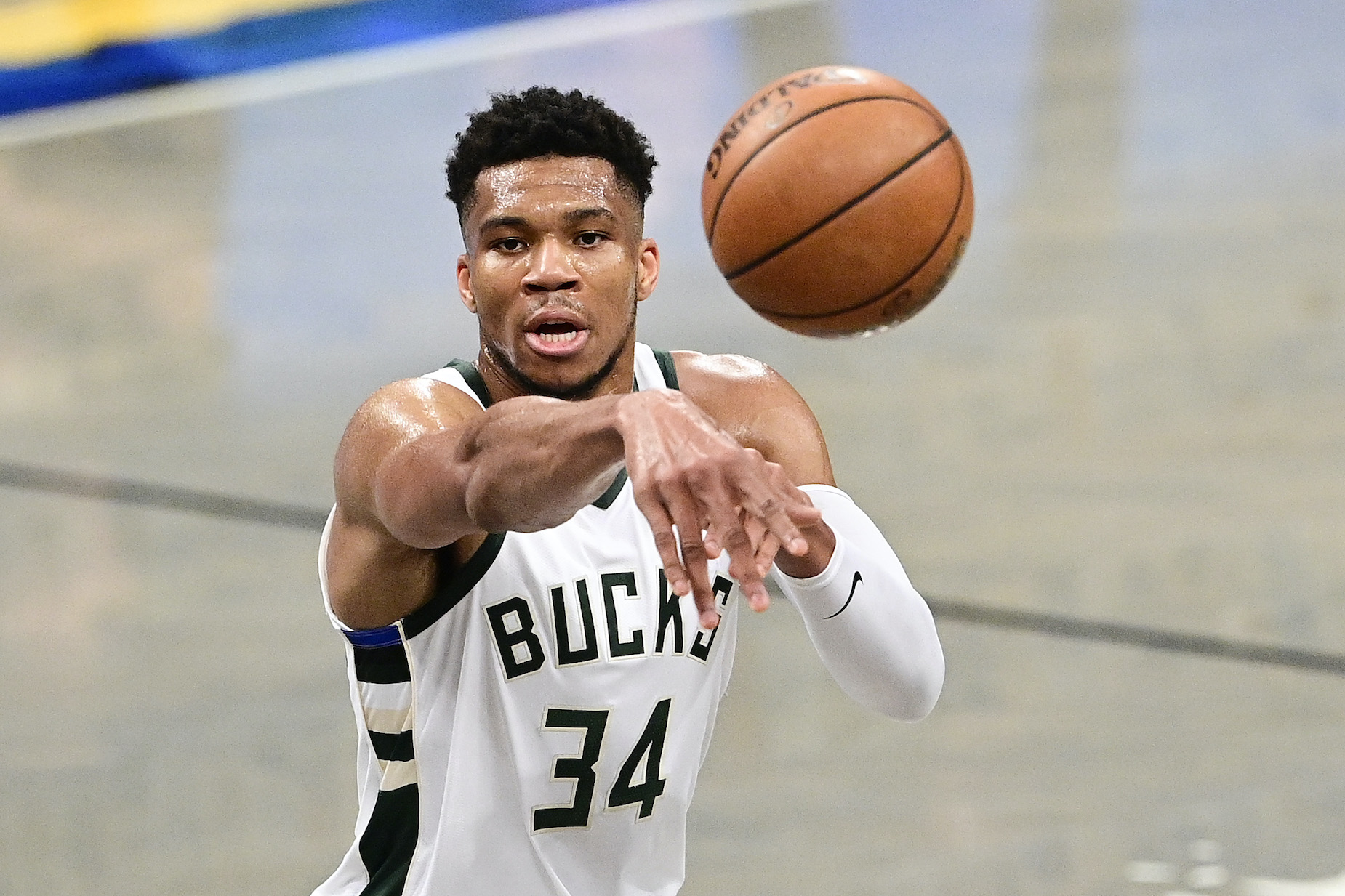 Giannis Antetokounmpo Is Worth $70 Million, but He Refused to Buy a First-Class Plane Ticket Until His Fourth Year in the NBA
Giannis Antetokounmpo has built up a $70 million net worth thanks to his incredible talent and some smart spending habits.
While he's repeatedly fallen short of an NBA championship, Giannis Antetokounmpo has still managed to establish himself as one of the brightest stars in basketball. As his Greek Freak nickname would suggest, the Bucks big man is a one-of-a-kind athlete, capable of running the floor like a guard and banging bodies like a power forward. Unsurprisingly, that skill set has helped him earn plenty of money and build up a $70 million net worth.
Despite his fame and fortune, Giannis tries to spend his money carefully. While he's not opposed to opening his wallet in the right situation, he's also willing to put himself through some minor discomfort to save a few dollars. Take, for example, his early flying habits.
Giannis Antetokounmpo is a generational talent with a $70 million net worth
Whether you like it or not, modern professional sports are a big-money business. That reality has helped Antetokounmpo live out an incredible Cinderella story, rising from the streets of Greece to the heights of NBA stardom.
Growing up in Athens, Giannis and his brothers didn't exactly lead a life of luxury. As the sons of Nigerian immigrants, the boys hit the streets and sold items like sunglasses to help make ends meet. They also played basketball in their free time, which, as we now know, turned out to be a life-changing hobby.
Antetokounmpo joined the Filathlitikos organization's youth system and, before long, had made a name for himself. He made the leap to North America in 2013, joining the Milwaukee Bucks as the 15th overall pick. Although he landed in Wisconsin as a lanky and raw teenager, that didn't stop him from blossoming into the Greek Freak.
Thanks to his unique blend of size and athleticism, Giannis developed into one of the NBA's top talents; as his MVP awards and Defensive Player of the Year title indicate, he's capable of doing just about everything on the hardwood. That skill set has also helped make him a rich man. Antetokounmpo's net worth already clocks in at an estimated $70 million, and his $228 million supermax contract extension doesn't even begin until 2021-22.
Refusing to buy a first-class plane ticket, even as an NBA player
Given their fame and fortune, it's easy to imagine NBA stars blowing through their savings on a variety of luxury purchases. Giannis, however, does things a bit differently.
While he may have a $70 million net worth, Antetokounmpo hasn't forgotten his humble roots. He has no problem spending money when the situation calls for it, but he isn't going to leave himself in an awkward financial situation by being wasteful.
"Don't get me wrong, I'm not cheap," the Greek Freak told Adrian Wojnarowski during a 2019 ESPN interview. "But I'm just careful with my money because I know the value of money. … You know, the way I grew up, and the way that we fought every day and worked every day to have money … I think I never lost that value."
If you wanted to see that valuation in action, you could look at Giannis' plane tickets. Even as a professional athlete earning millions of dollars per season, he wasn't quick to splash out to sit in first-class.
"I think the first time I bought a first-class ticket was my fourth year in the league after I signed my contract [extension worth $100 million]," Antetokounmpo explained. "My older brother, Thanasis, told me, 'OK, son. We cannot be sitting back in coach next to the restroom.'" Giannis even admitted that he wouldn't even spend extra money to sit in an exit row despite his 6-foot-11 frame.
For reference, the Bucks' star had earned a shade under $4 million in salary during his first three NBA campaigns. While that's a far cry from his current fortune, it would have been more than enough to move up to first class.
Giannis Antetokounmpo is happy to spend his fortune on family
During his conversation with Wojnarowski, Antetokounmpo noted that he "spends a lot of money" for his family. Based on what the public sees of his actions, it's safe to assume he's living up to that word.
In addition to paying for first-class seats "whenever [his] family flies," the Greek Freak is also more than happy to reach into his wallet for his son, Liam. After signing his supermax extension in December 2020, Antetokounmpo was asked how he celebrated the multimillion-dollar occasion. Rather than popping bottles or buying a new car, he simply explained that he bought toys and clothes for his little boy.
During his time in Greece, Giannis didn't have much besides his family. Even with a $70 million net worth and plenty more money on the way, he hasn't forgotten those people.