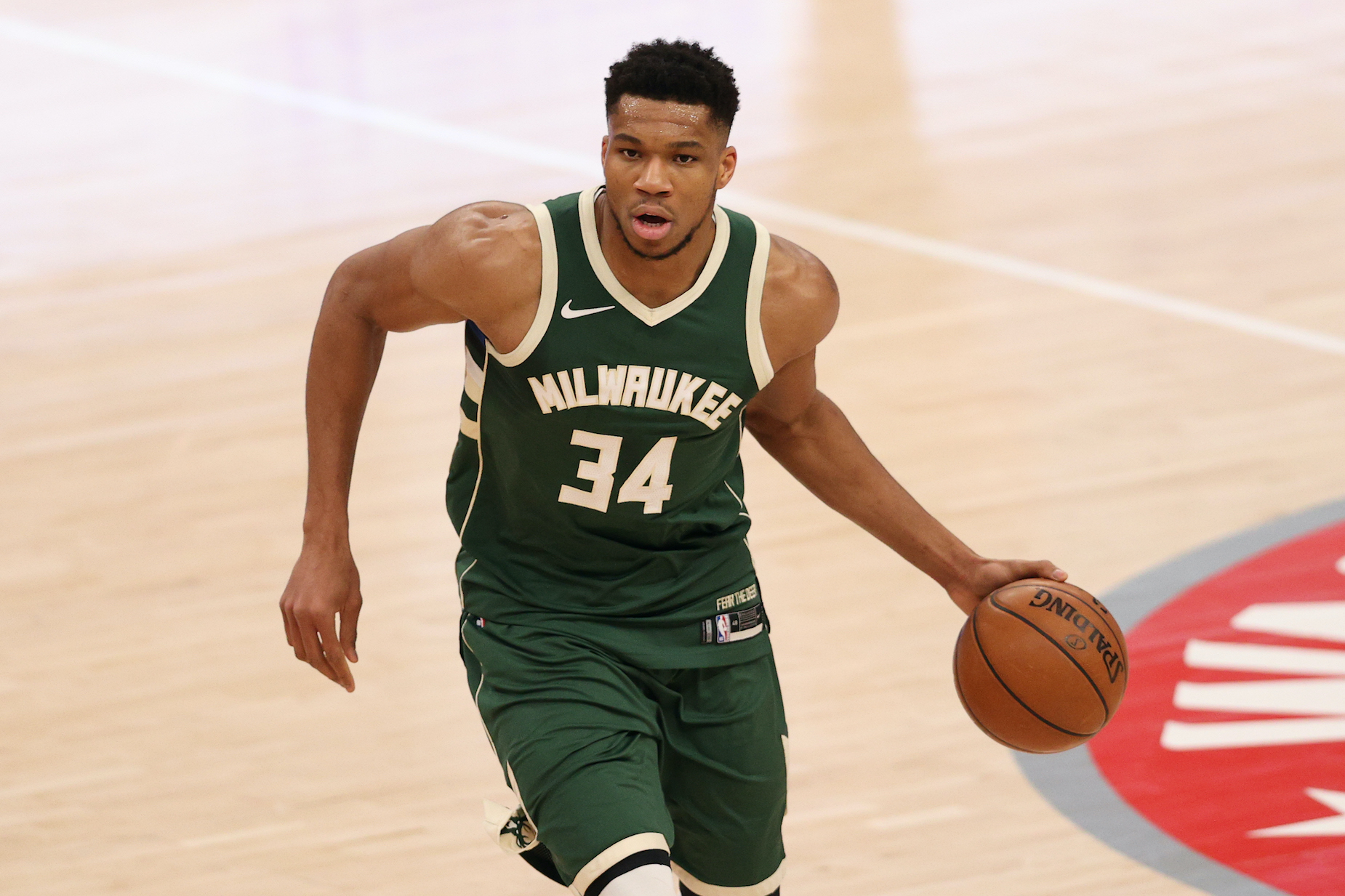 Giannis Antetokounmpo Is Worth $70 Million, but He Started His Basketball Career Sleeping in the Gym
While Giannis Antetokounmpo has found fame and fortune as an NBA star, he started his basketball career by literally sleeping in the gym.
In the modern NBA, few men have the star power of Giannis Antetokounmpo. While Milwaukee might not be a major media market, the Greek Freak has earned the Bucks a spot squarely in the league's limelight. He's a uniquely talented player and, thanks to his skill set, has built up a sizable net worth.
Although Giannis Antetkounmpo now makes millions of dollars playing professional basketball, he wasn't always a rich and famous athlete. During his earliest days on the hardwood, the Greek Freak literally slept in the gym rather than venturing home at night.
Giannis Antetokounmpo had a humble childhood in Greece
If you're a long-time sports fan, you've undoubtedly heard plenty of Cinderella stories over the years. Giannis Antetokounmpo's rise to prominence sounds like something out of a movie.
While he may be nicknamed the Greek Freak, Giannis' parents are Nigerian immigrants. Growing up in Athens was no Mediterranean vacation, though. The Antetokounmpo brothers would sometimes find themselves on the streets of the capital, selling things like sunglasses and DVDs, trying to help make ends meet.
Despite those struggles, however, the boys still found time to play basketball. While the brothers couldn't afford to buy new sneakers, they hit the court as much as they possibly could; there, Giannis caught the eye of a local coach.
After his parents got on board with the idea, Giannis joined the Filathlitikos organization. His odyssey, however, was far from over.
Learning to play basketball and literally sleeping in the gym
While Giannis Antetokounmpo always had plenty of potential, he still needed to learn a thing or two about basketball. In fact, when he first hit the gym, the teenager was lacking some pretty basic skills. 
"He didn't even know how to dribble or make a layup," Spiros Velliniatis, the man who discovered Antetokounmpo, told the New York Times. "He was not that big," Christoforos Kelaidis, a player on the team, recalled. "He was like an ordinary man starting something new. I couldn't see anything remarkable."
Giannis, however, was willing to put in the effort behind the scenes to develop his talents. In fact, that dedication—combined with an unpleasant reality of being the son of African immigrants—meant he'd sometimes spend his nights in the gym.
"Antetokounmpo often stayed at the gym practicing until near midnight, sleeping there on an exercise mat in the weight room for fear of heading home in the darkness," Peter S. Goodman wrote in the Times. "Fascists and neo-Nazis affiliated with the Golden Dawn political party roamed the neighborhood menacing immigrants."
These days, though, Giannis Antetokounmp has a massive salary and net worth
Giannis Antetokoumpo, as we now know, did continue to improve. He showed enough skill to enter into the 2013 NBA draft and joined the Milwaukee Bucks as the 15th-overall pick.
Despite arriving in North America as a lanky teenager, Giannis has turned into a legitimate star. While there are still some holes in his game—despite his best efforts, the Greek Freak hasn't become a knock-down shooter—he's still won back-to-back MVP awards and established himself as one of the game's top talents.
As you might imagine, that reality has come with significant financial upside. After a bit of suspense, Antetkounmpo signed a historic, $228 million supermax extension; by the time that contract expires, he'll have taken home more than $335 million in total salary. CelebrityNetWorth also estimates his fortune at $70 million, which should only continue to increase with each passing year.
Sometimes, if a player is putting in extra hard work behind the scenes, we'll hear comments about how they're living in the gym. As a teenager, Giannis Antetokoumpo took that a bit more literally than most; at the end of the day, though, those efforts have certainly paid off.