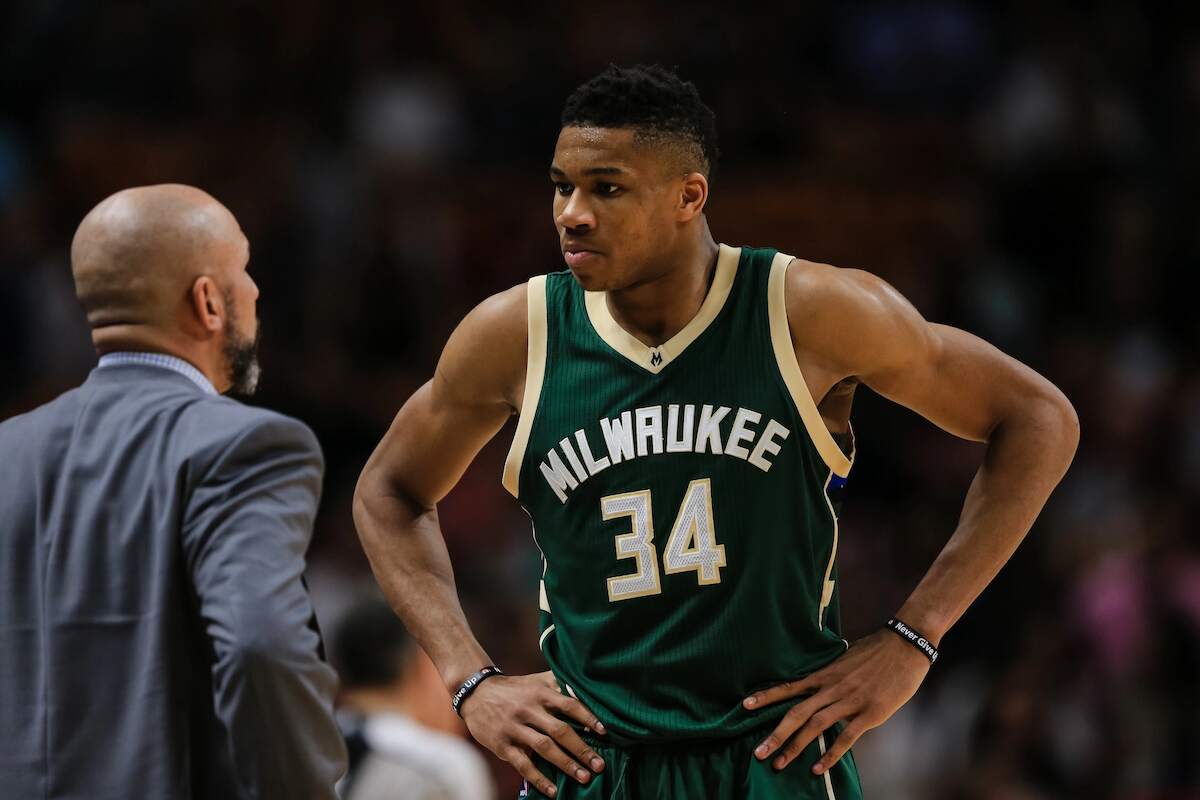 Giannis Antetokounmpo Once Got an Unplanned Lesson in Both NBA History and Respect After Being Benched By Jason Kidd
When Jason Kidd benched Giannis Antetokounmpo, the Greek Freak learned two lessons about NBA history and respect.
When you hear the name Giannis Antetokounmpo, it's tough to imagine anything other than a dominant NBA star. Although the Greek Freak might not be the greatest shooter, he's still a natural talent and an incredible athlete. When he arrived in North America, however, he still had a thing or two to learn.
During the early part of his NBA career, Antetokounmpo found himself riding the pine. For someone like the Greek Freak, being benched by head coach Jason Kidd was a jarring experience. Sitting on the sidelines, however, taught the young forward two lessons: one was about respect, and the other consisted of NBA history.
Giannis Antetokounmpo didn't arrive in the NBA as the finished article
With two NBA MVP titles under his belt, it's easy to picture Giannis Antetokounmpo as the star he is today. The Greek Freak, however, wasn't always a star.
As his nickname indicates, Giannis grew up in Greece. Things weren't always easy for the future star, though; the Antetokounmpo brothers helped their parents sell things on the streets of Athens and didn't always find a wealth of food in the refrigerator. The boys, however, still found time to hit the court and play basketball.
Even in those tough circumstances, though, Giannis's talent shone through. He joined the Filathlitikos organization and, before long, started developing a reputation as a talented prospect. In 2013, he entered the NBA draft and prepared to move to America.
While we now know that Antetokounmpo would grow into the Greek Freak, his scouting reports didn't tap him as a surefire star. While his potential was clear — when push comes to shove, you can't teach length and athleticism — some feared the lanky teenager wouldn't be able to handle the physicality of the NBA.
Giannis, of course, joined the Milwaukee Bucks as the 15th-overall pick of the draft. From there, the rest is history.
Learning some lessons after being benched by Jason Kidd
During his first NBA season, Giannis Antetokounmpo only averaged 6.8 points per outing. The following campaign, Jason Kidd took over as head coach, and the Greek Freak started playing more as a guard.
While Giannis' numbers improved, there were still some bumps in the road. As recounted by Sports Illustrated's Lee Jenkins, Kidd once banned his young star from shooting three-pointers; on another occasion, he pulled Antetokounmpo from the game and stapled him to the bench.
As you might imagine, the Greek Freak wasn't too happy about sitting on the sidelines. That experience, however, taught him dual lessons about both NBA history and respecting his head coach.
"The first time Kidd benched him, Antetokounmpo was irate," Jenkins wrote. "I was like, 'Let's see what this guy did in his career, anyway,' Antetokounmpo recounts and called up Kidd's bio on his phone. 'I saw Rookie of the Year, NBA championship, USA Olympic gold medal, second in assists, fifth in made threes, blah, blah, blah. I was like, 'Jesus freaking Christ, how can I compete with that? I better zip it."
Giannis Antetokounmpo credits Jason Kidd with helping him become a star
Without being inside the Milwaukee Bucks locker room, it's impossible to know exactly what happened between Giannis Antetokounmpo and Jason Kidd. It's safe to assume, however, that the Greek Freak did live up to his word and 'zipped it.'
Giannis has, of course, developed into a star; he's since won two NBA MVP titles, earned Defensive Player of the Year honors, and established himself as one of the league's top talents. In his mind, that success is due, at least in part, to Kidd.
"I was only 18," Antetokounmpo said after Kidd lost his job in 2018, according to NBA.com. "I didn't even know how the NBA worked. [Kidd's firing] hurts a little bit more because he was here for 3 1/2 years. He trusted me. He put the ball in my hands. He pushed me to be great."
"He's a big part of my success in the league," Giannis added. "I'm loyal to the people I work with. I love him as a person. I care about him as a person."
Not only does Giannis Antetokounmpo know more about Jason Kidd these days, but he's putting together a resume that can hold its own against his former coach's. That's certainly one way to respond to a benching.