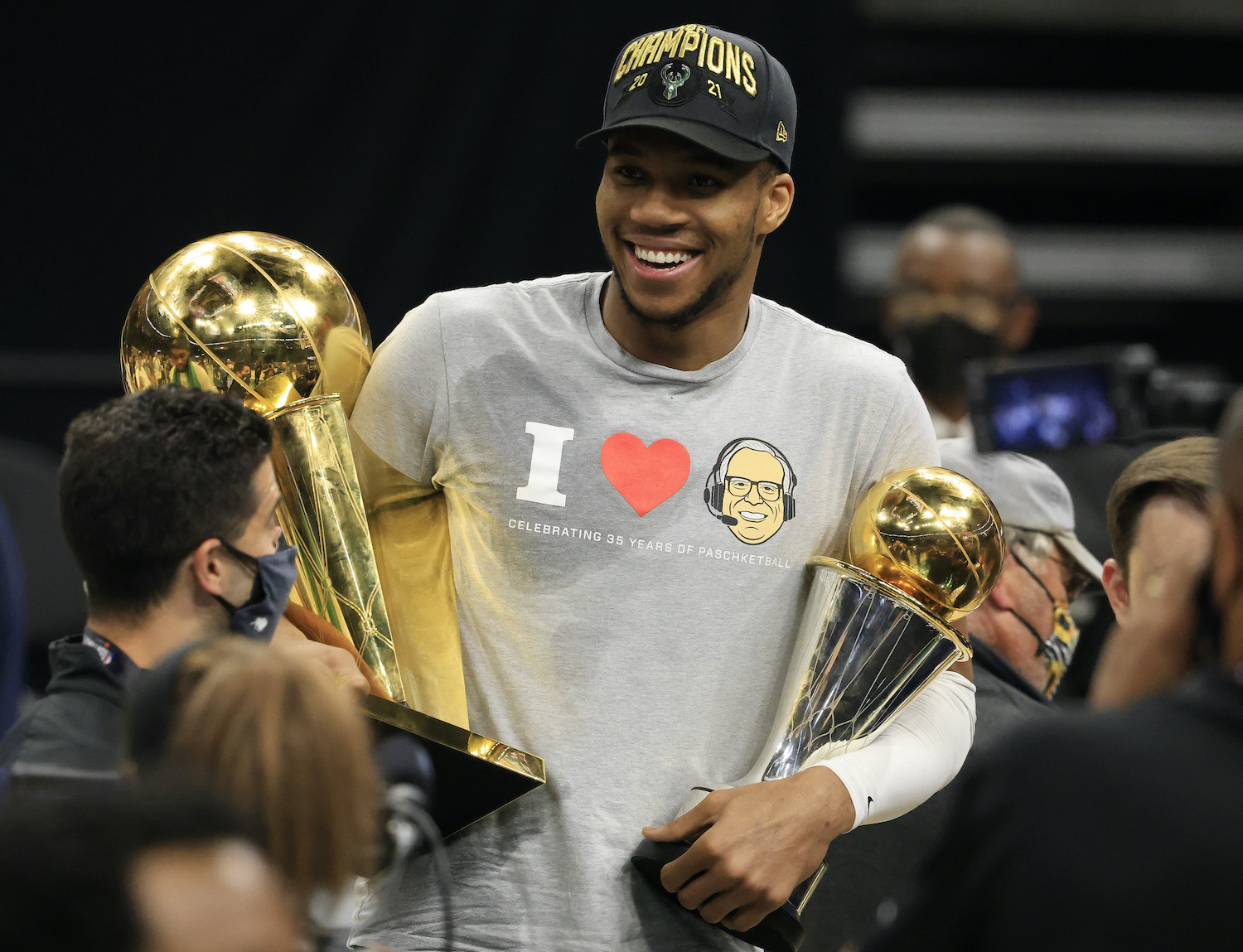 Giannis Antetokounmpo Could Pocket Up to $40 Million Annually Thanks to His New NBA Championship
Giannis Antetokounmpo's recent NBA championship is significant for a variety of reasons. One of them is financial.
While he still has plenty of time on the hardwood ahead of him, winning an NBA championship represented a life-changing moment for Giannis Antetokounmpo. In a single series, the Greek Freak erased any claims that he was a regular-season star unable to cut it in the playoffs. From now on, he'll simply be adding to an already impressive legacy, not playing catch-up and trying to win a single title before retiring.
Beyond those basketball-based realities, lifting the Larry O'Brien Trophy carries another advantage for Antetokounmpo. While the forward already boasts a sizable net worth and a massive salary, winning an NBA championship could add as much as $40 million to his bottom line.
Giannis Antetokounmpo now has an NBA title to go along with his $70 million net worth
As the cliche says, money can't buy happiness. Whether you believe that to be entirely true or not, the Greek Freak has the best of both worlds.
From a financial perspective, Antetokounmpo is incredibly well-off. While he's only estimated to have a $70 million net worth — which isn't a massive sum in the world of professional sports — Giannis has plenty more cash on the way. In December 2020, he signed a record-setting $228 million contract extension. Barring any catastrophic changes, he'll be able to cash in on at least one more mega-deal after that one expires.
On the basketball side of things, an NBA championship essentially completes the Greek Freak's resume. While he's yet to turn 27, the Bucks' star already has that title, two MVP awards, a Finals MVP crown, a Defensive Player of the Year honors on his resume. By proving he can lift a franchise to glory without relying on a super team, Antetokounmpo has already established his place in Milwaukee lore. Now it's just a matter of how he stacks up against the all-time greats.
The 2021 NBA title could add $40 million annually to the Greek Freak's bottom line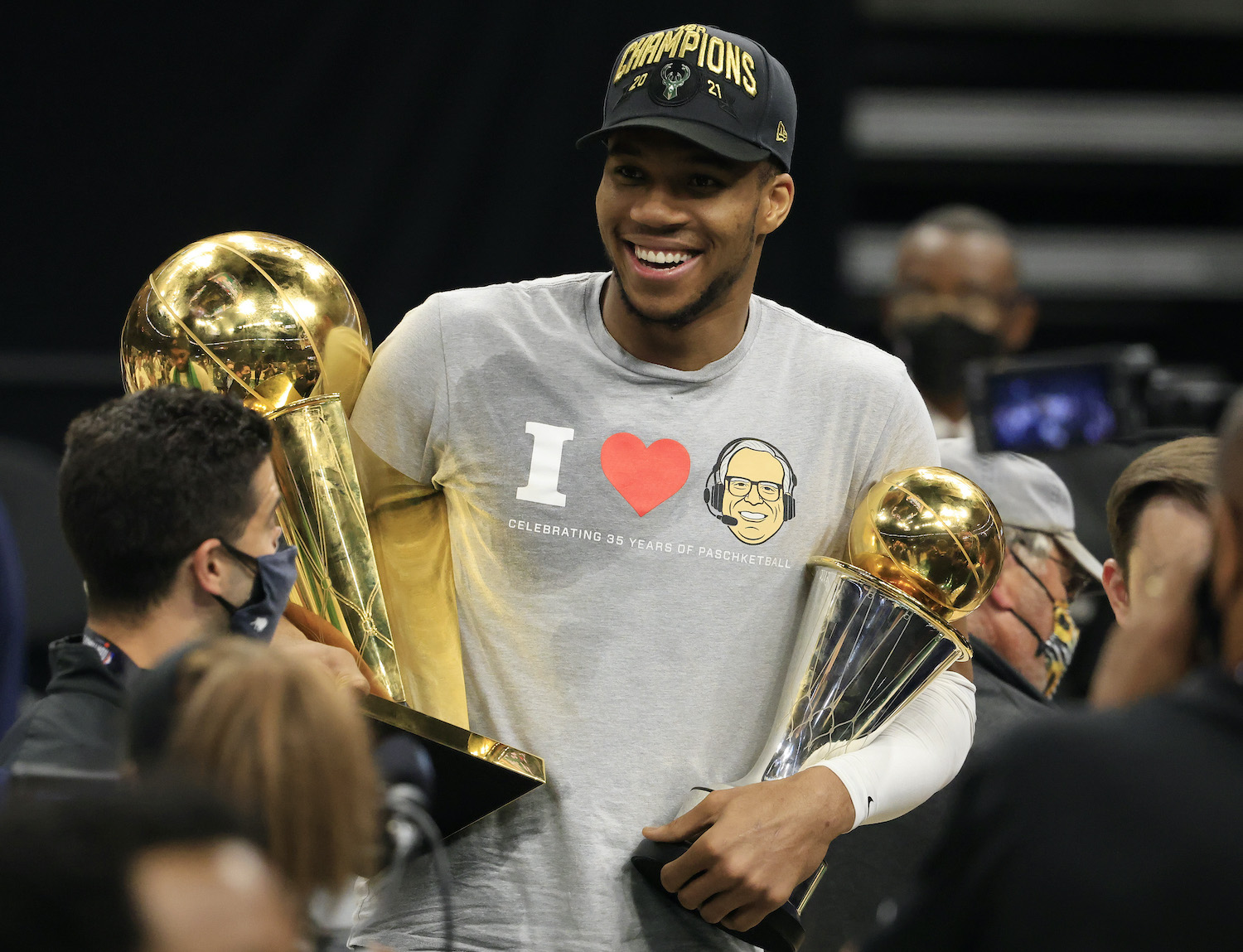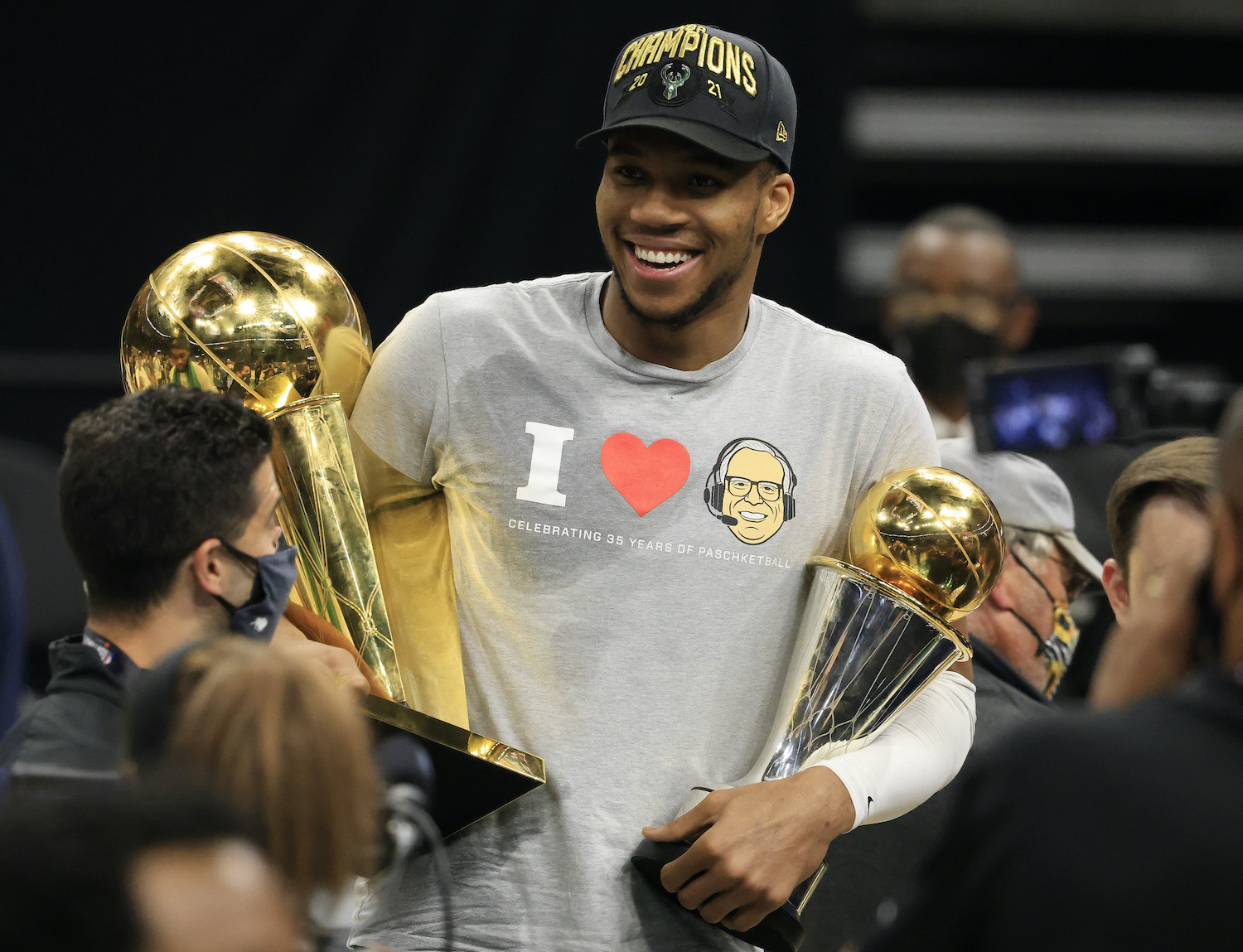 As mentioned above, Giannis Antetokounmpo already has a sizable net worth. While that number will keep growing due to his contract and on-court performance, lifting the Larry O'Brien Trophy will provide another boost to his bottom line.
As a global NBA star, the Greek Freak already commanded a decent amount of cash in the endorsement space. According to Justin Birnbaum of Forbes, he "earns some $25 million annually in endorsements, with partners that include Nike, JBL and Budweiser in the U.S., as well as Sarantis and Protergia in Greece." That places him in the upper echelon of NBA off-court earners.
With a championship on his resume, though, Antetokounmpo would become that much more desirable.  Dr. Tim Derdenger, an associate professor at Carnegie Mellon's Tepper School of Business, estimates the Bucks' star could see as much as $40 million in endorsement deals.
Others, however, are more optimistic.
"This is a person who can promote Louis Vuitton as well and effectively as Nike," sports consultant Marc Ganis added. Forbes also noted that Ganis believed Antetokounmpo could double or triple his endorsement earnings if he chose to focus on that side of his portfolio.
Don't expect those extra millions to change Giannis Antetokounmpo's spending habits, though
For most people, having a $70 million net worth and millions of additional dollars on the way would provide some license for impulse purchases. Even if Antetokounmpo cuts loose, though, don't expect him to break the bank.
Take, for example, the Greek Freak's championship celebration. As seen on his Instagram Live, he headed to Chick-fil-A and ordered exactly 50 chicken nuggets and a large drink. "I was supposed to be in Vegas right now partying, but I'm here ordering Chick-fil-A," he simply explained.
That simple approach wasn't a one-off either. The star forward didn't fly first class for his first few years in the Association and, after inking his massive contract extension, his first big purchase consisted of baby supplies.
As many players have learned, all the money in the world can't buy an NBA championship. Giannis Antetokounmpo, however, will never have to worry about lacking a ring.