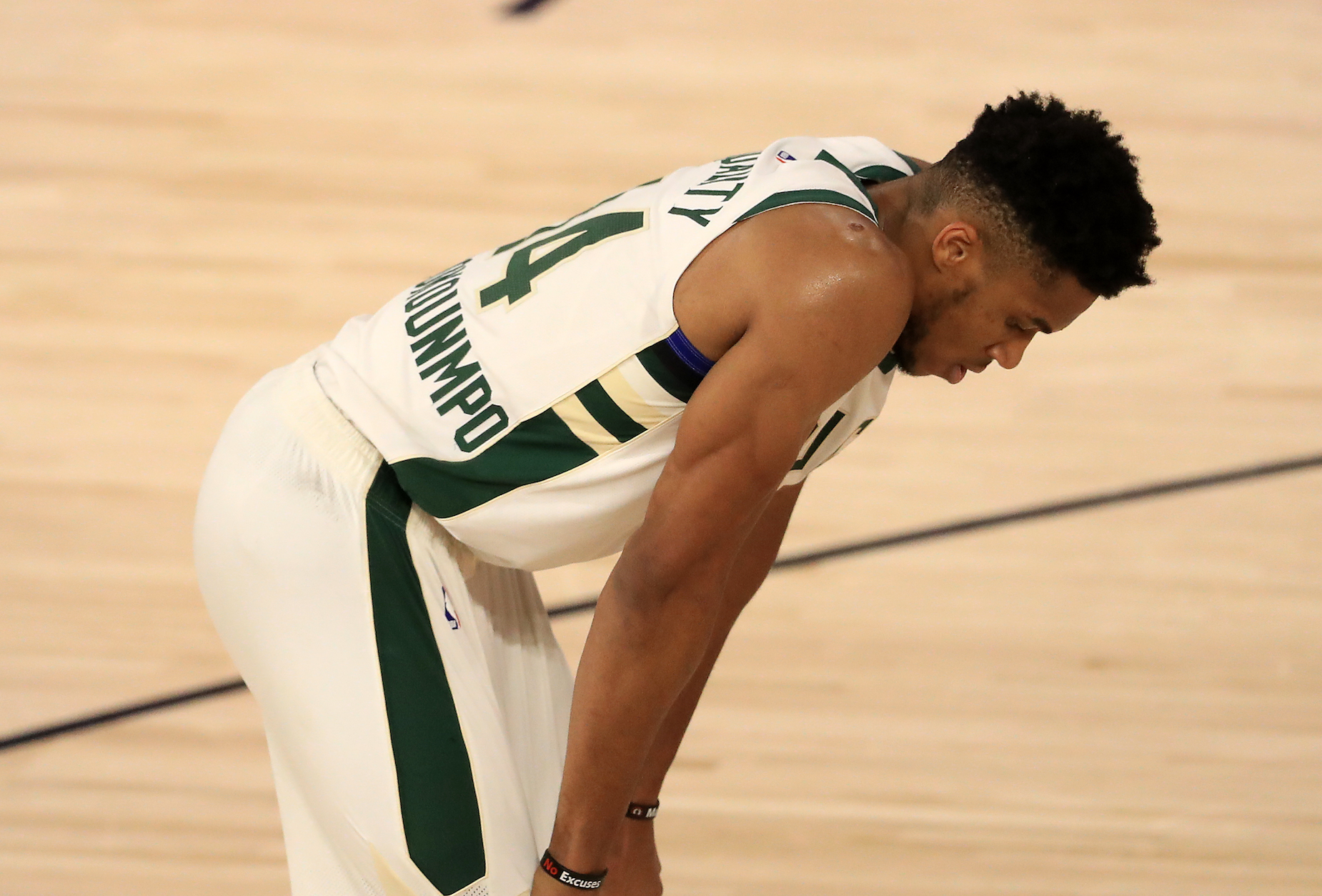 Giannis Antetokounmpo Is 'Gone' From Milwaukee, According To Nick Young
On Tuesday night, Giannis Antetokounmpo said that he doesn't want to be traded. His time in Milwaukee, however, could still be running out.
On Tuesday night, the Milwaukee Bucks were officially eliminated from the 2020 NBA playoffs. Giannis Antetokounmpo wasn't in the lineup, but the Greek Freak still managed to make headlines. After the game, he told Yahoo's Chris Haynes that he wouldn't seek a trade during the offseason. While that might sound like good news for Bucks fans, one former NBA player is less optimistic.
In a tweet published on Tuesday afternoon, Nick 'Swaggy P' Young waded into the Giannis Antetokounmpo news cycle. According to the former guard, the Greek Freak is "gone" from Milwaukee.
Giannis Antetokounmpo's rise to NBA stardom
While Milwaukee Bucks fans probably sick of the whispers that Giannis Antetokounmpo could leave Wisconsin, everything boils down to one key reality: during his time in the NBA, the Greek Freak has grown into a legitimate star. Any team would love to add him to their roster
Despite his current fame and fortune, Giannis grew up in a much different situation. As the son of Nigerian immigrants to Greece, Antetokounmpo didn't have the easiest childhood; food could be scarce and he and his brothers would hit the streets, selling watches and sunglasses, trying to pull their weight.
The boys, however, always found time to play basketball and Giannis' talent shone whenever he hit the court. Eventually, he joined the the Filathlitikos organization; before long, he had made a name for himself and was preparing to enter the 2013 NBA draft.
While there were some questions about his ability to adapt to the North America game, the Milwaukee Bucks snagged Antetokounmpo with the 15th-overall pick. The Greek Freak has since put those concerns to rest; although he's not a perfect player, he's improved season over season and seems poised to claim his second-straight NBA MVP title.
Nick Young believes that 'ain't nobody raising no family in Milwaukee'
At the end of the 2020-21 NBA campaign, Giannis Antetokounmpo will officially hit free agency. That looming deadline has led to endless speculation about the forward's future; on Tuesday, former NBA guard Nick Young weighed in on the issues.
"Greek Freak Gone," Swaggy P tweeted. "Ain't nobody raising no Family in Milwaukee …" While it would be naive to suggest that Young has any inside information, he does raise a valid potential concern.
Based on this summer's events, Young could be alluding to Milwaukee's socio-political climate. According to a 2019 Wisconsin Public Radio story, Milwaukee and Racine, Wisconsin "are among the worst cities in the United States for African Americans to live." That determination came from "24/7 Wall St., a Delaware-based financial company that produces financial news."
Earlier this year, Antetokounmpo spoke about his experiences with racism in the United States. "I just became a dad a few months ago and I've had a conversation with my girlfriend and it's scary. It's scary to raise a son here and have a family," he explained according to ESPN's Eric Woodyard. "It's scary. I don't feel like I should be scared at any moment that my son and my family are walking down the street, I shouldn't be scared." Although the Greek Freak wasn't specifically speaking about Milwaukee, that doesn't seem like a ringing endorsement for the city where he's spent his entire North American life.
While no one other than Giannis himself knows if those realities will motivate him to leave Wisconsin, Young's tweet does serve as a good reminder. NBA players, even the Greek Freak, are still human beings; sometimes they're concerned about factors beyond basketball.
What does the future hold for Giannis Antetokounmpo?
On Tuesday night, we gained a little more clarity into Giannis Antetokounmpo's future. Unfortunately for Bucks fans, there's still plenty that's left undecided.
After Milwaukee was eliminated from the playoffs, Giannis told Yahoo's Chris Haynes that he wasn't going to seek a trade during the offseason.
"It's not happening. That's not happening," Antetokounmpo explained. "Some see a wall and go in [another direction]. I plow through it. We just have to get better as a team, individually, and get right back at it next season."
While that's a positive start, it doesn't address the entirety of Giannis' future; it's entirely possible that he gives the Bucks another chance next season and, if they fall short again, he'll then enter free agency. There's also the possibility that the Bucks will eventually have to consider a trade. If they legitimately come to believe that Antetokounmpo won't sign a contract extension, there's no reason not to recoup some assets.
So what does the future hold for Giannis Antetokounmpo and the Milwaukee Bucks? Despite Nick Young's tweets, only time will tell.