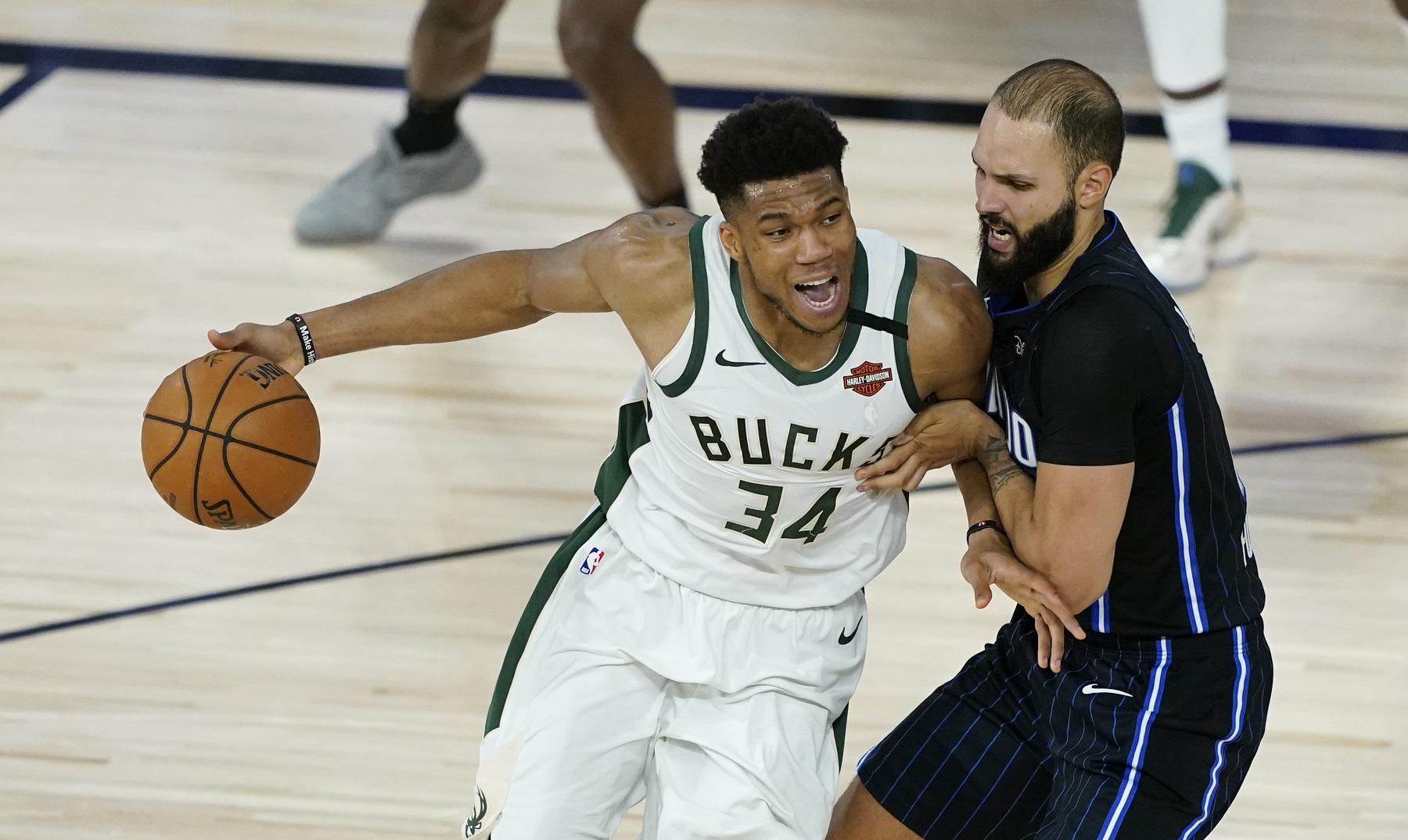 Giannis Antetokounmpo Will Be 'Unstoppable' if He Listens To Barack Obama
Former president Barack Obama says he would pick Giannis Antetokounmpo to build around in search of an NBA championship.
A somewhat lame question has generated an insightful response by noted basketball fan Barack Obama on the relative merits of Giannis Antetokounmpo, Luka Doncic, and Zion Williamson.
Granted, the average NBA fan might make the same observation about a player who just agreed to a five-year, $228.2 million contract. It's just that it carries a little more weight when it comes from the 44th president of the United States.
Sizing up Giannis Antetokounmpo and two younger players
Former president Barack Obama's affinity for basketball is well-known. He filled out NCAA Tournament brackets while in office and rigged up a bucket on the White House tennis court. With that as the background, he joined the Dec. 17 episode of The Bill Simmons Podcast to chat with the host about the future of sports.
One of the questions that Simmons threw out was a little bit of a head-scratcher. He asked Obama for the player he would build around if he were attempting to win an NBA championship in the next 12 years. The choices were Giannis Antetokounmpo, Zion Williamson, or Luka Doncic.
The 12-year parameter probably came about from Simmons' presumption that Antetokounmpo has approximately that long left in his career, which contributes to the clumsiness of the question. Simmons wasn't asking Obama to compare apples and oranges. He was asking him to compare apples, oranges, and a bowling ball.
Antetokounmpo is a seven-year NBA veteran who just turned 26 years old. At 21 years old, Doncic isn't much older than Williamson, 20. However, Doncic's international experience for Real Madrid and two seasons in the NBA carry a lot more weight than Williamson's one-and-done year at Duke and an NBA rookie season that consisted of 24 games.
They're most definitely three very different players.
Giannis Antetokounmpo needs one more tool
Milwaukee Bucks power forward Giannis Antetokounmpo has made the last four NBA All-Star Teams, averaged 27.9 points and 11.9 rebounds a game over the past three years, and just agreed to a five-year, $228.2 million contract.
So, what do you get a man who has everything except an NBA championship ring? How about a mid-range jump shot?
Asked to choose between Giannis Antetokounmpo, Zion Williamson, or Luka Doncic in building a championship team in the next 12 years, former president Barack Obama picked Antetokounmpo – with a caveat.
"I want to see if Giannis gets a mid-range (jumper) this year," Obama said. "Everybody's worrying about Giannis getting a 3-point shot. Giannis needs a 12-footer or a 15-footer. That's what matters, right? If he does, then I think he's unstoppable.
"If he has the same shot as a Karl Malone or even a Kawhi (Leonard) where, crunch time, he can just pull up, who's going to block that shot?
Luka Doncic is the former president's second choice
If Giannis Antetokounmpo doesn't develop the jumper that Barack Obama suggested, then the former president's second choice to build around would be Dallas Mavericks guard Luka Doncic over New Orleans Pelicans forward Zion Williamson.
"Luka just because more skill-set, although Zion's just more fun to watch," Obama said.
Podcast host Bill Simmons lobbied for Doncic.
"He's like the best 21-year-old player ever," Simmons said.
"He is remarkable," Obama conceded.
Like Sportscasting on Facebook. Follow us on Twitter @sportscasting19.