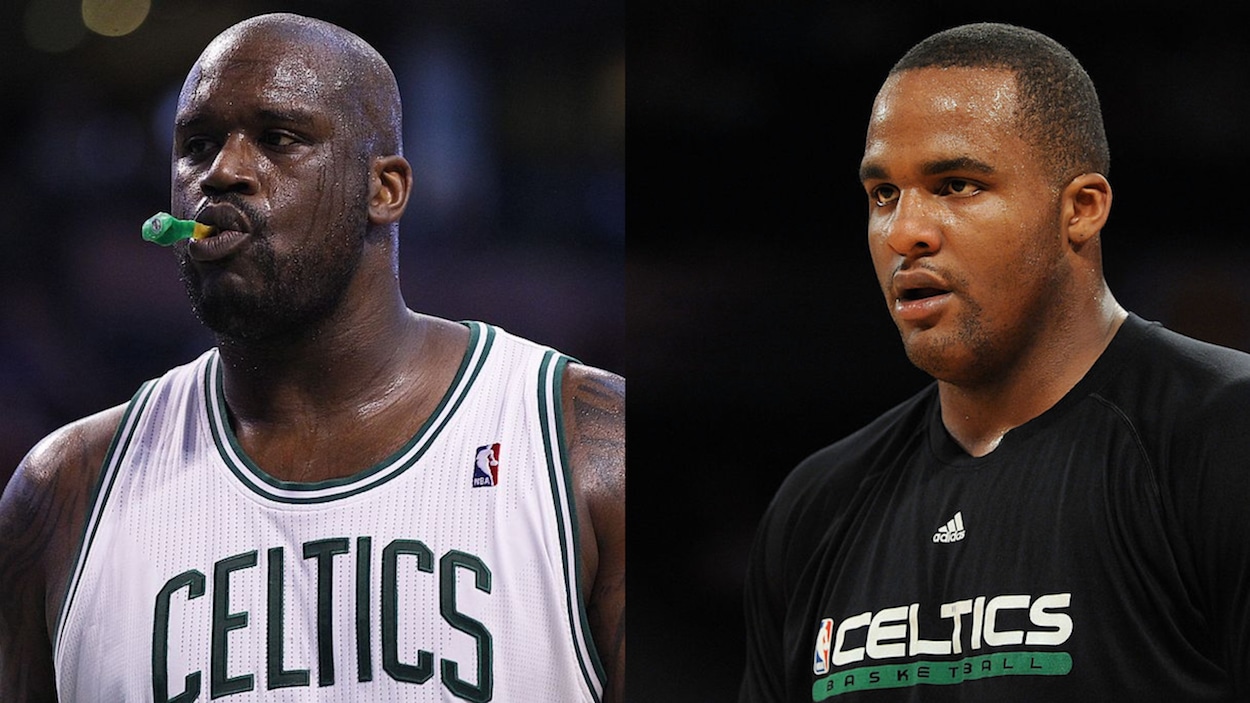 Glen 'Big Baby' Davis Inaccurately Calls Out Shaquille O'Neal While Building His Ideal Pick-Up Team
After their time together in Boston, Glen Davis couldn't bring himself to put Shaq on his dream pick-up squad.
If you asked most NBA players to build a dream pick-up team, you'd probably hear the same few names. Michael Jordan would usually make the cut; someone like Kobe Bryant or LeBron James would probably be close behind. Glen 'Big Baby' Davis, however, did things a bit differently.
During a recent episode of the All the Smoke podcast, the forward was tasked with naming four players he'd hit the blacktop with. Not only did he ignore the largest names in basketball history, but he also used the question as a chance to throw some shade at Shaquille O'Neal.
Glen Davis put four Celtics on his playground team before snubbing Shaq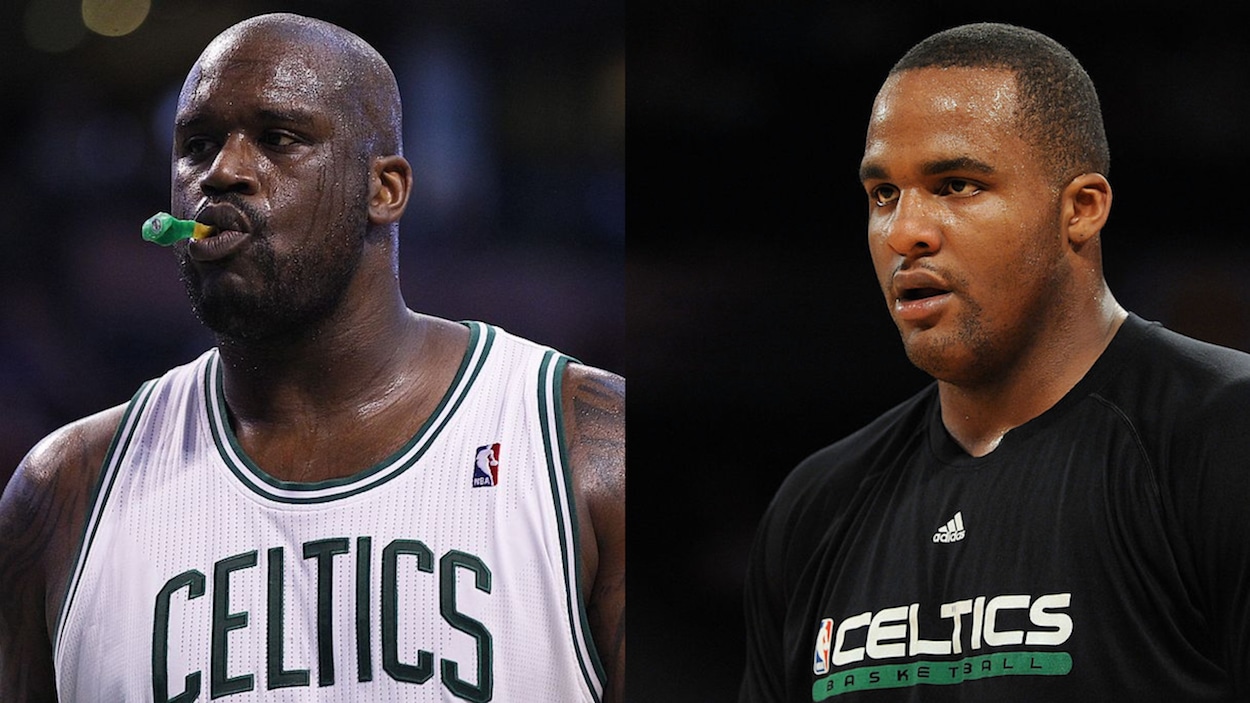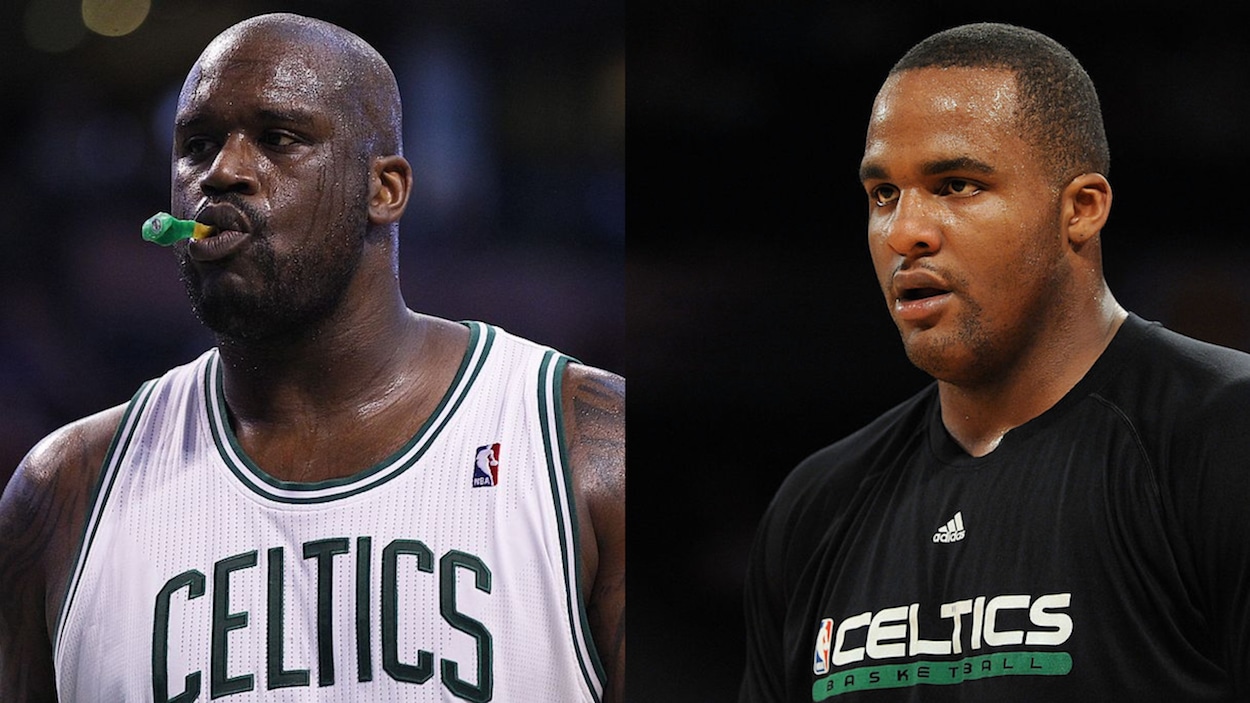 Asking a pro athlete to build an all-time dream team isn't a new idea. The All the Smoke podcast, however, provided a slight wrinkle to the familiar format.
During his recent appearance, Big Baby Davis was tasked with naming four players who'd accompany him onto the blacktop for a fight, a pick-up game, or anything else that could unfold. Faced with that hypothetical, the former forward went to his comfort zone.
"I gotta bring some scrappers," he explained. "Just to know that I don't gotta look over my shoulder, there's a couple players, man. First of all, I gotta go get Big Ticket [Kevin Garnett]. He's scrapping. I don't gotta worry about him on the other side. He gonna hold his own. I need a PG for sure. I'm gonna have to go [Rajon] Rondo because he got me paid. He used to beg me to shoot, and he'll fight you."
After that, Davis decided that he needed to add some scoring to the roster. Despite confirming that he could pick any player, not just one he played with, the forward kept it close to home.
"I'm gonna have to put Paul [Pierce] on there," Big Baby said. "You know what I'm saying? He gonna go get you a bucket."
At that point, Stephen Jackson quipped that Davis should simply name the entire Boston Celtics lineup. There was one problem with that idea, though.
"I was gonna put Shaq on there, but I can't f*** with him," Big Baby explained. "Cause 2010, he act like his toe was hurting and didn't want to play against the Lakers. Yeah. Yeah, ain't nobody know that, though, huh? How your toe keep you out the Finals. You can't give us 10 minutes, man? With your toe? Your toe broke?"
The former Celtic wasn't done there, though.
"Shaq's toe was messed up. I don't know because I seen him swimming the next day in the pool. Paddling his feet and doing all that, toe raises. So Shaq, I'm on your ass. I remember. I still love you, though … But, you ain't played against the Lakers when we was in that Finals, motherf***er. You think you slick."
Davis never provided a fourth name — maybe Shaq would have rounded out the team if not for his injured toe? — and the conversation moved on. There is one problem, though. O'Neal wasn't on the Celtics roster during the 2010 playoffs. The center played in Cleveland that year and came to Boston for the 2010-11 campaign. He did struggle with injuries during the 2011 postseason, but the center did play through the pain as the Celtics were eliminated by the Heat in the second round of the playoffs.
While it's not clear what Big Baby was thinking about, one thing is certain: Shaquille O'Neal apparently isn't welcome on his pick-up team.
Like Sportscasting on Facebook. Follow us on Twitter @sportscasting19 and subscribe to our YouTube channel.