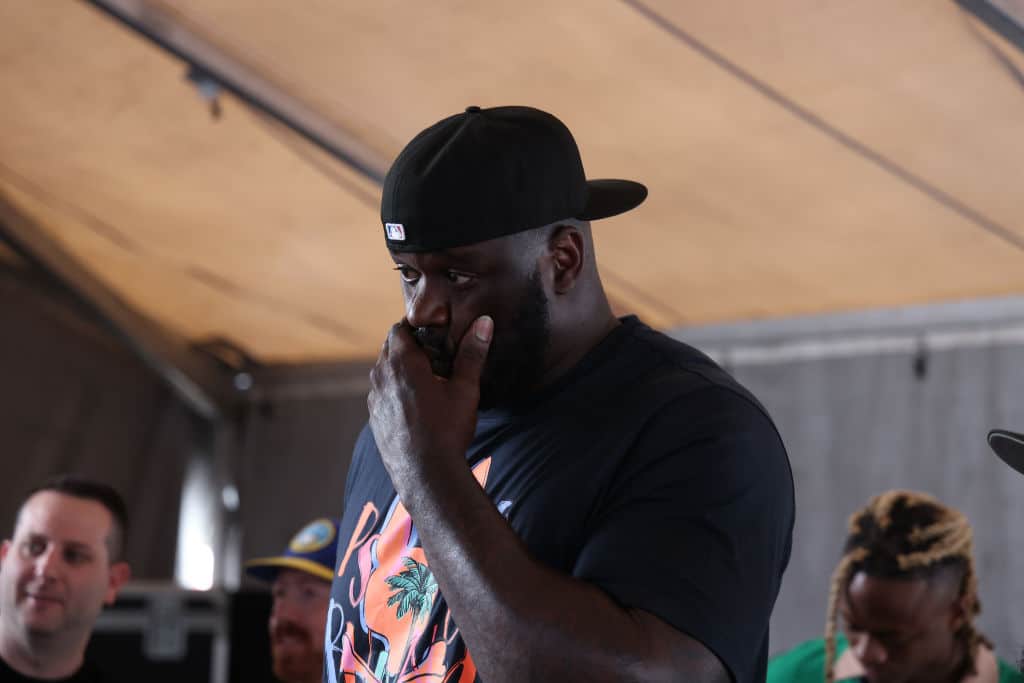 Shaquille O'Neal's Twitter Beef With Kevin Durant Wasn't the First Time He Said He Was 'Broke'
While Shaquille O'Neal may have a massive net worth, the big man has also said he's "broke" on multiple occasions.
When he generally seems like a pretty joyful guy, Shaquille O'Neal has gotten into his fair share of beefs over the years. The big man famously feuded with Dwight Howard and, more recently, has needled Rudy Gobert. On an episode of his podcast, Shaq even went as far as using the Frenchman as an example of a modern player whose salary doesn't match his stat line.
That comment kicked off a social media exchange in which Kevin Durant called O'Neal a billionaire, presumably implying that he shouldn't be complaining about anyone's earning power. The big man then replied, telling KD that he was actually "broke."
While that may sound bizarre, this isn't the first time Shaq said he was broke. In fact, he once made a similar claim after seeing how he compares to the rest of the NBA landscape.
Shaquille O'Neal has a $400 million net worth, but he still told Kevin Durant he's broke 
Over the course of O'Neal's time in the public spotlight, he's worn plenty of hats. The big man, of course, made his name as an incredible baseball player. He's also appeared in movies, rapped, invested, endorsed just about every product imaginable, and found a home on TNT. As you might expect, that career has paid off financially.
Although the center earned a shade over $286 million during his NBA career, his current net worth clocks in at approximately $400 million. Despite that reality, though, Shaq doesn't consider himself wealthy.
As laid out above, the Diesel recently made some critical comments about modern NBA contracts, which turned into an ESPN Twitter graphic. Kevin Durant, who has no problem sharing his takes on social media, responded by saying, "Shaquille is hilarious. You're a billionaire bro lol." While his numbers are a bit off, KD's comment got the living legend's attention.
"i know i'm hillarious [sic], and i'm not a billionaire i'm actually broke," Shaq wrote back. "but will always speak facts. thank you saying i'm funny means a lot."
Shaq previously said he was broke during a 2021 interview
While it may sound bizarre to hear O'Neal call himself broke, it's not the first time that the big man has made the claim.
"I thought I was at the top [of the list of NBA players with the biggest fortunes," Shaq said during a 2021 appearance on the Earn Your Leisure podcast. "I'm not even close. … I was at the airport, too. Like 'NBA's Richest Players,' I was like…" 
At that point, the big man mimed reading the story and looking incredibly surprised at what he found. 
"I was like number seven," he continued. "I'm like, 'Damn, I'm broke.' Compared to these dudes."
That comment could shed some light on O'Neal's response to Kevin Durant. While the center has made plenty of money on and off the court, it's possible that he feels "broke" in comparison to guys who match his career earnings within a single contract.
With that being said, though, the legendary center did clarify that he's not too concerned about the raw number in his bank account. Instead, his goal has always been a bit simpler.
"I never wanted to be rich. I just wanted to be able to buy my mother anything she wants," O'Neal explained. "That's it. I don't care about…look, you can't…You can't take none of this with you. Just like some of the ladies in here, you know, some of your parents, my mom used to cook us breakfast, iron our clothes, go to work, come home, cook dinner, never complain. So that was motivation for me. First thing I said, I said, 'When I get this, you ain't gonna have to do nothing.'"
While that may those two sentiments may clash – it's a bit incongruous to feel broke compared to your peers while saying you don't care about being rich – O'Neal's old quote does confirm one thing: Not only is he not broke, but he has more than enough money in the bank to accomplish what he set out to do.
Financial figures courtesy of Spotrac.