Glen 'Big Baby' Davis Trash-Talked Kevin Garnett and Needed Some Advice From His Mother to Avoid an Awkward Situation
While just about every professional athlete is a fierce competitor, Kevin Garnett took things a little further than most. The forward had plenty of trash talk in his arsenal, but his fire wasn't entirely reserved for opponents. Teammates could also feel KG's wrath, which is exactly what happened to Glen 'Big Baby' Davis as a member of the Boston Celtics.
In the early days of his NBA career, Davis made the mistake of trash-talking Garnett and found himself on the wrong side of the NBA veteran. Faced with that sticky situation, Big Baby went to the source of all good advice: his mother.
Glen Davis and Kevin Garnett joined the Boston Celtics at different points in their respective careers
From afar, it's easy to think of NBA teammates all being in the same boat. In reality, though, every player is at a unique point in both their life and career. Take, for example, Davis and Garnett during their time with the Boston Celtics.
Big Baby entered the professional ranks in 2007 after wrapping up his third season at LSU. The Seattle Supersonics snagged him with the 35th overall pick, but the club quickly sent him to Boston in a trade. There, Davis would get a chance to begin his NBA career and try to prove that he was more than a big body capable of dominating the college competition.
Garnett, on the other hand, was an established veteran when he joined the Celtics in July 2007. While the Big Ticket had dominated the competition in Minnesota, even winning the 2004 NBA MVP title, he had the misfortune of being stuck with a floundering franchise. His trade may have been painful, but it gave him a chance to chase that elusive championship ring as part of Boston's Big Three.
Glen Davis made the mistake of trash-talking The Big Ticket, then tried to smooth things over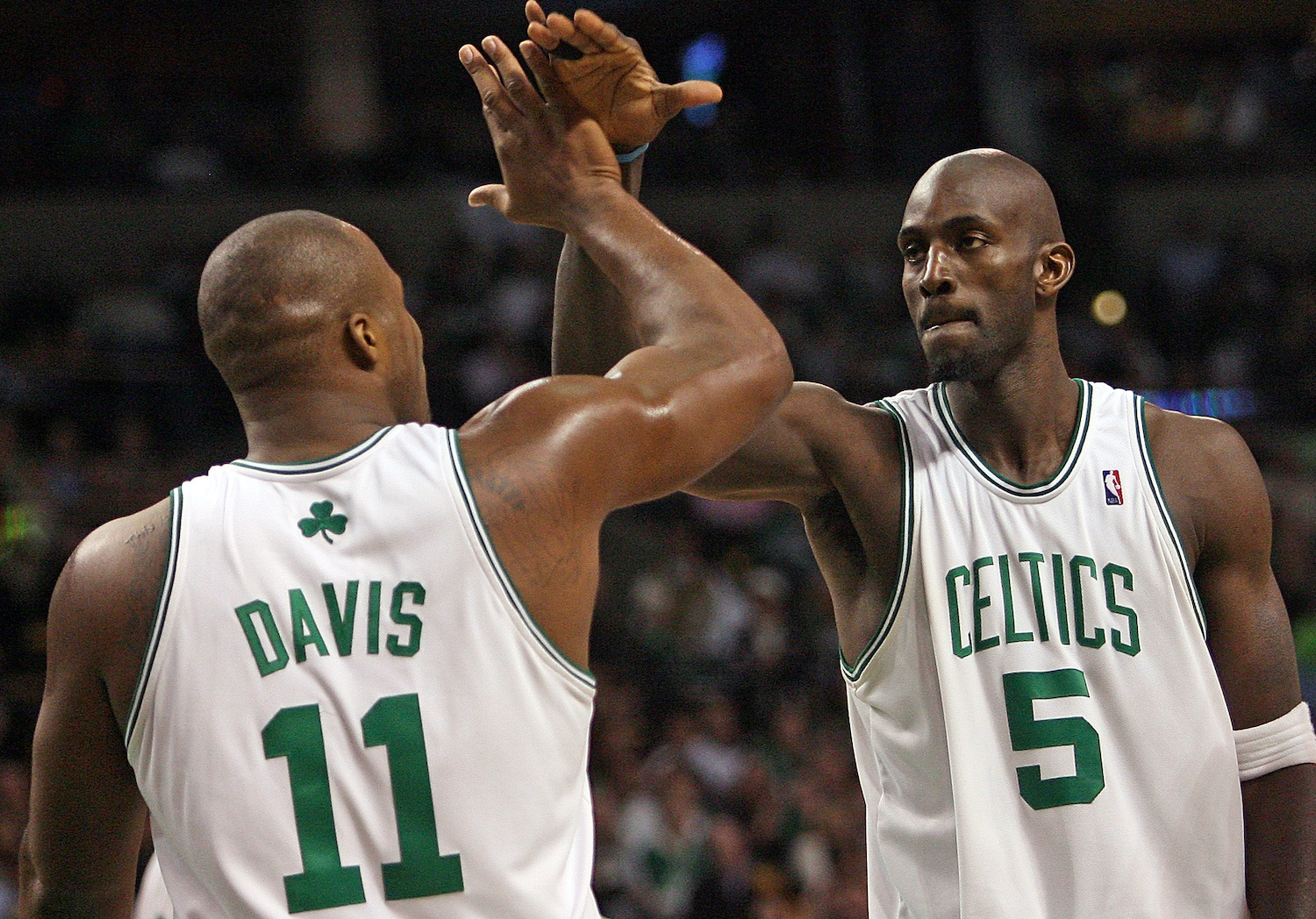 While both Davis and Garnett were at opposite ends of the NBA food chain, they still had to hit the hardwood together. During their early days in Boston, though, the two didn't exactly see eye-to-eye.
"It was my first day hooping, and we're playing pickup. I'm like, 'Ok, cool, I'm out here. I'm here now.' Boom, I get a jump shot, boom, hit it, and I leave it up like, 'Get up, yeah.' Talking to myself," Davis explained on fubo Sports' No Chill. "[Garnett] looked at me like, 'The f— you talkin' to?'"
Davis explained that he was simply trying to get his swag going and didn't mean any disrespect. Garnett, however, wasn't interested. "He's like, 'F— your swag!'"Big Baby recalled. "I'm like, 'F— your swag!'"
The rookie feared that interaction would cost him his roster spot, but that call never came. Instead, he had to suffer through an awkward experience as KG refused to acknowledge him in the team's facility.
"Swear to God, bro, [Garnett] walks in, he doesn't even say nothing to me," Davis continued. "And I was talking to my mom. My mom was like, 'Go to him and say, you know, you know, man, keep it on the floor. You know, I apologize.'"
After breakfast, Big Baby bit the bullet. He approached the veteran, looked him in the eye, and said that he was sorry. Garnett, for all of his trash talk and intensity, appreciated the gesture.
"He was like, 'You good, little fella,'" said. "Started laughing. And then he was like, 'You good. I got you. Don't worry about nothing.' After that, it was inseparable."
It was probably a good idea to stay on Kevin Garnett's good side
On the whole, it's always a good idea to maintain a good relationship with your coworkers. If that coworker is Kevin Granet, though, being on the same page is probably a bit more important.
Take, for example, the story that KG once shared about an interaction with Rajon Rondo. Without relitigating the entire situation, Garnett called out the point guard after a few turnovers. They then exchanged words and, during a time-out huddle, Rondo declined The Big Ticket's offer of a cup of water.
The guard still needed a drink, though, and picked up his own cup. The water went down the wrong pipe, sending Rondo into a choking fit.
"So I kinda look over to him, and he's motioning [to] his back. And I'm like, 'Nah, choke. Choke … Nah, kill. Nah, Nah, kill yourself. Die, Die!'" KG recalled in a TBS Storyville video. "As I'm saying this, the huddle's still going on. Everybody's looking at us. He was really choking, and I was like 'When somebody say pass the ball, pass the ball.'"
Thankfully for Big Baby, he nipped his tension with the veteran forward in the bud.