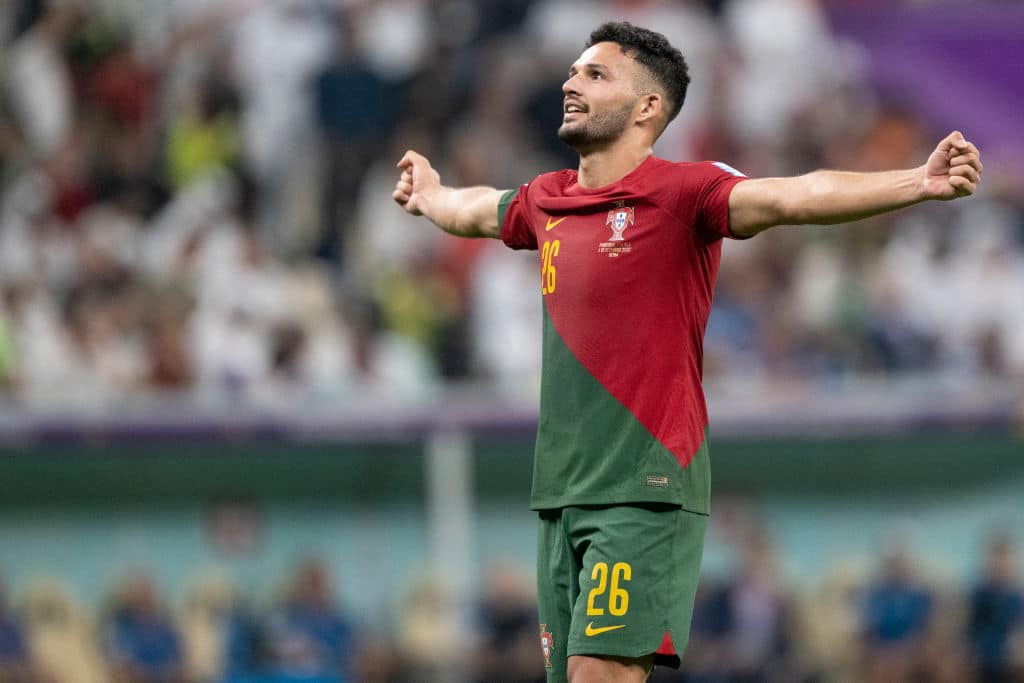 Goncalo Ramos Release Clause: Clubs Looking to Buy the Benfica Striker Will Face a Massive Challenge
While Goncalo Ramos captured the imaginations of soccer fans around the World, his release clause makes an immediate move a bit challenging.
If you happened to sleep through all of the World Cup action on December 6, then the name Goncalo Ramos might not need much to you. If you did watch Portugal's match against Switzerland, though, you'll know exactly why the soccer world is buzzing about the young striker.
Ramos, who plays his club football for Benfica, started ahead of Cristiano Ronaldo. Not only did he put in an all-around performance, but he scored a hat trick as Portugal cruised to victory. As you might expect, that has supporters around the world dreaming of their favorite club signing the youngster.
And, as much as I hate to rain on everyone's collective parade, there is one glaring issue: Goncalo Ramos' release clause.
Goncalo Ramos burst onto the global soccer scene with a World Cup hat trick
As anyone who's ever sat through a drab 0-0 draw can confirm, scoring a single goal can be challenging. Recording three in a single game, let alone a World Cup knockout match, is a feat worth appreciating. And, after his hat trick against Switzerland, the soccer world is giving Goncalo Ramos a standing ovation.
The Benfica man started in place of Cristiano Ronaldo — manager Fernando Santos insisted it was a tactical choice, not a disciplinary one — and Ramos made the most of his opportunity. He played a complete game, running off the ball, providing pressing triggers, and just looking like a modern striker. Oh yeah, and he also scored three goals in three different ways. One was a powerful finish after receiving a pass in the box, the second came from a near-post run, and the third featured the forward getting involved in transition before latching onto a through ball.
That all-around performance has grabbed the headlines and gotten fans dreaming about a big transfer. Could Ramos be this year's James Rodriguez and turn the World Cup into a move to a soccer superpower?
Goncalo Ramos' contract means that Benfica aren't under pressure to sell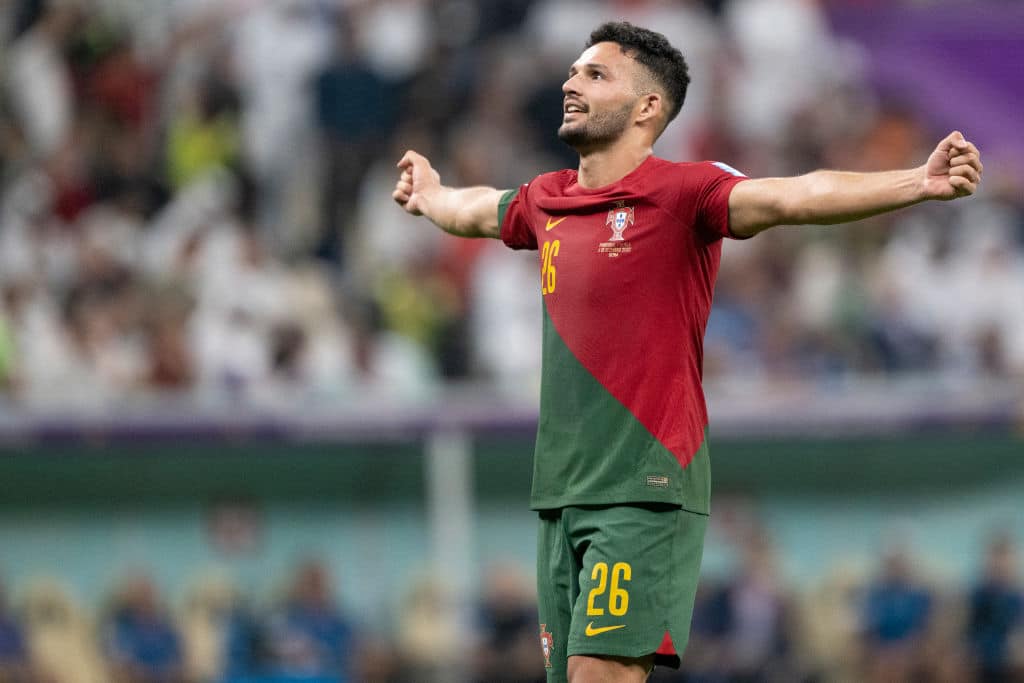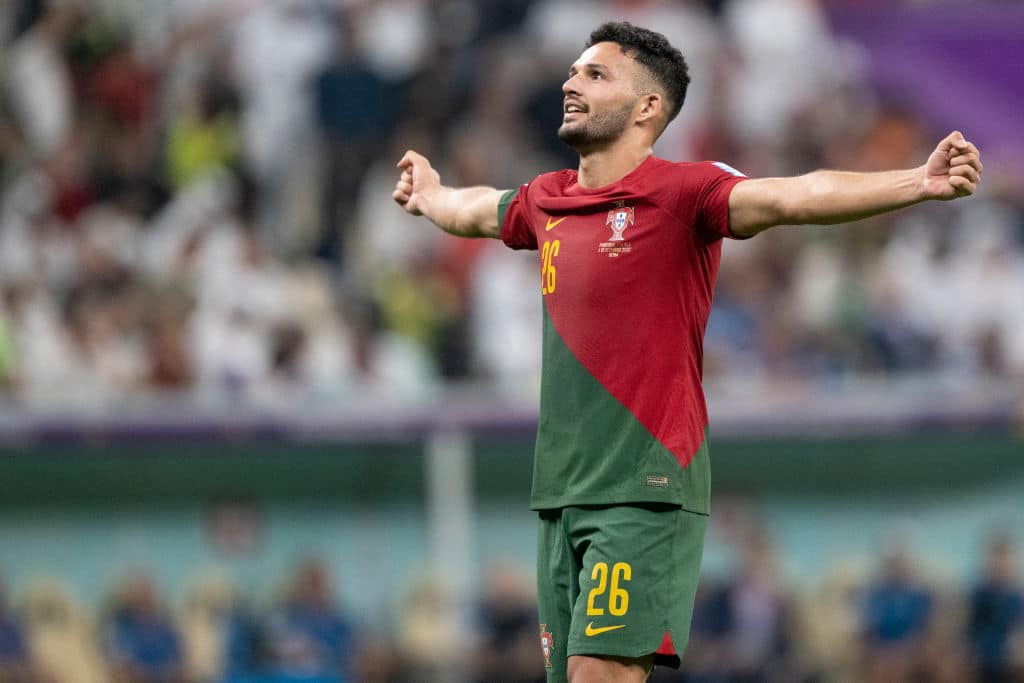 One of the factors in a potential transfer is how much the original club needs to sell. If there's financial pressure or a player is in the last year of their contract, the brass might bite the bullet to get some extra cash into the coffers.
Benfica, however, won't be in that position.
From a contractual perspective, Goncalo Ramos is tied down until 2025 (h/t The Athletic). That means Benfica won't be feeling the pressure to sell him at one specific time. If they don't receive a reasonable offer in January, for example, they can wait until the summer. Should the bids still be unacceptable, the can could keep bouncing further and further down the road.
And at a club level, it's also worth noting that Benfica are in the Champions League Round of 16 and have a comfortable tie against Club Brugge. While their finances haven't been ideal over the past two years — you can check out an in-depth Swiss Ramble thread if you're curious about the nuts and bolts — pushing deeper into European competition and sitting atop Portugal's Liga Nos will provide a bit more financial cushion.
How old is Goncalo Ramos?
Soccer, perhaps more than any other sport, prioritizes youth. Goncalo Ramos and Benfica have that on their side.
The striker is 21 years old, which puts him in a sweet spot. While there's still room for him to grow, he hasn't just burst onto the scene. There will be enough data on him so that clubs around Europe will feel like they can make a legitimate offer rather than simply taking a shot in the dark.
Ramos' age also provides some insurance for the buying club. Should the forward fail to settle into a hypothetical move, he'll still retain some resale value. Losing a bit of money will sting, but recouping 50% of your outlay is certainly better than buying a 30-year-old and either buying him out or keeping him on the bench because he's unsellable.
That age-based reality, however, can be good or bad, depending on your perspective. While buying teams will feel more comfortable purchasing Goncalo Ramos, Benfica will also know that reality and can leverage those advantages into a higher price.
Goncalo Ramos release clause: Benfica hold all the cards here
Thus far, we've laid out some reasons why buying Goncalo Ramos could be a costly endeavor. Now, we're reaching the real elephant in the room.
For those who are unfamiliar with soccer, some players have release clauses written into their contracts. A release clause is a sum that, if paid, will release the player in question from their current contract, allowing to join the club that paid it. They're often incredibly high — think a "stupid money" price — and Ramos' is no exception.
So, how large is Goncalo Ramos' release clause? According to The Athletic, roughly $125 million.
And while it's unlikely that any club is going to pay that sum, it means that Benfica do hold the ultimate trump card. Since there's an established price already set, the Portuguese club can't really be bullied at this point in time. They can simply point to the release clause, and should someone offer a sizable sum, maybe they'll accept the bid. If it's not satisfactory, they can try again next transfer window.
Given his obvious potential and the fact that Benfica, with all due respect, is a selling club, it's safe to assume that Goncalo Ramos will be making a big-time move sooner rather than later. As things currently stand, though, that transfer will 1) be pretty price and 2) probably won't happen immediately.