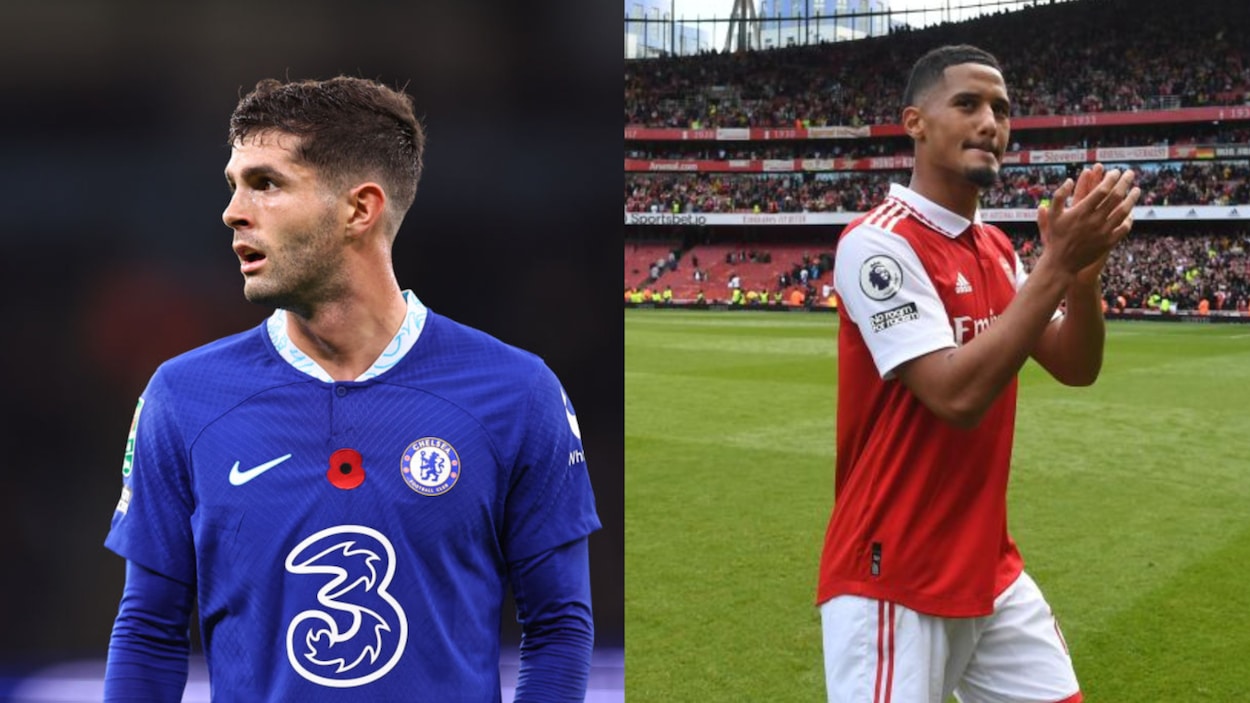 Christian Pulisic, William Saliba, and the 10 Players Who Could Be the 2022 World Cup's Biggest Transfer Star
While the World Cup may bring club campaigns to a halt, what happens in Qatar won't necessarily stay in Qatar.
For soccer fans around the globe, the World Cup is a special thing to savor. For the players on the pitch, though, there's a bit more at stake. Beyond chasing a (potentially) once-in-a-lifetime achievement, a strong performance can change your domestic career for the better. Just look at James Rodriguez and how he used the 2014 World Cup as the springboard for a move to Real Madrid.
So, with that context in the back of our collective minds, let's return to the 2022 World Cup and consider some of the names who can use the tournament to cash in, whether that's with a big-money transfer or a new contract at their current club.
Christian Pulisic, Chelsea and the United States
When he burst onto the scene and earned a move from Borussia Dortmund to Chelsea, it seemed like Christian Pulisic was ready for stardom. Things never clicked in London, though, and manager after manager has left the American on the bench.
During the World Cup, though, Pulisic will get the chance to be the main man. While it's possible he'll be out of form, there's also a chance that he'll put together a strong tournament and send a statement, whether that's to Graham Potter or the brass of another club elsewhere in Europe.
On the opposite side of the coin, it's also possible the forward could completely lay an egg and want to leave Stamford Bridge in an attempt to rebuild his profile. Once you make an impression at an international tournament, it's hard to shake that perception.
Cody Gakpo, PSV and the Netherlands
At the risk of invoking a soccer stereotype, Dutch clubs are excellent at developing talent and then selling those players to bigger clubs. Cody Gakpo could be the young star to leave the Netherlands.
The forward usually plays on the left wing for PSV, but he'll probably occupy more of a number 10 role for Louis van Gaal's national team. That should give him the chance to notch some goal contributions and address the biggest concern to date, which is that he's too raw of a talent to warrant a sizable transfer fee.
And, on the subject of PSV and the Netherlands, Xavi Simons is also worth watching. He didn't earn a place on this list due to a few factors — he's younger, probably won't get much playing time, and there could be a buy-back clause in his contract — but if things break right, he could also put himself in the shop window.
Edson Alvarez, Ajax and Mexico
Staying in the Netherlands, we'll head to Amsterdam and take a look at Ajax's Edson Alvarez. This is the Mexican international's fourth campaign with the club, and, despite some links to Chelsea, he's yet to move on.
Given the Blues' struggles before the World Cup break, it's safe to assume that the club's brass will be looking for some reinforcements. Should Alvarez have a strong showing in Group C — perhaps he plays a key role in keeping Lionel Messi quiet — maybe Todd Boehly will reach into his wallet and bring the Mexican to London.
Pau Torres, Villareal and Spain
At this point in time, Pau Torres has established himself as a legitimate talent. He's a nailed-on starter for Villareal, both in domestic and continental competition, and is becoming a regular in the Spanish national team. He heads to the 2022 World Cup with a good chance of securing a place in the starting 11, which will only boost his status.
Due to the fact that he's a modern center-back who's good with the ball at his feet, plenty of clubs, like Arsenal, Manchester City, and Manchester United, have been linked to him in the past. If he excels in Qatar, that could be the final bit of evidence a European power needs before making a big-money offer.
Yeremy Pino, Villareal and Spain
Pino is Torres' teammate at both the club and international level, and he could also set himself up for a move with a strong World Cup. The winner was reportedly one of Arsenal's potential targets during the summer transfer window, but nothing materialized. With speculation about Ukrainian winger Mykhaylo Mudryk still swirling, it's reasonable to think the Gunners could still be in the market for a winger. Maybe Pino would be a more cost-effective option and be more comfortable accepting a backup role.
With that being said, though, there could be some complicating factors. Arsenal would probably want to see a strong performance from Pino on the international stage before making a potential move. The winger probably won't see much playing time, though, and if he makes an impact, Villareal will probably demand more money than the North London club really wants to spend.
Is there a Goldilocks zone where he can shine without sending shockwaves through the footballing world?
Moisés Caicedo, Brighton and Ecuador
To be fair, Caicedo doesn't need the World Cup to get on the global radar. The Ecuadorian midfielder has stepped into Brighton's engine room without missing a beat and is a trendy target for any club needing reinforcements in the center of the park. A strong showing, however, could help the Seagulls extract a bit more money from a potential buyer.
It is worth noting, though, that this is a sale that could wait until the summer. Brighton had to change managers during the season, as Graham Potter left for Chelsea, and Roberto De Zerbi has taken over. It's possible that the club won't want to hamstring their new boss within a few months of him taking over, especially if they're confident that the market for Caicedo will only increase with time.
William Saliba, Arsenal and France
After what seemed like an eternity, William Saliba returned to Arsenal. He immediately stepped into the Gunners' starting 11 and, barring a couple of iffy moments, has looked like the real deal. The supporters love him, and given the club's results this season, you can't really blame them.
There is an issue, though: Saliba's contract (probably) expires after the 2023-24 season. That means Arsenal's brass will likely be targeting this summer as a deadline to either extend the defender or sell him.
No matter which way things go, the World Cup will affect that negotiation. Should the Frenchman decided to stay in London, a strong tournament will give him even more leverage. If he wants to move on, (hypothetically) winning the title with France would ensure he has his pick of clubs around the continent.
So, even if this isn't a direct World Cup-to-transfer connection, it's still one to watch.
Jude Bellingham, Borussia Dortmund and England
Bellingham is another player whose move seems inevitable. Not only does the England midfielder play for Borussia Dortmund, who are happy to sell young talent when the right offer arrives, but he's already been linked to the likes of Liverpool and Manchester City. The former club desperately needs some reinforcements in the center of the park, which only deepens the links.
And while a move will happen even without a World Cup, it's possible that Bellingham's performance in Qatar does shift the balance. Perhaps Liverpool's brass is hesitant about shelling out the big bucks. Would a few goals and a ringing endorsement from Jordan Henderson change that? Or maybe Manchester City will see the writing on the wall and dip into their bottomless wallet to get a deal done in January in an effort to avoid a bidding war.
Either way, Bellingham is going to be on the move at some point, and his World Cup performance could potentially change the calculus.
Jonathan David, Lille and Canada
While Canada isn't exactly a global power when it comes to soccer, the nation did qualify for the World Cup, thanks to some promising talents. Alfonso Davies is probably the most widely known, but striker Johnathan David deserves some credit, too.
He plays his club football for Lille,and was linked to Arsenal during the Gunners' search for a new striker. He never moved, though, and still plies his trade in northern France. If we take the striker at his word, though, he's eyeing a move to a bigger club in either England or Spain.
At this point, the Gunners have probably moved on — Gabriel Jesus has changed the team, and if the club wants a second striker, he'd probably be more of a target man — but Chelsea and Newcastle could be interested in David's services. Should Canada make a bit of noise, especially if it comes against Belgium or Croatia, the striker could get his move.
Rafael Leao, AC Milan and Portugal
While Cristiano Ronaldo is technically still part of the Portuguese squad, his time as the main man is undeniably coming to an end. Once he steps aside, Rafael Leao has a good shout to take over as the country's biggest star.
The AC Milan winger has blossomed in Italy, but a move is potentially on the radar. His contract expires after the 2023-24 season, meaning that time is running out before he can leave Milan on a free transfer. Surely the Rossoneri don't want a repeat of Gianluigi Donnarumma, Hakan Calhanoglu, and Franck Kessie's departures, especially when they could bring in some serious cash for Leao.
Thus far, the strongest links have been to Chelsea, but there could be a new complication. As noted by football.london, Leao's father said that his son "loves being in Italy" and suggested that a contract extension could be in the works.
Is that a bargaining tactic or a genuine update? At this point, it's impossible to know. It is safe to assume, however, that the Portuguese star's stock will only rise after the World Cup. Maybe Todd Boehly, who apparently has no problem negotiating against himself, will make Milan an offer they can't refuse.