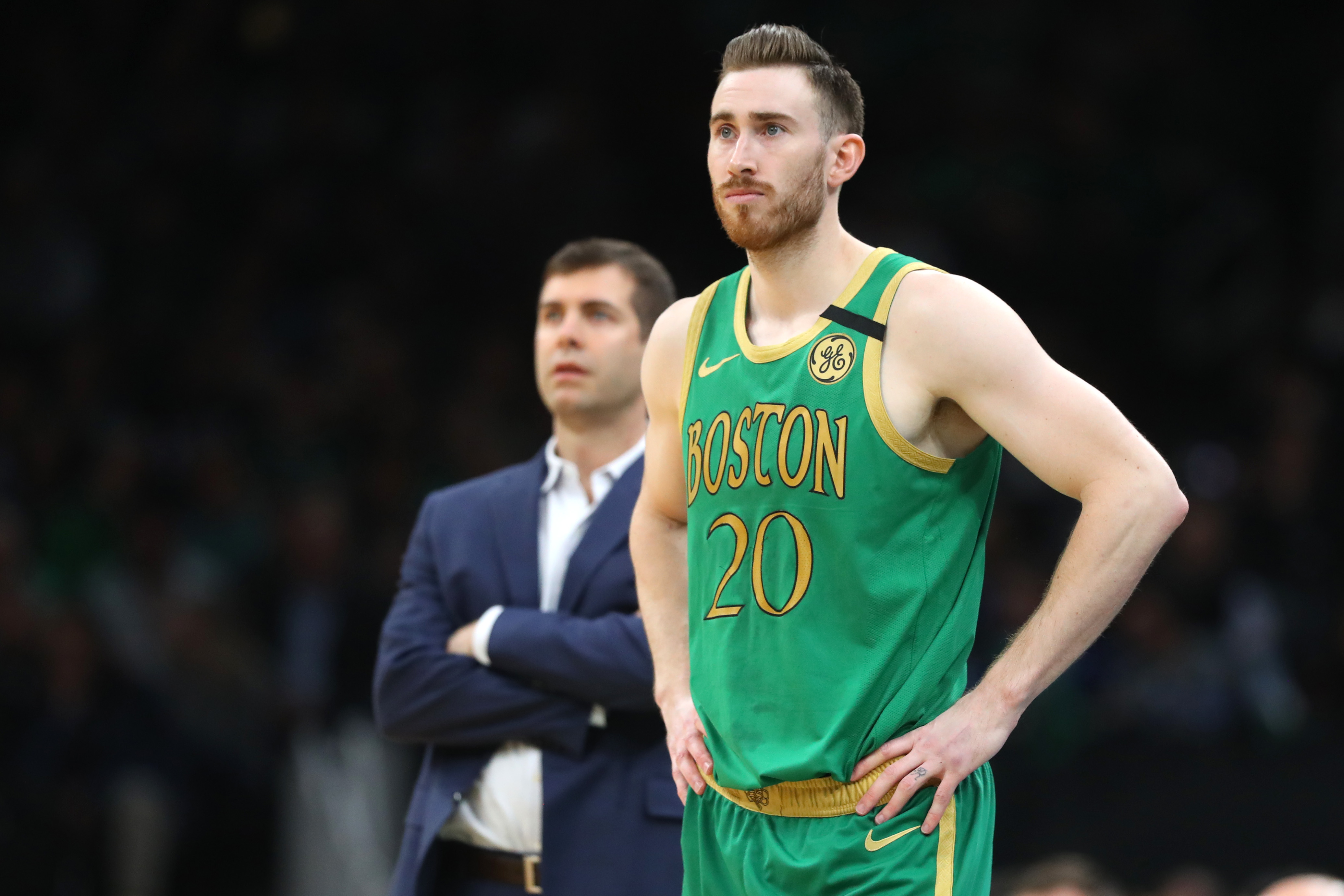 Gordon Hayward Reportedly Wants out of Boston but Needs to Make a $34M Decision
Gordon Hayward reportedly wants out of Boston. The Celtics forward will have to make a decision on whether or not to opt out of his deal.
The Gordon Hayward free-agent signing just hasn't worked out for the Boston Celtics as planned. The oft-injured forward inked a four-year, $128 million deal in 2017 and is entering the final year of the contract. Hayward has a player option for the final year and published reports have said Hayward wants out of Boston but only if the price is right.
Why would Gordon Hayward opt out?
Gordon Hayward is 30 years old. He's a former NBA All-Star but just has not been the same player he was when he was with the Utah Jazz. He played one game in his first year with the Boston Celtics as he suffered a gruesome ankle injury in the season opener that forced him to miss the entire season. Maybe he's not happy in Boston. Maybe he just wants a fresh start.
According to Chris Forsberg, a Celtics reporter for NBCS Boston, there are three reasons why Hayward would opt out of his $34 million deal for 2021. The first would be seeking a long-term deal in Boston. "Like he essentially would say to them, I'm passing up this big payday but extend me for a longer-term, three years, four years," Forsberg said.
The second reason would be a fresh start with a new team. The third would be having the Celtics do a sign-and-trade with him and get him to a team he'd like to play for while getting something back for him. Forsberg believes Hayward will be back in Boston. "I do think ultimately he'll be back," he said "That's the most likely scenario, but if he did just need to get away and he needs to go somewhere, maybe the Celtics do look around and think if there's a sign-and-trade that they could get back assets."
Hayward reportedly wants out of Boston
According to Ryen Russillo of The Ringer, Gordon Hayward wants out of Boston. During The Bill Simmons Podcast, Russillo said he had heard Hayward wants out. "I've heard that Gordon Hayward does want out, but I don't know if he's going to get the money," Russillo said. "He's not opting out of that huge number unless he knows he's getting the deal."
The Hayward topic came up during talk about the upcoming draft and what the Atlanta Hawks would do with their pick. The Hawks have the cap space to sign a player making Hayward-type money. The young Hawks, however, don't seem to be a good fit for Hayward.
Leaving Boston and walking away from $34 million just doesn't seem right. Hayward is playing for his college coach in Brad Stephens. The Celtics are a contender with a bright future ahead of them with young players, led by Jayson Tatum and Jaylen Brown, leading the way. Unless he wants to be the main guy or he's unhappy with his role, it's tough to see Hayward leaving the Celtics.
If Hayward does want to leave, there are very few options
If Gordon Hayward really does want to get away from Boston, it would be difficult for him to find a new home at his current price. According to Keith Smith of Celtics Blog and Yahoo Sports, there are just three teams that would have the money to pay Hayward at his current salary.
"No team is going to give him a contract that approaches the $34.2 million he'd give up from the Celtics for 2021," Smith wrote. "Only the Atlanta Hawks, Detroit Pistons and New York Knicks are in position to do that. It's unlikely any would (insert your Knicks jokes here!), or that Hayward would want to play for any of those teams."
Smith also said a sign-and-trade is unlikely. "Boston would have to find the right partner and that partner would have to want Hayward long-term," Smith wrote. "With so many teams angling towards cap space for the 2021 offseason, it's unlikely anyone is positioned to take on a long-term deal for Hayward."