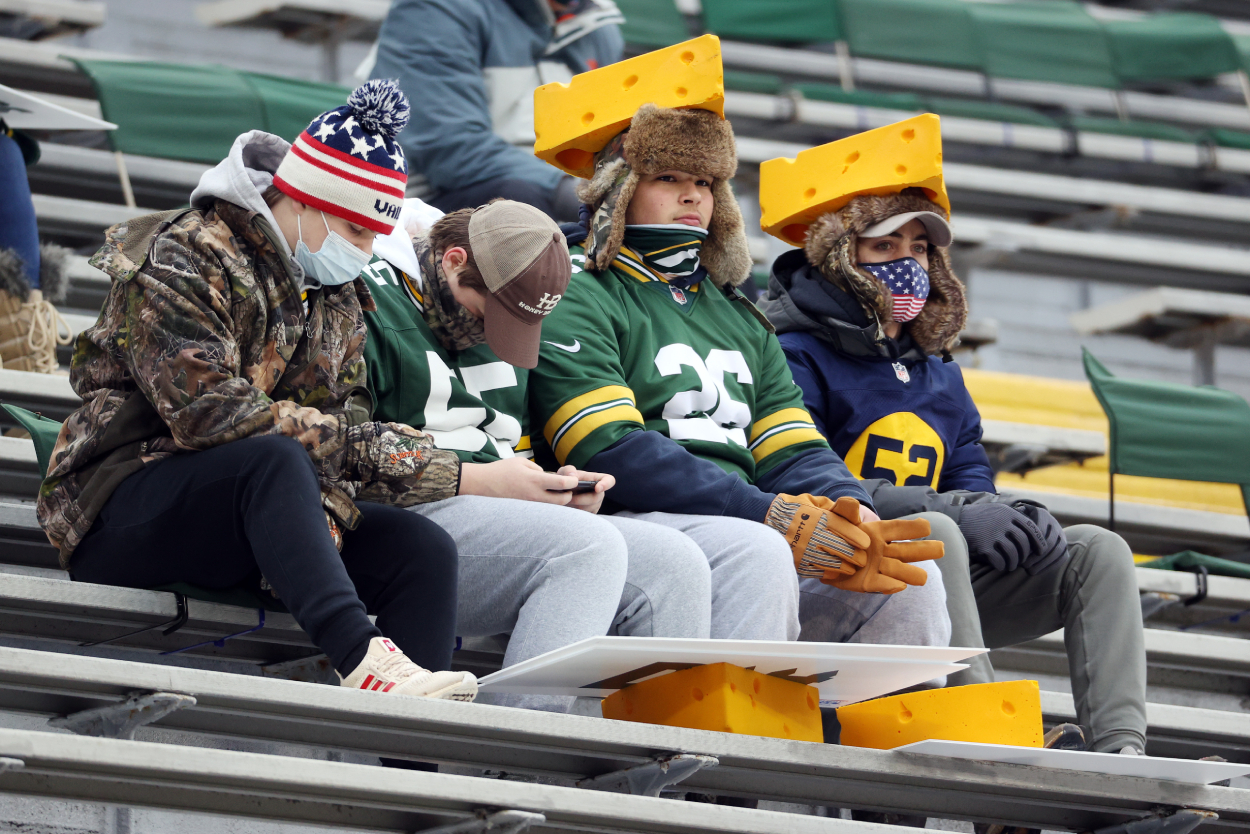 Green Bay Packers Fans Fuming About Something Other Than Aaron Rodgers Drama
As if Green Bay Packers weren't already frustrated enough.
The NFL offseason has been tough on Green Bay Packers fans. They've watched as their three-time MVP quarterback Aaron Rodgers has remained away from the team while in a dispute with the front office. With no end to the situation in sight, it's been all frustration for those cheering for the Packers. Now, there are many Packer backers fuming about something other than the drama with their star player.
Aaron Rodgers continues to stay away from the Green Bay Packers
Rodgers skilled voluntary OTA workouts for the first time in 16 years. He missed the mandatory minicamp. Adam Schefter reported back on draft day that Rodgers told people within the organization he no longer wanted to play for the Packers. The issue appears to be his lack of securing with the team. He has three years left on his deal with no guaranteed money, and the Packers drafted his eventual replacement, Jordan Love, in the first round in 2020.
NFL Insider Ian Rapoport believes there won't be a resolution within the next six weeks. That's when training camp begins.
"To me, and based on the people I've spoken with, this is really something that will be wrapped up either way, if they do find the solution that Green Bay has wanted, if Aaron Rodgers does get the security that he wants potentially in the form of a new contract, probably not going to happen until the start of training camp," Rapoport said, according to NFL.com.
Head coach Matt LaFleur makes no predictions. "You just got to take it day by day in terms of everything else that's going on out there and control the things that you can control, and that's the attitude, how you prepare and the effort that you give on a daily basis," he said.
While the Aaron Rodgers drama continues, Green Bay Packers fans are riled up about something else
If Rodgers fails to show for training camp, the Packers will be forced to go to Love, the player they traded up to get in the 2020 NFL draft. Love didn't see the field at all last year as Rodgers claimed his third MVP. Love wasn't even the backup. He has finally gotten some offseason work this year after COVID-19 prevented him from doing so last season.
Having Love as the quarterback will be quite a change for the Packers. One other change Packers fans will be dealing with is how they will get into the stadium to see either Love or Rodgers play. The team is the latest franchise to switch over to mobile ticketing. Mobile ticketing is being used by most teams in all sports, replacing the traditional ticket.
The Packers have a healthy waitlist for season ticket holders. Many of these fans have had their tickets for years. The Packers are the only show in town. The switch to mobile-only, requiring fans to enter with a smartphone, isn't going over well.
"I think they are forcing us old guys out," says Bob Deringer, according to Ticket News. Deringer has been a season ticket holder of the team for nearly 60 years. He doesn't own a smartphone, nor does he wish to purchase one. "I'm very upset they are forcing me to have a smartphone."
He's not alone.
"I'm not really tech-savvy with phones – so that's one of the reasons I liked the ticket form better," said Packers fan Dean Bolle.
The Packers are trying to work with their fans with mobile ticketing
Teams can say what they want about the reasons for mobile ticketing, but it's used as a way to track what the consumer does with his/her tickets. As Ticket News put it, "the Green Green Bay Packers are among the many teams using the disruption of COVID to force customers to an exclusively mobile-only ticketing system." Mobile ticketing had begun before the pandemic. Now COVID is an excuse for teams to put it into place.
The Packers said they are willing to work with those ticket holders who aren't tech-savvy or don't have a phone.
"We do understand that for some of our fans, for them this will be a big transition," says Green Bay Packers spokesperson Aaron Popkey. "We'll work with them to determine what is the best solution for them."
"It's a pain, it's a pain," Deringer said. "I don't think they should force you to have a smartphone to enter a game or do something else they should do."
Packers fans are frustrated enough already. Forcing them to shed the traditional ticket just adds to it.