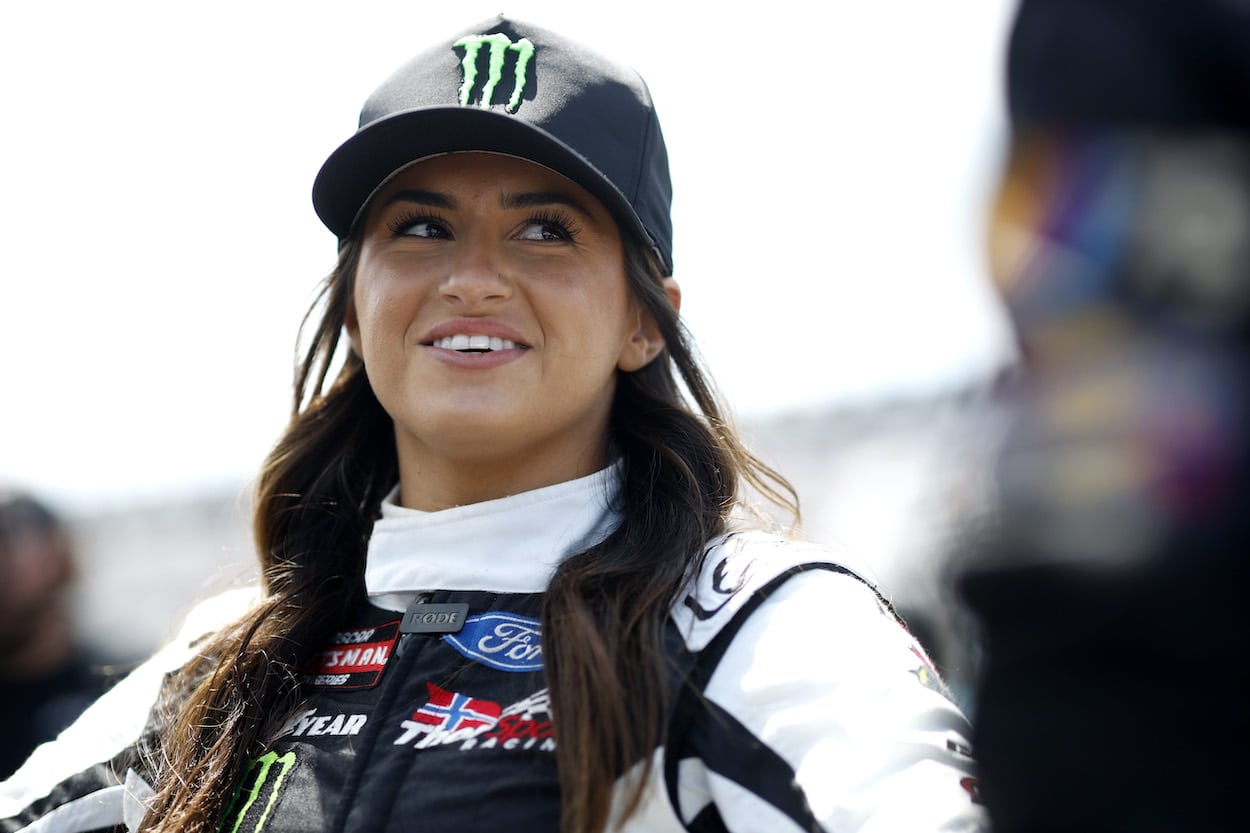 Hailie Deegan Calls Out Driver for Being a 'F******" Weapon at Pocono
Hailie Deegan didn't like a move that one Truck Series driver made against her on Saturday at Pocono and called him a "f******* weapon."
Hailie Deegan entered Saturday's race at Pocono Raceway looking to end the worst stretch in her NASCAR Truck Series career, which included four consecutive finishes of 25th or worse. She did just that, finishing 13th. 
However, it didn't come without some issues, including an incident on the first lap. The ThorSport Racing driver faced an even bigger challenge late in the race when she tried to avoid a massive pileup developing in front of her. She partially did but received collateral damage from another driver's aggressive's move and called him out for it moments later on her team radio.
Hailie Deegan calls Tyler Ankrum a 'f****** weapon' 
Hailie Deegan, who started 21st, finished 27th in Stage 1 at the Tricky Triangle. At the end of Stage 2, she benefitted from other trucks pitting before the end of the stage and finished 12th. 
In the final stage on the 2.5-mile track, aggression levels unsurprisingly went into another gear, and with nine laps to go, Carson Hocevar made an ill-advised move, diving down low, making it three-wide going into Turn 1. The No. 42 truck slid up the track into Kaz Grala, who slid into Parker Kligerman, and chaos ensued. 
Everyone behind tried to avoid the developing pileup, including Deegan, who slowed. Tyler Ankrum, who was behind her and to the right, gassed it and swerved left, driving into the passenger-side door of the No. 13 truck on the way by.
"The 16 is a f****** weapon," the driver said over the team radio seconds after the incident. A few minutes later, the 22-year-old provided more details. "I checked up but I got doored by the No. 16, who was still wide open driving through the wreck. He literally doored the s*** out of me and kept going." 
Aggressive driving in Truck Series
For Deegan, what happened Saturday wasn't anything new. She's seen plenty of aggressive driving in her three full-time years in the Truck Series and been on the receiving end of it multiple times. It's safe to say she's not a fan. 
"I feel like we do get taken advantage of a lot, but also I get fired up when someone does something to me, like really fired up. I think it's my dad kind of speaking through me," Deegan said last May on the Door Bumper Clear podcast. "We've had so many situations where we've got wrecked out or put in bad situations. It could just be not our fault and get in someone else's situation. 
"I feel like I have kept my cool because I know how crucial it is that I need good finishes. Start popping off good finishes. Get the momentum going. And that's why I don't retaliate to take that chance of something happening to me. Oh my gosh, you get a tire rub, and it's just downhill quick, and that's something I don't want to put myself in that position."
Deegan apologized to Daniel Suarez for incident in SRX days before
Not only is Deegan aware of those types of drivers in the trucks, but she also tries to ensure she's not labeled as one. She admitted as much last week during the second Thursday Night Thunder SRX race at Stafford Speedway.
In Heat 2, Deegan raced hard against Trackhouse Racing driver Daniel Suarez and got into the side of his No. 99 car. The incident was never shown on the broadcast. The young driver admitted it during an interview.
"I ended up in the second one after we came off the frontstretch, I had some issue going on with the brakes, and shaking the wheel in my hands," she said. "There was something going on in the right front. It progressively started getting worse and I felt so bad because Suarez was on my outside and I don't race like that, but it looked like I raced him really dirty into Turn 3. And I don't do that so I went up to him and apologized, explained myself because I don't want to be one of those people, especially if it's not deserving."
Based on Deegan's experience at Pocono, Tyler Ankrum might now be considered "one of those people."
To stay up to date on the latest happenings in NASCAR, including breaking stories you can't find anywhere else, follow Kyle on YouTube and Twitter.