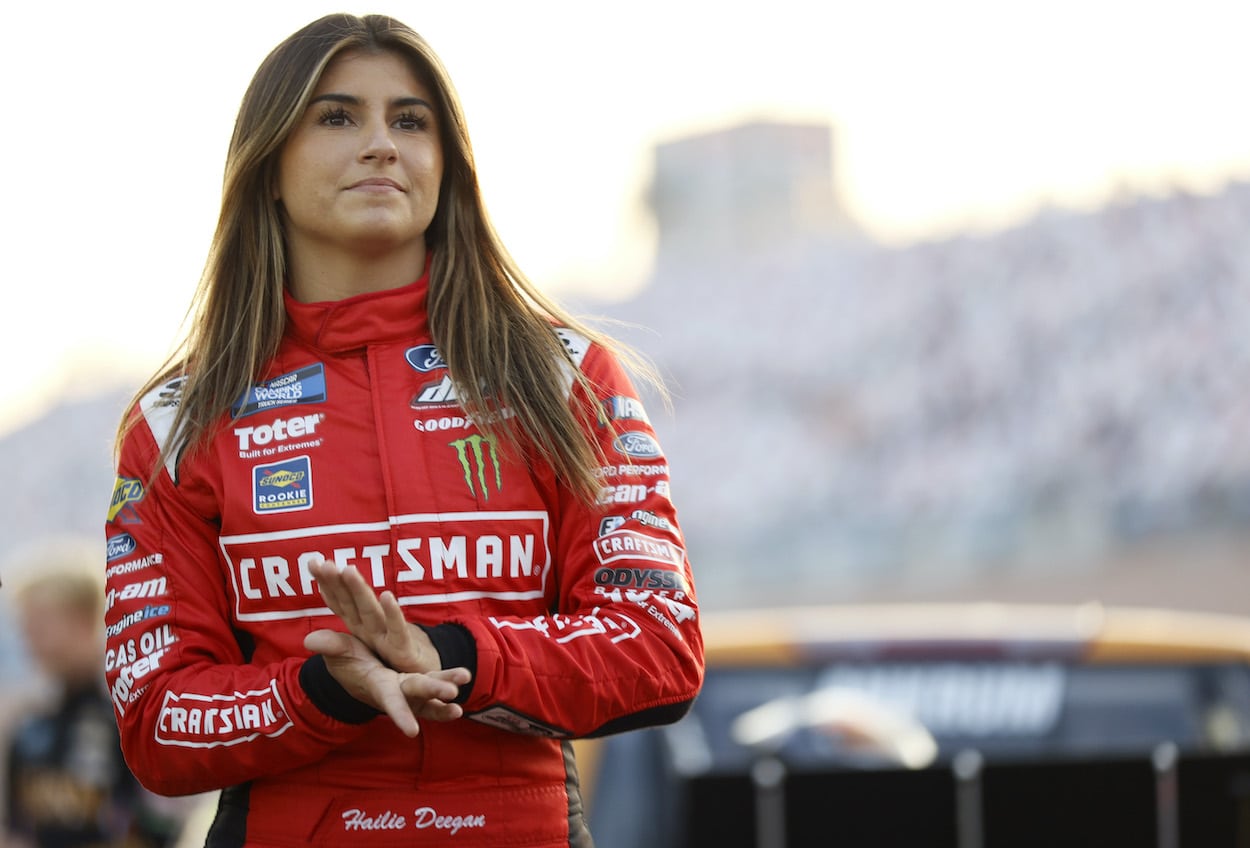 Hailie Deegan Hasn't Felt Welcomed in NASCAR and Repeatedly Calls Out Drivers for a Lack of Personality; Several Offer Their Opinions
Hailie Deegan talks about not feeling welcome in NASCAR and repeatedly takes shots at drivers for a lack of personality. Several Cup Series drivers respond with their own opinions.
Hailie Deegan has made her mark since she arrived to race full-time in the NASCAR Truck Series in 2021. It may not be in the form of on-track results, but she's got a couple of Most Popular Driver awards that reveal it's not just about performance but also personality. 
Her social media following, numbering in the millions, carries weight. Recently, the 21-year-old driver appeared on a podcast aired on the Monster Energy YouTube channel, where she talked about a range of topics, including life as a competitor and what it's like being the only woman racing full-time in trucks. The ThorSport Racing driver also hit one topic over and over again that NASCAR execs won't like to hear – a lack of personality in drivers.
What do Cup Series drivers think?  
Hailie Deegan hasn't felt welcomed in NASCAR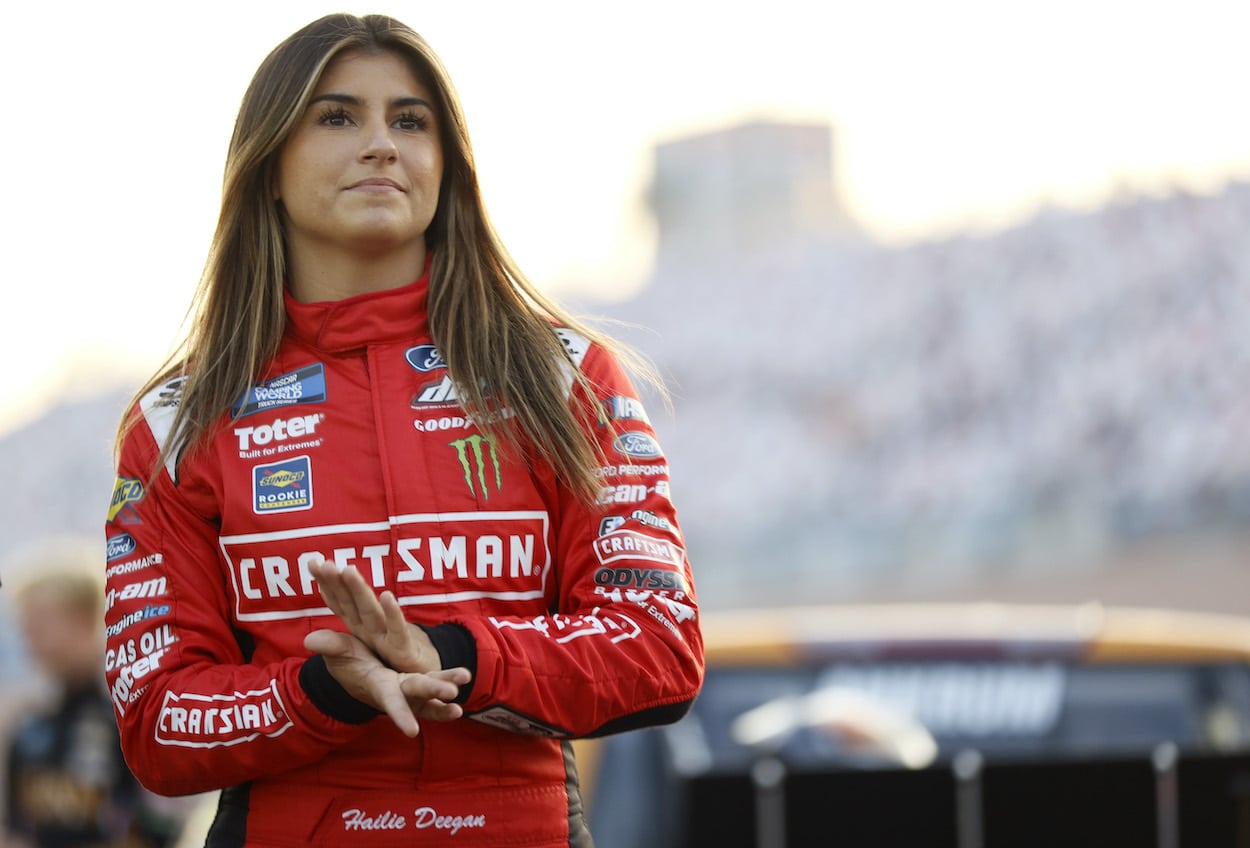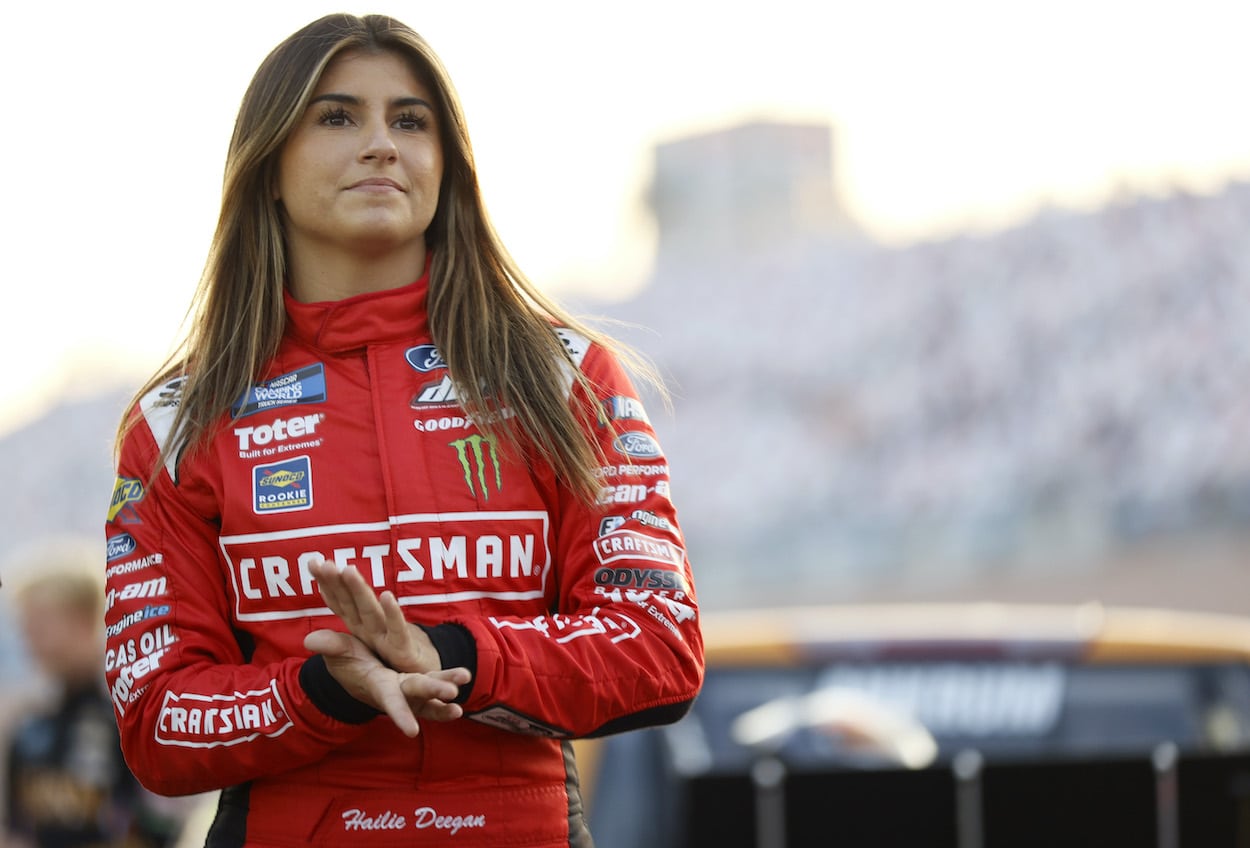 Hailie Deegan is a racer at her core, but from a dramatically different discipline of motorsports, as the daughter of freestyle motocross legend Brian Deegan. She is in the third year of her NASCAR Truck Series career, which was preceded by a combined three years in the ARCA Menard's and K&N Pro Series.
She's relatively new in stock-car circles, and during her appearance on the Unleashed podcast, shared just how awkward it's been since she arrived.    
"I never looked at myself differently growing up. I thought it was cool. I was a girl that raced," Deegan said. "Whatever. I was friends with all the guy racers and I think that was a big change for me going into the stock car world. I feel like everyone at the off-road track was my friend. I was able to easily be friends with everybody. 
"And now, like the stock car world, everyone is like so stuck-up and so worried that someone else is going to take their ride or whatever it is. I don't even really hang out with the stock car people at all, nor talk to them. I just do my own thing. It's very different."
Deegan repeatedly calls out NASCAR drivers for lack of personality
Suggesting those in the NASCAR industry are stuck-up wasn't incendiary enough. Deegan had more on her mind. She talked about the departures of what she described as the "heavy hitters" in the sport, like Jeff Gordon and Dale Earnhardt Jr., and how the sport has had little personality since they left.
"It's all new faces," Deegan said. "And I think that's some of the biggest issues with NASCAR right now. Back then, every heavy hitter that was in it had a personality. You liked them for a reason. Now, fans don't even know a reason to like somebody. Like yep, their car looks cool because they are no personality – one bit. It's like you might as well just talk to a brick wall at that point instead of having a conversation." 
A brick wall? Really? When pressed on if she could identify a specific reason why the current drivers don't show more personality, the driver of the No. 13 truck had a sensible response. 
"I think you have to be a little bit more politically correct now. Maybe a lot bit more," she laughed. "There's a lot more corporate people and partners involved in it. Times have changed. That's something that has majorly affected the NASCAR world is drivers being able to fully express their personality without getting in trouble with either their sponsor being like, 'Oh we didn't really like how you acted there or what you said there,' and it can be nothing that crazy. It could be something not that bad that people said 10-20 years ago all the time." 
Several minutes later, she talked about Formula 1's Drive to Survive and how she really enjoys the Netflix docuseries and its interesting characters, something she said would be hard to replicate with NASCAR due to — you guessed it — lack of personality. 
"In the stock car-racing world, it's hard because it's hard to have cameras around all the time," she said. "Every team is trying to find the next step above the other team. Drivers kind of lack a little bit of personality. You can probably name every driver with personality on one hand. It would be hard to build a show like that's that interesting off of it."
Cup Series drivers have their own opinions
This past weekend at Circuit of the Americas, multiple Cup Series drivers were asked if they thought NASCAR lacked personality. They each offered their own unique responses, with several sounding surprisingly similar to Deegan.
"I wouldn't say there's a lack. I feel like maybe some guys don't show them," Chase Briscoe suggested. "I think everyone has definitely got one here. I think we really kind of got in this mindset a couple of years ago where you had to be this certain type of person. Very corporate America." 
Corey LaJoie has some personality as NASCAR fans have seen in his weekly Stacking Pennies podcast. He doesn't agree with Deegan about NASCAR being absent of personality but says it's more measured for a reason mentioned by the Truck driver. 
"Everybody has a personality. It's just a matter of getting the opportunity to show it. You see Drive to Survive blowing up on Netflix," he said. "I would say that our sport has way more personality of drivers than F1 does. Those guys, they don't do a whole lot for you but you find yourself rooting for certain storylines. And we have 35 storylines that are way better than those guys have. 
"Which is how reliant the sport is on sponsors paying for the actual tires on the car to keep the thing moving. You can't afford to put your neck out there too far and show too much personality and then someone not agree with it or cancel you. Everybody just kind of turns that dial down a bit more just to protect themselves and their partners. Once the business model changes and teams are hiring drivers based on ability and marketability, things like that, I think you'll see some more personality come out."
The new TV contract begins in 2025. Teams should have more money at their disposal and be less dependent on sponsors. Could that result in more personalities coming to light and changing Deegan's mind?
We shall see. 
For the latest breaking news and information about NASCAR's three national series, check out @kdsportswriter on Twitter.