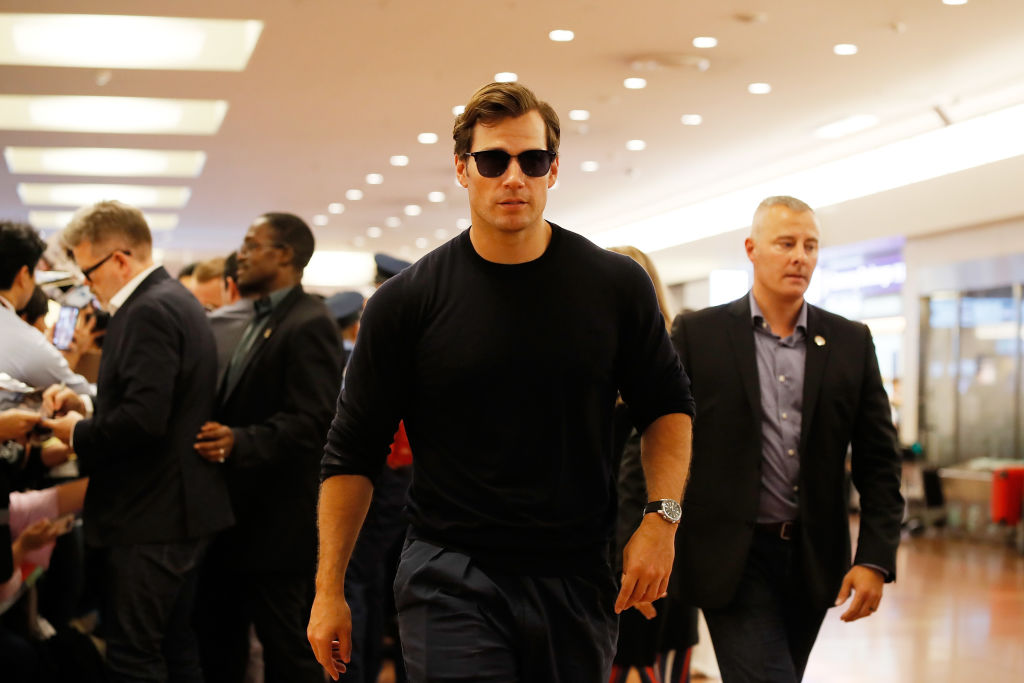 Henry Cavill Reveals the Weird Reason Why the Kansas City Chiefs Is His Team
Actor Henry Cavill might be relatively new to American football, but he's a fan of the Kansas City Chiefs. What's the reason behind his choice?
In sports, fandom is often passed down over generations. Actor Henry Cavill's NFL support, however, is a little different. Since he was born on this island of Jersey, no one in his family supported an American football team; he took that into his own hands, however, and picked the Kansas City Chiefs.
But, as everyone who has ever felt the thrill of victory and the agony of defeat can tell you, fandom requires a deep connection with the team. Cavill might hail from Europe, but he still has a link to the Chiefs; in fact, there's a specific reason why he's a fan of the club.
The Kansas City Chiefs' history
While the Kansas City Chiefs are now an iconic NFL franchise, things always weren't like that. The team not only began life in a different city but in an entirely different league.
In the late 1950s, Lamar Hunt tried—and failed—to purchase an NFL team and relocate the franchise to Texas. Undeterred, however, he came up with another idea: a second football league. Inspired by Major League Baseball's American and National leagues, Hunt teamed up with several other businessmen; they created the American Football League, and Hunt got his franchise in the form of the Dallas Texans.
Hunt and his Texans quickly encountered a problem, though. In 1960, the Dallas Cowboys brought NFL action to Texas; the city couldn't sustain two competing professional football teams. The Texans moved to Kansas City and rebranded as the Chiefs. Before long, head coach Hank Stram and quarterback Len Dawson had the team playing some of the best football in the country. On the back of a capable offense and a dominant defense, the team defeated the Minnesota Vikings in Super Bowl IV, proving that the AFL was capable of competing with anyone in the NFL.
After winning that game, the Chiefs joined the NFL and took their place in the AFC West. While the franchise has had plenty of star players since then, they're yet to win another championship and reach the same heights as their AFL days.
How Arrowhead Stadium Impressed Henry Cavill
While the Chiefs might have moved to Kansas City in 1963, they played their games in Municipal Stadium. In 1972, Arrowhead Stadium opened, giving the team a home of their very own. Today, the stadium is known for its tailgating atmosphere and record-setting crowd noise; it even impressed on famous actor.
"I spend a lot of time over here, obviously," Henry Cavill explained on Jimmy Kimmel Live. "I'd been watching some American football. I started to like the sport and realized that I had to choose a team. The only way I could choose a team was with something that was never going to change…so I figured the one thing that won't ever change in my life is t he Superman aspect of it. And I figured Superman is from Kansas, people in Kansas support the Chiefs, it just all added up."
Cavill has attended one game at Arrowhead and found the atmosphere to be a bit different from anything across the pond. "That was an amazing experience," he continued. "We went down on the sidelines [and there were] flamethrowers with big jets of flame going into the sky. In England, we just have the teams walk out, sing a song if it's international rugby, and then we kick the crap out of each other. It's a display."
Cavill picked a great time to start watching the Chiefs
If the atmosphere of Arrowhead Stadium is one fundamental part of the Kansas City Chiefs experience, the other element is perpetual disappointment. No matter how good their team might be, Chiefs fans are always ready for things to come crashing down at the worst possible moment. Henry Cavill, however, might have missed most of that pain.
With a healthy Patrick Mahomes under center, the Chiefs can outscore any opponent. While their road to the Super Bowl is far from assured—their defense may be starting to improve, but it's still a weak link, and they'll have to get through Baltimore and New England in the playoffs—Kansas City is definitely on the right path. If nothing else, maybe Superman can help them out of a tough spot.