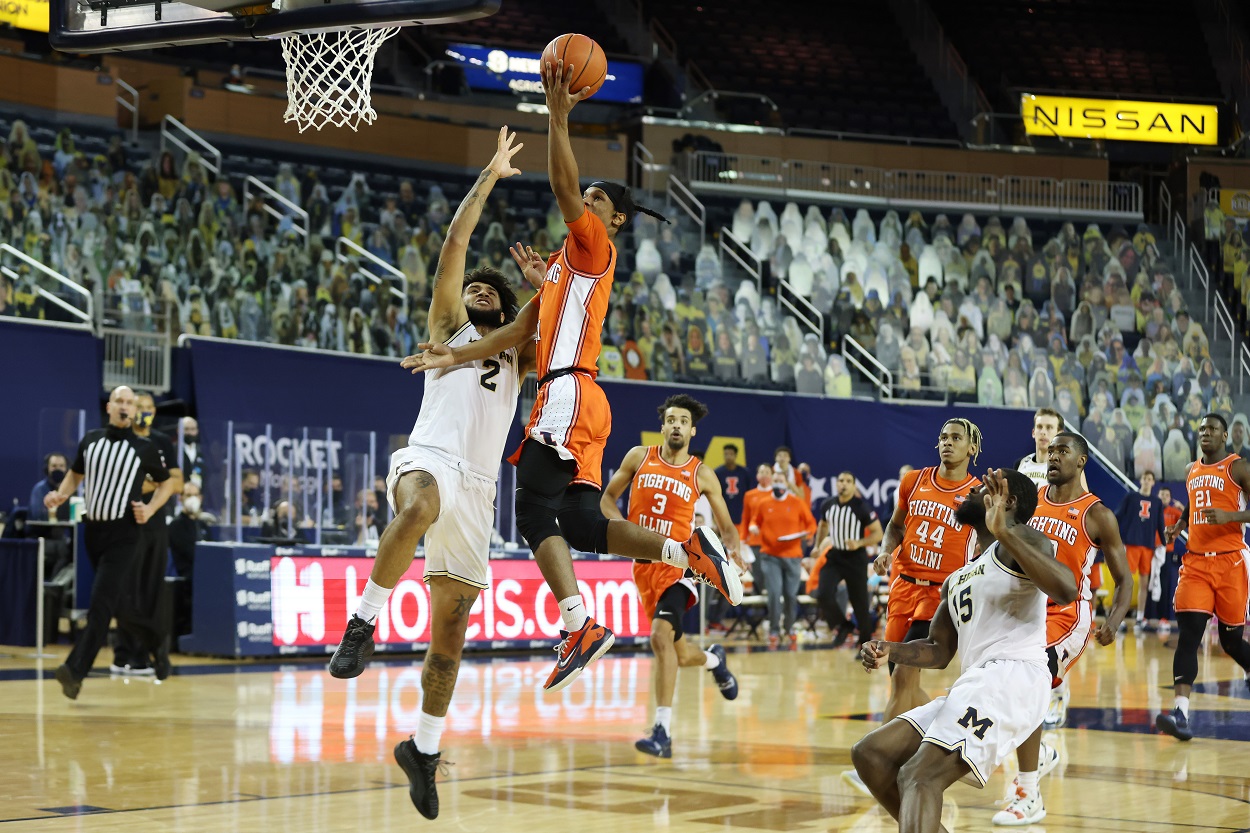 History Says the Michigan Wolverines Shouldn't Sweat Getting Decimated by the Illinois Fighting Illini
A look at why the Michigan Wolverines shouldn't be sweating their blowout loss to the Illinois Fighting Illini at home on Tuesday night.
With the NCAA Tournament just over two weeks away, the University of Illinois made a huge statement on Tuesday night with a decisive 76-53 road win over the Michigan Wolverines. Not only did the fourth-ranked Illini keep the second-ranked Wolverines from clinching the Big Ten title, but they also bolstered their chances of earning a No. 1 seed come Selection Sunday.
While Juwan Howard & Co. certainly can't be happy about the beating they took on Tuesday night, the Wolverines are still in the driver's seat to win the conference given the announcement the Big Ten made before the game and could still potentially earn a No. 1 seed themselves.
And, honestly, losing to Illinois might not be such a bad thing for Michigan as it pertains to their national title hopes.
No. 4 Illinois decimated No. 2 Michigan and did it without their best player
In a highly-anticipated matchup that was originally meant to be played on February 11 (it was postponed due to Michigan's coronavirus-related issues), the Fighting Illini came into Crisler Arena on Tuesday night and decimated a Wolverines team that had lost just one game all season.
And the victory was just that much more impressive given the fact Illinois was without their best player, Ayo Dosunmu, who has missed the Illini's last three games after suffering a facial injury in a loss to Michigan State on February 23.
Michigan was physically dominated throughout the entire game and had just one player in double figures, that being guard Eli Brooks, who scored 11 points. Illinois, on the other hand, had three players in double digits, led by guard Trent Frazier, who scored 22 in the route.
Andre Curbelo added 17 off the bench and Kofi Cockburn chipped in a dozen to go along with seven rebounds. The Illini outscored the Wolverines 22-5 in second-chance points and held Michigan to 35% shooting from the floor, 14 points below their season average.
The Wolverines are still in the driver's seat to win the Big Ten
Ahead of Tuesday night's matchup, the Big Ten confirmed that the regular-season champion will be determined by winning percentage, a decision that puts Michigan in the driver's seat and one that certainly can't make Illinois all that happy. If both teams finish their season as scheduled, the Wolverines will have played three fewer conference games than the Illini and this head-to-head win for Illinois likely won't matter at all.
Illinois, who improved to 19-6 overall and 15-4 in the Big Ten, closes out the regular season this Saturday with a tough matchup against the seventh-ranked Ohio State Buckeyes. Michigan, who moved to 18-2 overall and 13-2 in conference play with the loss, finishes up with a home-and-home series against rival Michigan State, who are still fighting just to make the NCAA Tournament, on Thursday and Sunday.
If the Wolverines win either of those two games or the Illini lose to the Buckeyes, Michigan clinches the No. 1 seed in the Big Ten tournament, which begins next Wednesday.
Why Michigan shouldn't worry about the loss to Illinois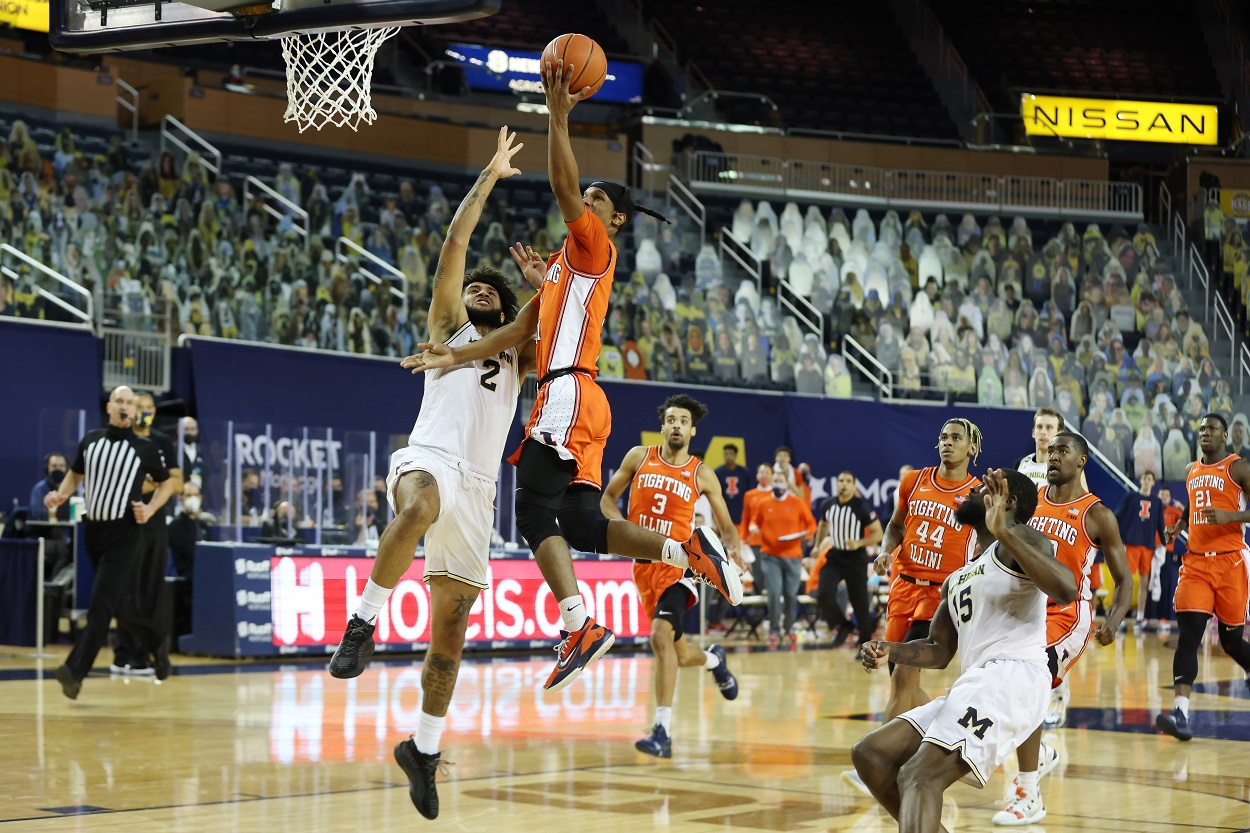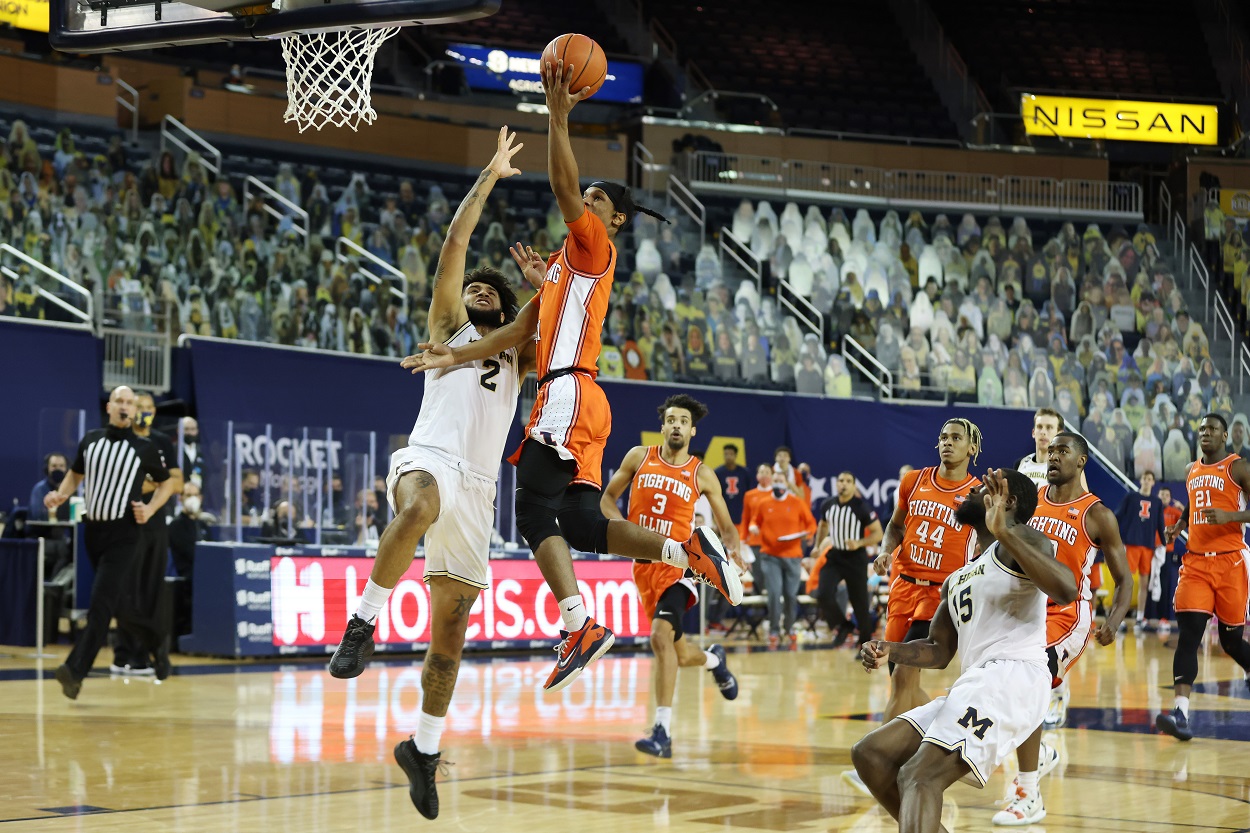 Despite the loss to Illinois, Michigan is obviously still a very good basketball team and shouldn't have any problem bouncing back, just as they didn't have a problem bouncing back after their first loss of the season to Minnesota. Following their defeat at the hands of the Golden Gophers back on January 16, the Wolverines reeled off seven straight wins before dropping Tuesday night's game.
One could also put this into historical perspective as it pertains to Michigan's national title hopes.
In 1988-1989, Michigan lost to Illinois twice in the regular season but then went on to beat them in the Final Four en route to winning the program's only national title. Since then, the Wolverines have played in the national championship game four times (1991, 1992, 2013, 2018). And in each of those four seasons, Michigan never lost to the Illini. So losing to Illinois leads to a national championship and beating Illinois only leads to a runner-up finish, right?
Okay, so that reasoning is absolutely ridiculous but we're just a little excited around here to get to some NCAA Tournament action that we missed out on last year. And with there being a very good chance that Michigan and Illinois could meet up in the tourney, perhaps even in the Final Four or national title game, we just wanted to have a little fun.
Stats courtesy of Sports Reference