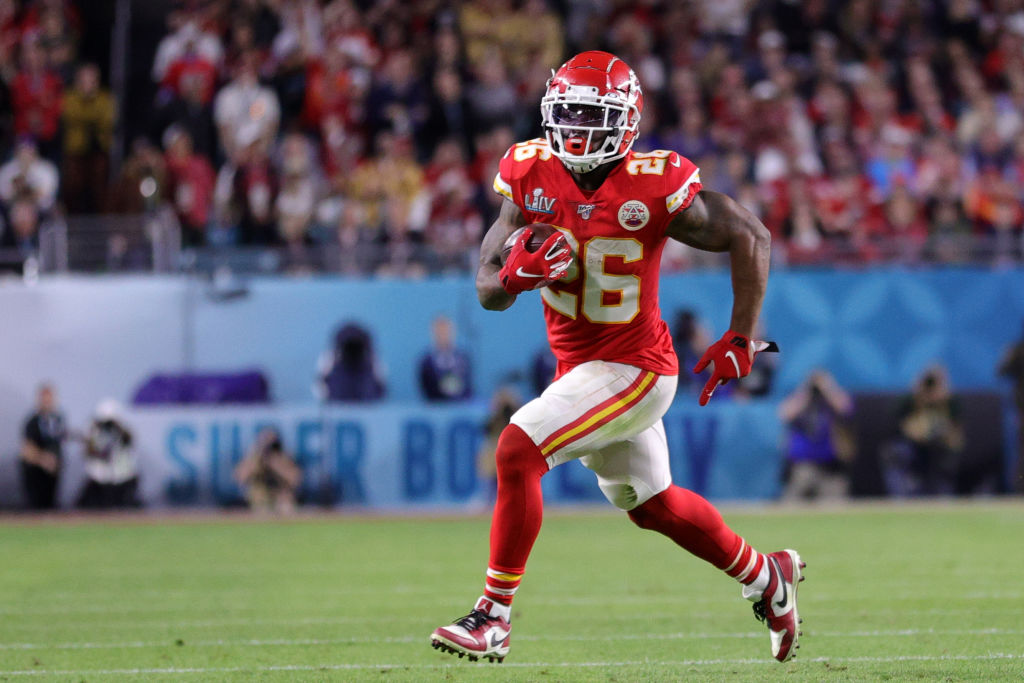 How Chiefs Running Back Damien Williams Finally Found Redemption In the Super Bowl
Damien Williams might not have had the easiest professional football career, but he stepped up when the Kansas City Chiefs needed him the most.
On Super Bowl Sunday, plenty of name brand-name stars were on display. Patrick Mahomes led the Kansas City Chiefs on another inspired comeback. Richard Sherman and the Legion of Zoom went toe-to-toe. Andy Reid and Kyle Shanahan both prowled the sidelines, trying to claim an elusive Lombardi Trophy. Chiefs running back Damien Williams, however, ended up stealing the show.
While Williamson might not have been a household name coming into the Super Bowl, he put in an MVP caliber performance. The running back, it seems, had plenty of motivation.
Damien Williams' rough road to Kansas City
During high school, Damien Williams posted record-setting rushing numbers. Those stats, however, weren't enough to land a spot at a big-time college; when graduation rolled around, the running back's academics meant he was destined for junior college.
Williamson enrolled at Arizona Western College, where he piled up almost 2,000 yards and 26 touchdowns on the ground. That output earned him attention from the Univesity of Oklahoma; the running back signed on the dotted line and became a Sooner. He managed to record 945 yards and 11 rushing touchdowns during his first D-1 season. During the following campaign, though, he was dismissed from the program for violating team rules.
At that point, Williams headed to the NFL. He went unselected on draft day; after he graduated, the running back signed a contract with the Miami Dolphins. He eventually climbed up the depth chart and took over as the starter; then, during his fourth season, injury struck. Despite promises that he would be part of the club's future, Williams' contract expired. He was a free agent.
Williams signed with the Kansas City Chiefs, getting sporadic chances. Then, Kareem Hunt was cut after physically assaulting a woman; Williams was bumped to the top of the depth chart. He slid into a secondary role after LeSean McCoy arrived in the offseason, but retook the starting job down the stretch.
A Super Bowl to remember
When Super Bowl LIV began, the game looked like a showdown between Patrick Mahomes and the stout San Francisco defense. Damien Williams, however, turned out to be the Chiefs' key man.
The running back piled up 104 rushing yards and one touchdown on 17 carries; he also caught four passes for 29 yards and another score. Williams' first touchdown gave Kansas City the lead as he stretched the ball over the goal line before stepping out of bounds. His second came minutes later, sealing the win. That second trip to the end zone came with a bit of Ruthian flair.
"He told us in the huddle, 'I'm not going to be stopped," right tackle Mitchell Schwartz said of Williams' 38-yard dash. "He told us, 'You guys do what you do, block and finish, and I'm going to [score].' He literally called his shot. Unbelievable."
How Damien Williams found redemption at last
Ever since he left high school, Damien Williams struggled to find a place where he fit in from a footballing perspective. It's safe to say that he's found a home in Kansas City.
On Sunday night, Williams shone on football's biggest stage; playing in his former home stadium, he arguably deserved the MVP Award more than Patrick Mahomes. It was a culmination of his journey. Every misstep along the way made the eventual success even sweeter.
"It has been a long journey, a very long journey, that started, let's say, back in Pop Warner all the way through high school," Williams' mother, Virleanna Alexander, said. "It was not easy. I never doubted it could happen; I knew his capabilities from Pop Warner. But I also knew the only person who could get in his way was him. As long as he didn't get in his way, I knew this could be possible."
The Kansas City Chiefs have plenty of big names on offense. Damien Williams might not be near the top of the list but, on Sunday night, he showed his true value.