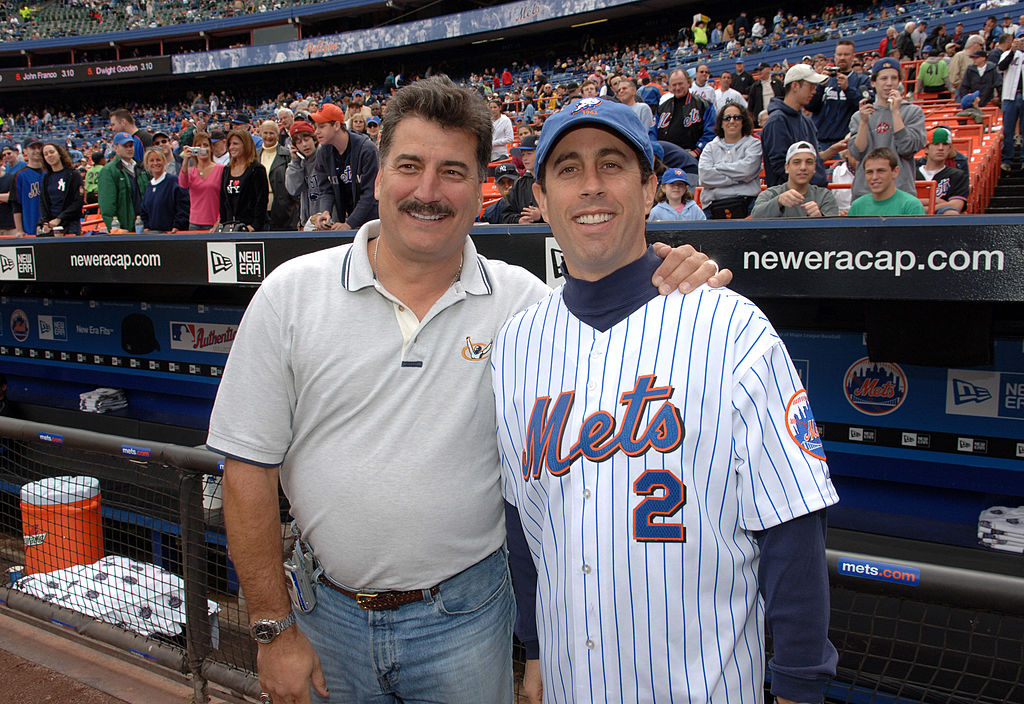 How Did Keith Hernandez End Up Guest Starring on Seinfeld?
After a great baseball career, Keith Hernandez made a famous appearance on Seinfeld. But how did he end up on the iconic sitcom?
In American popular culture, certain pillars stand above the rest. One is baseball; the game, after all, is America's pastime. Another, especially in modern times, is Seinfeld. The classic sitcom even had a knack for pulling the two together, whether George was working for George Steinbrenner or Elaine dating New York Mets first baseman Keith Hernandez.
While the New York Yankees' boss never personally appeared on the show, Hernandez played himself during the famous episode. The Mets' star, however, did quite know what he was signing up for.
Keith Hernandez' baseball career
After making it to the major leagues with the St. Louis Cardinals, Keith Hernandez established himself as a star. While he was a fantastic defensive first baseman, he was no slouch at the plate either; in 1979, he finished the season with a .344 batting average, taking home a share of NL MVP Award, which he split with Willie Stargel.
In 1983, however, the Cardinals shipped Hernandez east to the cellar-dwelling New York Mets. The club wouldn't remain at the bottom of the standings for long, though. Thanks to Hernandez, Darryl Strawberry, and Dwight Gooden, the Mets transformed into one of baseball's brightest young teams.
The Mets would go on to win the 1986 World Series, and, in 1987, Hernandez became the first captain in Mets history. He wouldn't last much longer with the organization, though. The first baseman's offensive numbers started to decline, and the Mets decided they wouldn't offer him a new contract; Hernandez spent the 1990 season with the Cleveland Indians, but barely played due to injury. He would retire at the end of the season.
Hernandez finished his career with a .296 batting average, 1071 RBIs, and a .994 fielding percentage; he won two World Series rings, one NL MVP, one batting title, and 11 Gold Gloves.
How did Keith Hernandez end up on Seinfeld?
During its run on television, virtually everyone was familiar with Seinfeld. Keith Hernandez, it seems, was an exception to the rule. While he might have known what he was getting himself into, money talks.
"I was on my second year of retirement. I had back surgery and I didn't play in 1991 at all, I stayed home and recovered. I got a call from my agent, Scott Boras," Hernandez told Charles Curtis of ForTheWin in 2018. "He said, 'You got an opportunity here to do a sitcom. Are you interested?' I don't watch any primetime mainly because you play at night. So he told me, 'they'll fly you to Los Angeles, you'd have to be there in a week, there are minimal lines'—that's what he said, 'minimal lines.' My first reaction was, 'how much?' They'll pay $15,000. I said, 'OK, I'll take it."
The part, of course, turned out to be anything but minimal; Hernandez was the central guest star of a two-part episode. While he was used to playing in packed baseball stadiums, memorizing a script was something new. "I was petrified most of the week, trust me," Hernandez explained.
Seinfeld is the gift that keeps on giving
During his baseball career, Keith Hernandez was a great first baseman. Today, he's part of one of baseball's top broadcast booths. Seinfeld, however, is the gift that keeps on giving.
While the sitcom helped make Hernandez part of popular culture, it also carried an additional bonus: money. Beyond the $15,000 he received to appear on the show, the former first baseman still receives roughly $3,000 a year in royalties from his performance.
Acting might not have been his cup of tea, but Hernandez hit it out of the park and earned his place in pop culture lore. After all, "[he's] Keith Hernandez."