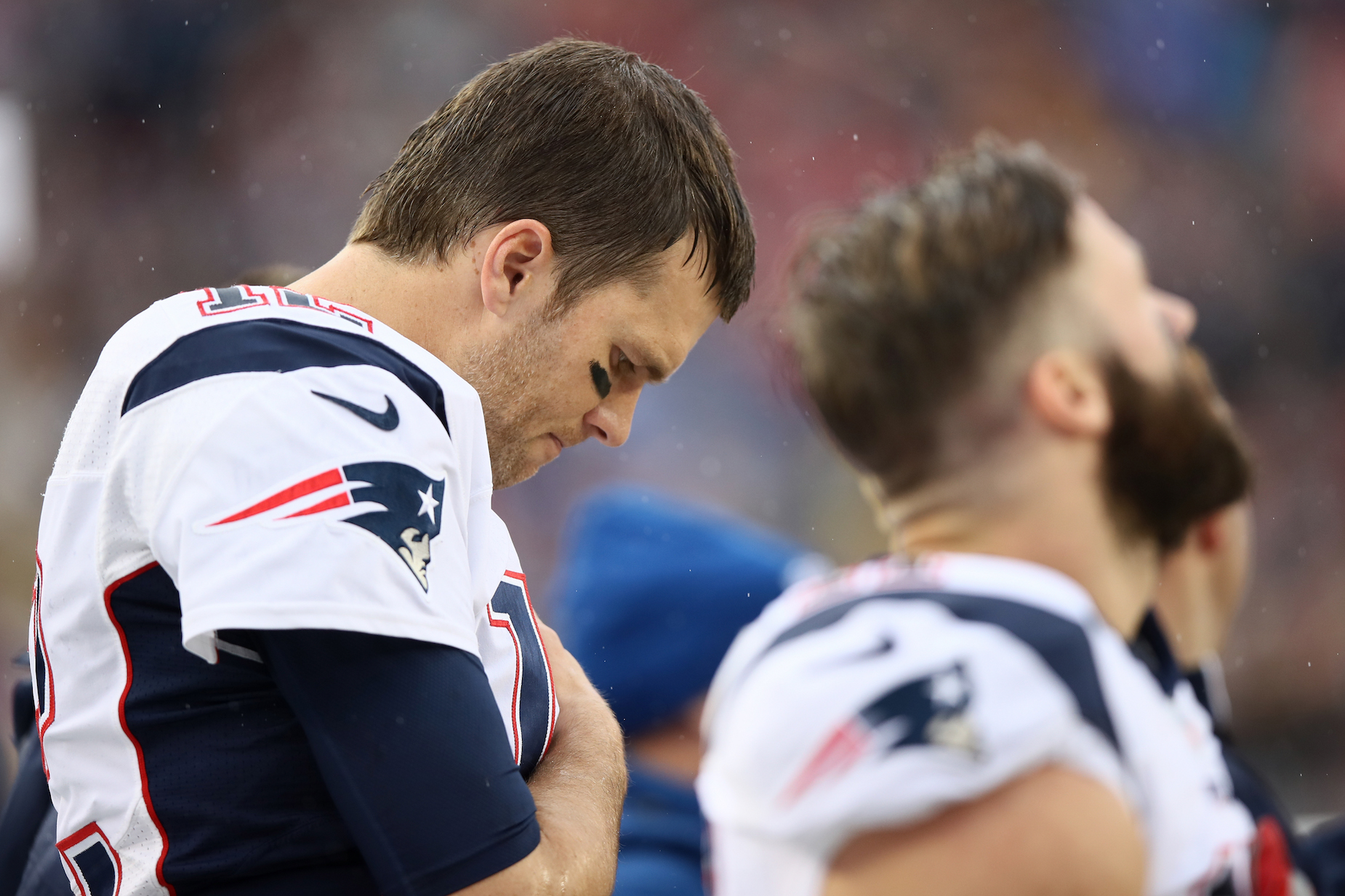 How Does Tom Brady Feel About NFL Players Kneeling in Protest During the National Anthem?
Four years after Colin Kaepernick's initial protest, athletes are still kneeling during the national anthem. How does Tom Brady feel about their actions?
Even if he's not the most popular guy in the NFL, Tom Brady has plenty of clout in the sports world. When you've been in the league for two decades and won six Super Bowls, people will naturally want to know your opinion on virtually every matter. In the modern pro football landscape, those matters include kneeling during the national anthem.
While Tom Brady is an NFL fixture, not every player is an open book regarding off-field issues. With that in mind, what has the quarterback actually said about players taking a knee in protest?
Colin Kaepernick and national anthem protests have re-entered the spotlight
In 2016, Colin Kaepernick made headlines by taking a knee during the national anthem. Four years later, the quarterback and his protests have re-entered the conversation.
In light of George Floyd's tragic death, the tone around Kaepernick's initial protests changed. A former NFL executive admitted that the league's owners thought the quarterback was bad for business; even Rodger Goodell said "Black Lives Matter." Athletes from various sports around the world—ranging from European soccer to NBA stars in the Orlando bubble—also took a knee, raised their fist, and spoke up in solidarity.
With all of that being said, though, protesting during the national anthem hasn't been universally accepted. Donald Trump, plus some other figures like Aubrey Huff, has continued to criticize the athletes in question on social media.
Tom Brady never called kneeling an 'act of treason'
Given his relationship with Donald Trump, some fans might assume that Tom Brady takes issue with players kneeling during the national anthem. You shouldn't always believe what you hear or read, though.
Earlier this summer, an article from America's Last Line of Defense made the rounds on the Internet, claiming that Brady had spoken to his new Tampa Bay Buccaneers teammates about kneeling during the national anthem. "Everybody here knows how I feel about this country," the quarterback reportedly said. "We are the luckiest people on earth to live here and we should be showing gratitude for it every single day."
While the quote contained several more paragraphs and some choice lines like calling kneeling "an act of treason" and threatening to quit the team if any player protested, there was a major problem: Brady never said any of it.
As laid out by Snopes, the article in question originated from a "network of parody, satire, and tomfoolery." Once the quotes hit social media, however, that context was lost, and many believed Brady actually said them.
How does Tom Brady really feel about players kneeling during the national anthem?
Once again, Tom Brady never called national anthem protests treason or threatened to quit the team if anyone kneeled. With that out of the way, how does the veteran quarterback really feel about the protests?
While it's been a few years since Brady specifically spoke about national anthem protests, he never condemned anyone's actions. Instead, he spoke about having empathy and respect for his teammates.
"I respect why people are doing what they're doing," Brady told Oprah Winfrey in 2018. "And they're doing it for different reasons, and that's OK. You know, you can do things for your reason. They can do things for their reason, and you have respect for that."
While it's worth noting that the Patriots chose to stand together with their arms on each other's shoulders rather than kneeling, Brady suggested that, at the end of the day, he didn't take issue with anyone's decision to protest in their preferred way. "I've been playing sports long enough to know everyone comes from something different, and I think showing respect for everybody, in a locker room, with a team of guys trying to go in the same direction–you better have that empathy for everybody," he continued. "That's what sports are about."